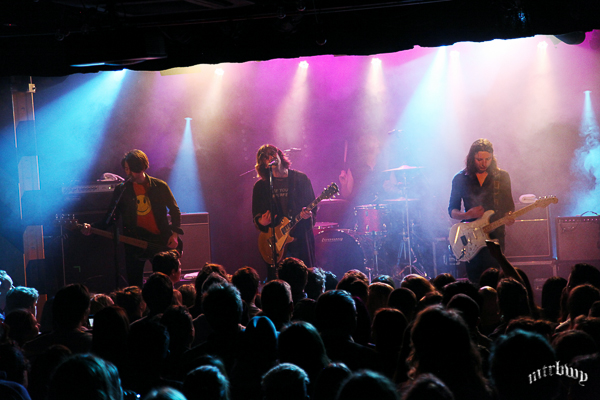 Man this place filled up! I was worried for a while when I got here that the turn out wasn't going to be the best but I stand corrected as the band hit the stage and it's a jam packed floor that are ready for some Peace.  Here for Groovin' The Moo, we are lucky to get them in a headline show tonight and although only their second time to Australia, it seems that the following is there and let's see what they can do…
First song in we get 'Money' and this is a pretty impressive band, the sound is great as the four piece proceed to kick into this Brit rock they're here to showcase for us. As 'Follow Baby' starts the crowd know this one and dig it accordingly. But as the title track from their newest album 'Happy People' takes its place it's obvious that there are plenty of happy people here especially the one dude down the front fist pumping the air, ahhh live music, always great to see the love. This song is a damn good pop rock song and they nailed it.
'Gen Strange' keeps that perfect English rock sound in tow as the set continues in this same vein but as they take on a slower one from their debut album we're treated to 'California Daze' and as it grows into a perfect rock ballad I'm truly impressed by what these guys can do. They're a great band and the tones on these instruments are spectacular and then with 'Wraith', and with great hooks come great applause and this one got them that's for sure!
This one sounds like 'love song' by Simple Minds and I like that but it's of course not that one, it's 'Lost on me' and with each song the reception is more welcoming which is great to see. 'Perfect Skin' keeps the tunes at the same level of rockdom and these guys have their sound down and these songs nailed. A big driving bass and drum intro turns into 'Lovesick' and isn't this one happy song! No wonder the bands album is called Happy People, you simply can't not be happy when listening to these songs and with that one short and sharp epitomizes what a pop rock song should be.
We get a little funky again and 'I'm A Girl' delivers probably my favourite of the night thus far. Then 'Higher Than The Sun' gets a little psychedelic in parts and takes on a different groove to majority of the other songs to this point, I like what they did with this one and am really impressed overall. They get all instrumental up in here before dropping it down to what you might even call almost a reggae type vibe and sweet we have a few moshing on the floor as this one 'Bloodshake' plays out an extended outro with precision as the band leave the stage…
They return as expected and play us in with a soothing intro to '1998' as it builds musically into a powerhouse for these guys, the vocals kick in and the song takes on a life only found on a stage, as it almost takes on a Pink Floyd vibe I can't fault it, it did go for close to ten minutes but they delivered it perfectly. Back to the first album again 'Float Forever' and with a slower one but they close out tonight with 'World Pleasure' and it was a great way to go out, catchy tune, and killer jamming outro, that was sweet.
I was really impressed with Peace tonight, they played well, the songs were great and the crowd loved it. Watch out for these guys if they hit your city, just a good night of rock and roll.
Essential Information
Venue: Oxford Arts Factory – Sydney
Presented by: Chugg Entertainment / XIII Touring
Date: May 8, 2015
Website: http://www.peaceforever.co.uk
Photo by: Annette Geneva – Check out our full gallery HERE
Set List:
Money
Follow Baby
Happy People
Gen Strange
California Daze
Wraith
Lost On Me
Perfect Skin
Lovesick
I'm A Girl
Higher Than The Sun
Bloodshake
1998
Float Forever
World Pleasure