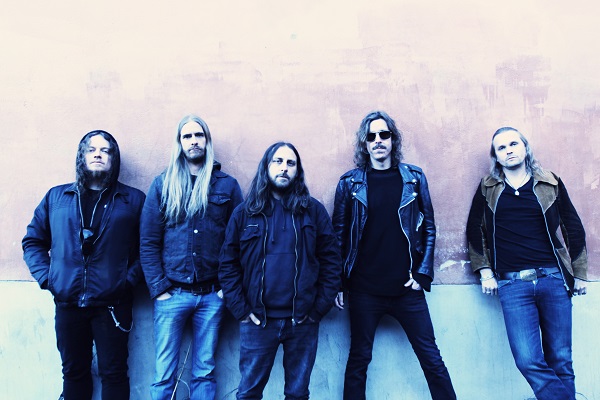 Ok so I've never seen Opeth before and I've been told this will be an experience so I'm looking forward to this. Having recently spoken to Mikael, I've been looking forward to this for a while now, so let's go!
An excited Sleepmakeswaves tick something off their bucket list tonight as they open for Opeth, now in seeing these guys before and knowing how good they are it's a pleasure to witness and enjoy their instrumental heaviness. This band is ridiculously good, they're so tight and have not dropped a note at all from these complex pieces of art. I urge you to listen to this band, buy their music and put it on and escape into the moment. That's what I just did for the last 45 minutes. Amazing.
Time for Opeth… The lights go down to a big roar as blue lights engulf the stage and the intro plays… The band walk on to a bigger roar as the blast into a musical intro, but what is already unbelievable to me is that the keyboards are playing and the room is silent, there is a whole lot of respect for this band in here already. The vocals kick in for 'Eternal Rains Will Come' and wow, this is impressive, the dual vocals of Mikael and Fredrik balance so well, but couple that with the ridiculous musical experience that I'm already witnessing we're in for one hell of a night. 'Cusp of Eternity' takes on another journey and I think that's what the idea behind tonight is, this band wants you to come with them on this ride and they're sure as hell signing up passengers. The cheers for 'The Drapery Falls' signify its favouritism from the Opeth fans, between the growling vocals, insane drumming and just perfect melody, no wonder this one is a winner.
After some great banter from Mikael they head back to the 90's from 'Still Life' and deliver the riff laden heaviness of 'The Moor' much to the pleasure of those head banging around me. The songs are long but so well structured and going back to the 'Morning Rise' album, we get 'Advent' or the bands 'Detroit Rock City' as Mikael put it, meaning they'll always play it, we get this beast that made me audibly get excited when the riff kicked in. Again its lengthy intro is something that all the songs have but what a way to set up these stories. An hour in I've really enjoyed the four songs we've heard, I kid… it's been five.
Playing a newish track and a much slower one compared to what we've had to date. The moodiness of this one is actually so perfectly suited for this room tonight. 'Elysian Woes' it was called, but 'Windowpane' and its soaring guitar melody throughout is what sells this song for me and I truly didn't realize how good a player Mikael was, he's feeling this song and you can tell. 'The Devil's Orchard' from Heritage gets a run and brings the volume back up which is killer, and I have to mention this as I haven't yet, but the light show is unbelievable as the band is currently bathed in red, the lights have 100% complimented this set and I feel help to bring out what these songs actually are.
Man, another thing is that Mikael is a funny guy, I could actually listen to him just tell stories, absolute gold right now, he's dry delivery is outstanding. 'April Ethereal' gives us a bit of black metal which is killer, and I'm not sure if I've mentioned it but holy shit this is one tight band of musicians!! They haven't dropped a note all night and it's a pleasure to witness and as they take on 'The Lotus Eater' this epic arrangement at one point even had people clapping along which is a first for tonight, wasn't expecting that at all.
Things just got heavier in here again, like real heavy with 'The Grand Conjuration' and there's head banging all over the place as I look down from the circle and watching those that really take in their music is what a live show is all about to me, there are people here completely going crazy, and the fact that this band is doing this to them tonight makes me stoked, man, that would have to be my favourite of the night, brutal!!
Time for an encore! Band introductions were a hoot and after a few laughs we get one more song, this one another old heavy track called 'Deliverance' and closes out one hell of a show and with an absolute metal onslaught in the breakdown of this fourteen minute monster, I am beyond impressed. So in the just over two hours, the six or seven songs they played, I kid, it was twelve, had precision, melody, brutality and proof to me as I'd been told by a couple of people, that Opeth are one of the best live bands you'll see, and you know what? They were right.
Essential Information
Venue: The Enmore Theatre – Sydney
Date: May 3, 2015
Website: http://www.opeth.com
Support band: sleepmakeswaves
Presented by: Metropolis Touring / Tombowler
Set List:
Eternal Rains Will Come
Cusp of Eternity
The Drapery Falls
The Moor
Advent
Elysian Woes
Windowpane
The Devil's Orchard
April Ethereal
The Lotus Eater
The Grand Conjuration
Deliverance