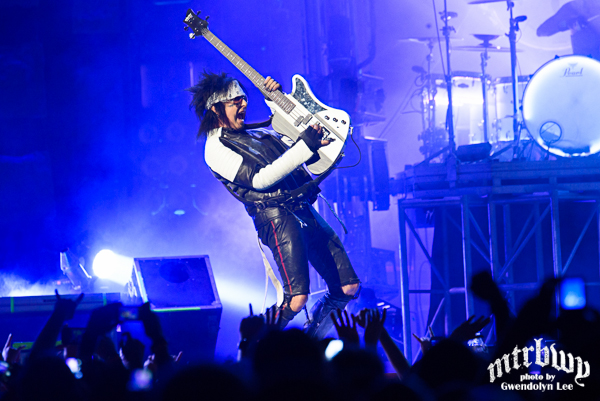 In my twenty eight or so concert going years I've been to a few 'farewell' tours, KISS and John Farnham the most notable, but as both of those artists continue to tour, tonight we're here to say goodbye to Mötley Crüe, this one you can guarantee will be it, because as they say, 'All bad things must come to an end…'
Smokin' Mirrors won their opportunity to be here tonight and why not relish the opportunity to get heard I say?  As they tell us, they have now changed their name to RedHook and tonight they play their first show with this new name and I'm happy to be here to witness it. Ok this sounds good… They play straight up rock and roll with their actually ridiculously catchy songs that give me hope that people can still write music like this and can deliver it the way they are. Their cover of 'Mother Mother' was well done but this one right now reminds me of early Skid Row and it's killer. Big sound, tight band and I foresee a big future for this band. Hopefully you'll read a lot more about them on MTRBWY soon!!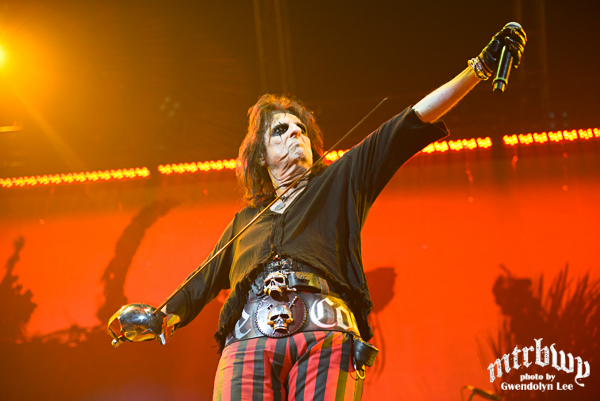 It's time for the king of shock rock, Alice fucking Cooper (actual full name). As the pyro rains down on the stage, Alice strolls to the front with cane in hand and it's the perfect opener with 'Department of Youth' which blends seamlessly into 'No More Mr Nice Guy' and the best thing about Alice is that this cat has still got it, he's on fire, but his band, let's talk about them for a minute, this is one tight unit, with the addition of Nita Strauss in the band, holy moley… 'Under My Wheels' takes it up a level but 'I'm Eighteen' takes the level even higher and I've always felt with a song like this that it was ahead of its time, but this incarnation of it tonight was absolutely amazing. Again, Strauss showed us why she's in this band as she absolutely slayed it. Oh man this set is all killer as 'Billion Dollar Babies' gets a run, this is a great show, even though I've seen Alice before I have to say that man he's still got it, actually it never left… 67 and still going… kudos, Alice.
So as you can imagine, the applause and cheers that just happened as the opening note of 'Poison' hit was nothing short of awesome. That song was obviously the introduction to Alice for a lot of people and as this song catapulted him back, many attached and tonight it sounded spectacular. It still stands up as one of the best of that era and live it goes to another level. 'Dirty Diamonds' let's each band member showcase what they can do, as right now Glen Sobel is killing it on the kit. Oh wow, as the band played that one out, the talent shown was just ridiculous. I'm in awe. Alice returns to the stage, snake around his neck and 'Welcome To My Nightmare' gets us dark and moody, but 'Feed My Frankenstein' turned it back up and bathed in green lighting the heaviness of this one was outstanding. The theatrics continue as Alice here electrocuted only to return as a Frankenstein monster and the crowd went nuts. Alice returns as he's put in a straightjacket and accosted by a nurse and we get the much slower 'Ballad of Dwight Fry' along with 'Killer' and 'I Love The Dead' oh and here's the guillotine and I honestly still don't know how they do it, but it still gets me every time as they parade around with Alice's head. Ha ha there are bubbles! That's so rock and roll. The school bell rings and we know what that means 'School's Out' and it is indeed. Mashing it up with 'Another Brick In The Wall' the band gets introduced and with that the consummate professional band leave the stage.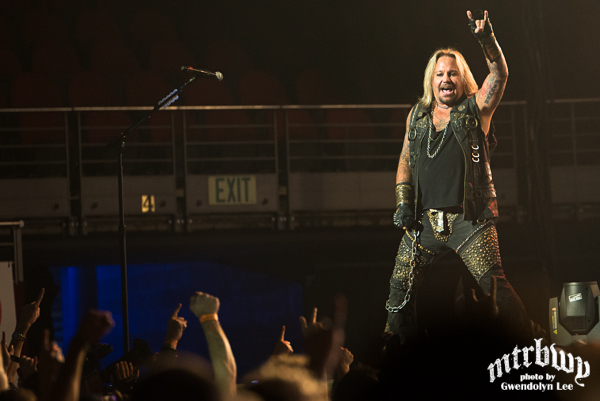 As they said, all bad things must come to an end, Mötley Crüe take the stage in Sydney for the last time and with 'Saints of Los Angeles' we're underway and there's PYRO!! Ok I'm into this already!! This is a perfect opener for the night as they sign their life away and no sooner is that done we take a ride on the 'Wild Side' and you get the feeling this is going to be a fitting farewell of all the hits, nothing going to be missed. As 'Primal Scream' kicks in, as do the flames that I can feel almost some twenty or so meters away, it's insane… This has always been one of my favourite Mötley songs and even though I actually have no idea what Vince is singing right now, it's still fun! They're pulling out all the stops, so much pyro and cowbell that you can kind of forgive the vocals…
Vince mentions of course that this is their last time here to a collective 'boo' from the Crüe loving audience, but as he straps on a guitar it's time for a bit of 'S.O.S' and I'll give them credit, the one place this band has never been lacking is in the musical department, these guys can play and it hasn't wavered in their thirty four year career, they sound tight. Speaking of thirty four years, let's go way way back to beginning with 'Looks That Kill' and he may look as fragile as a china tea set but Mick Mars, nails it. "Close your eyes, it's 1981" says Vince as we go 'On With The Show' and staying way back when it's 'Too Fast For Love' and we remember indeed… and will remember for a long time after.
It's the old school classics tonight as we continue with 'Smokin In The Boys Room' and even though this was released before I knew about Mötley Crüe it became a staple in my love of the band once I knew who they were and the video to this day still cracks me up as the crowd joins in for the chorus and I have to mention that the vibe in here is great, people are excited to be seeing this band for the last time, as they pause to take in the atmosphere they play this one out nicely.
An odd choice with 'Mutherfucker of The Year' sent many out for a drink but it's time for some punk rock as they give us some 'Anarchy in The UK' complete with anarchy in the form of water pistol wielding. In the 'holy shit I didn't expect this one so early' we got 'Dr Feelgood' and I'm stoked as this is one of my favourites and although Vince chose not to sing the choruses it was still kick ass and what a song. 'Shout at The Devil' complete with pyro and flame throwing bass guitars takes this to another level and I absolutely adore this song not to be mean, but even though I have no idea what Vince is singing right now it's amazing! 'Don't Go Away Mad' sees Tommy yell at us for being too quiet but that's alright, that's ok… We're doing ok now… Tommy Lee and the Cruecify, the roller coaster just sent him and his drum kit up and over the crowd in a ten minute spectacular and if there's one thing that Tommy Lee has been good at in his entire career with the Crüe it's doing something different with his instrument every time. Tonight he took it up a level. Plus props to him for getting some MC 94 in there with 'Hooligan's Holiday' and a little INXS for the local audience too was a nice touch.
Mick Mars is now showing us what he can do with a kick ass solo that lead straight into 'Live Wire' which was great but 'Too Young To Fall In Love' fit in so well tonight and that groove… Just killer. Oh yeah it's funny I keep forgetting these songs and it's a nice surprise when they come up, and 'Girls Girls Girls' has always been a favourite of mine from the Crüe and it still sounded pretty good tonight. Oh shit I thought this next one would be last but here we are as Mick Mars sets up 'Kickstart My Heart' and boom (no pyro) but it's on!! And with the typical "sky dive naked *skip a couple of words* Aeroplane" Vince's vocal attempt still makes me a little sad that he can't do it like he used to but as a sea of confetti fills the room he can be somewhat forgiven. Oh man as pyro, fire, streamers, and everything else fills the room the band say goodnight. I get the feeling it's not yet goodbye though…
The lights are still down so they're coming back… Hopefully… But with what? What's left?
Oh cool, the band just made their way to the back of the arena to play the closer 'Home Sweet Home' for us. The mini stage at one point lifted to hoist the band to a higher point and send the crowd wild. It was truly the only way they could go out. This is the best I've seen the Crüe in their last couple of visits and with a 'goodnight and God bless' from Vince we say thank you Mötley Crüe, thank you and not only good night, but goodbye…
Essential Information
Venue: Allphones Arena – Sydney
Presented by: Live Nation
Support: RedHook
Date: May 16, 2015
Website: http://www.motley.com & http://www.alicecooper.com
Photo by: Gwendolyn Lee – check out our full gallery HERE
Set Lists:
Alice Cooper:
Department of Youth
No More Mr. Nice Guy
Under My Wheels
I'm Eighteen
Billion Dollar Babies
Poison
Dirty Diamonds
Welcome to My Nightmare
Feed My Frankenstein
Ballad of Dwight Fry
Killer
I Love the Dead
School's Out
Motley Crue:
Saints of Los Angeles
Wild Side
Primal Scream
Same Ol' Situation (S.O.S.)
Looks That Kill
On With the Show
Too Fast for Love
Smokin' in the Boys' Room
Mutherfucker of the Year
Anarchy in the U.K.
T.N.T. (Terror 'N Tinseltown)
Dr. Feelgood
Shout at the Devil
Don't Go Away Mad (Just Go Away)
Drum Solo
Guitar Solo
Live Wire
Too Young to Fall in Love
Girls, Girls, Girls
Kickstart My Heart
Home Sweet Home