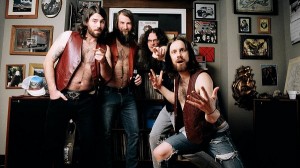 With just over a week to go until modern rock heavyweights NICKELBACK touch down in Australia, the band are proud to announce fellow Canadians and JUNO Award winners for 'Breakthrough Group of the Year' (2013) MONSTER TRUCK, will be joining them on the road for their debut Australian tour dates. Known for their captivating live shows, Jon Harvey's astounding vocal performances, massive riffs and signature melodies, MONSTER TRUCK willsteamroll through the country leaving legions of fans old and new, in their wake.
"It is so refreshing to see Monster Truck out there tearing it up…every night. Gig after gig. It's nice to see that vibe still exists. It's a lost art. Real deal. Familiar. Comfortable." – Mike Inez (Alice in Chains)
Billboard's 'Rock Group of the Decade', NICKELBACK continue to reign supreme as one of the most enduring and commercially successful acts of the past two decades so there's no doubt the decibels will rise as Nickelback fire up their trademark unmistakably huge sound, lifting the roof with anthems 'Someday', 'Gotta Be Somebody', 'When We Stand Together', 'Burn It to the Ground' and the classic 'Figured You Out'.
This will be the first time Australian fans will hear tracks from the bands platinum-selling latest album – No Fixed Address – including 'What Are You Waiting For?', 'Edge of A Revolution' and 'Satellite', ring out alongside all-time-classic power ballads such as: 'Far Away', 'Lullaby', 'Trying Not to Love You' plus 'Photograph', 'Savin' Me' and 'How You Remind Me' from the historic All the Right Reasons album.
Nickelback's worldwide album sales exceed 50 million, solidifying their status as the second best-selling foreign act of the 21st century in the U.S., behind only The Beatles.
Nickelback's Australian sales have hit 14-times-platinum and their previous studio release, Here and Now debuted at #1 on the ARIA chart, their fifth consecutive album to hit the Top 5 with singles 'When We Stand Together' and 'Lullaby' going platinum and gold respectively. The band has had five more singles hit the ARIA Top 10:  'How You Remind Me', 'Someday', 'Photograph', 'Far Away' and 'Figured You Out'.
ROD LAVER ARENA, MELBOURNE
FRIDAY MAY 15 & SATURDAY MAY 16 
ENTERTAINMENT CENTRE, ADELAIDE
MONDAY MAY 18
ENTERTAINMENT CENTRE, BRISBANE
WEDNESDAY MAY 20
ALLPHONES ARENA, SYDNEY
FRIDAY MAY 22
ENTERTAINMENT CENTRE, NEWCASTLE
SATURDAY MAY 23
PERTH ARENA, PERTH
TUESDAY MAY 26
FINAL TICKETS ON SALE NOW
For complete tour and ticket information, visit www.nickelback.com & www.livenation.com.au