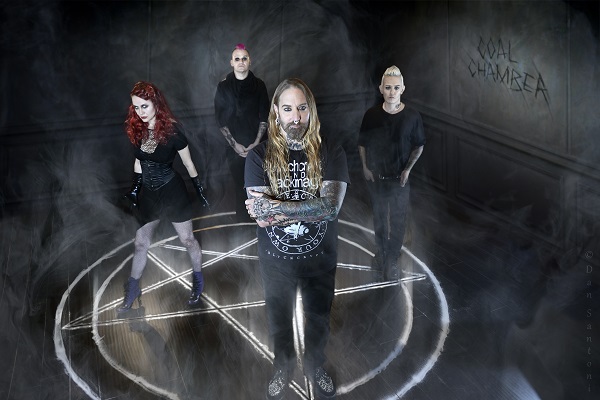 "The right time because it's the right time for us, and you don't ever want to live with regret, man, when an opportunity comes up to make up with somebody that you feel out with and it feels good and it feels right, you want to take advantage of that and you want to say you know what? Let's do this…"
From release: While their implosion 12 years ago left a morass of questions and conjecture about what could have been, the members of Coal Chamber aren't into dwelling on their past right now. Why the fuck should they? With Rivals, they've written a new, emboldened chapter in their storied career, delivering beatdown riffage, lyrical diatribes and alluring sonic vistas the realm of heavy music can always use to move that culture forward. The return of Coal Chamber is marked by two mindsets. The first signifies a celebration of friends who have experienced a greater clarity about them to want to come together in a practice space again. The other mindset posits that they had a case of unfinished business they needed to take care of with bold strokes, lead-pipe cruelty and aural finesse. Cox willingly admits that Coal Chamber "are like a brand new band. We still have to prove ourselves to the world."
Just home from South America, we once again caught up with Dez of Coal Chamber about their new album 'Rivals', the creation, Al Jourgensen's involvement, the return of DevilDriver and much, much more…
We've chatted a few times now, and when we spoke back in 2013 you'd been here with Coal Chamber but there was a definite NO on everything, no record, no touring and you hadn't spoken to the guys for a while, so why was now the right time for Coal Chamber to return?
I think now is the right time because the communication level was there, the music they were writing was incredible, it had a push forward, a move forward, a definite growth and a maturity in it and that word maturity plays out everything in it, I watched them go through the ringer when we broke up, watched them get off of hard drugs and get their lives together, Meegs is now married and Mike has a baby boy and he's sober and I'm watching this thing run on all cylinders and everybody just be so pro and I'm hearing the music they're writing, not even for Coal Chamber, just music they were writing in general and I said 'let's do this' and I think that's why it's the right time. The right time because it's the right time for us, and you don't ever want to live with regret, man, when an opportunity comes up to make up with somebody that you feel out with and it feels good and it feels right, you want to take advantage of that and you want to say you know what? Let's do this…
So we now have a new album coming called 'Rivals', can you tell us about the title and why 'Rivals' scored the naming rights?
'Rivals' is not so much about the word rivals, it's more about the artwork, if you've seen the cover 'Rivals' has a big slash through it, and that's basically to say look man, you can have a lot of rivals in your life and most of them come from within you, you can be your own worst enemy… as a matter of fact there's a song that relates to that on the record, and you can also have outside influences around you that are negative, people taking you down and those people are your rivals and you've got to get rid of that, so it's not so much about the word rivals than it is the artwork and the slash through rivals which says get rid of all those things and get your life into a positive state and you'll watch miracles happen along the way.
It's the band's first album in thirteen years, what was it like coming together to make new music? Was it difficult at the beginning?
No not all difficult, in fact it was nothing but a bunch of laughs, I used to write home and write home and write my manager and say I'm coming home with smile marks because I've been laughing for four hours. It was incredible, what we did is we did it old school, locked ourselves in rooms, went over music we had demos back and forth, I would get on my iPhone and whisper lyrics back and forth and once we did that we locked ourselves away in pre-production with a producer for weeks on end and we went in and recorded one hell of a record. We took a lot of tome to get the tones, we wanted this to be a fresh new sound, and I tell people all the time, don't expect this to be a throwback 90's record, I had no need or want to do something nostalgic and I don't think the guys did either… If you're familiar with Coal Chamber, the first, second and third records are so different from each other that I don't think someone would even expect us to repeat any one of those. So you're gonna get one hell of a record with one hell of a sound and we worked very hard on getting those tones, making them unique, getting the guitar sounds unique, it's a mix between vocal styles that I did, in between DevilDriver and Coal Chamber but you're going to get more fury, more power and I wanted to use that with a melodic tone which would be better not to do these big clean vocals, although I  do sing some clean on the record, so you're going to get something very unique you know, and the record is very diverse as well, I hope people dig it, man.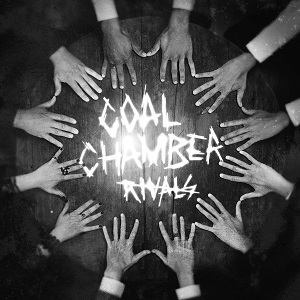 I've got to say, from the opening second of 'IOU Nothing' it's on, did you go into this record with an idea of how you wanted it to come together or did you just let it flow and we have an end result?
There's many different variables within that record and you can experience it, there's a song called 'Orion' that's only a minute and a half long and it's almost a lullaby type feel, man, it's dark. Again on this one I'm influenced by everything from Bauhaus, to Black Flag to Black Sabbath, I love music, I love the blues, you can listen to anything with me, I'm a very open kind of cat, and I have no room in my life from anything I do from DevilDriver to Coal Chamber with purists, I have no room there for it. We hear about diversity in this Coal Chamber record because when you go from song to song, not everything is going to sound the same, meaning not every song is going to have the same tone, the same everything, So we really went out of our way to identify each track to make sure everything had its unique own life and I think you're going to hear that once you hear the entire record.
The producing duties were given to Mark Lewis, with whom you've worked with before, why was he the right person for this new record?
You know I've worked with Mark a great deal with the DevilDriver records and I've watched Mark over the years and producing is what he's good at and a lot of producers lose sight of what this is all about, it's about making every artist sound unique. So Mark Lewis what he does makes every band sound unique and different, and that in itself was the reason to work with him, he could take all the creativity that we have and all the diverse influence that we have which we do and say 'OK I see where you're going with this, you go all dark and gothy here and then it feels punk rock for a minute then after that it's going to die down into this groove, OK, I get it' he was instrumental in getting the tones of this record, the feel of this record, he was very instrumental in knowing what we wanted. I've worked with Mark before, he's an easy guy to work with and to me I don't come in and waste any time, I want to hit the mic, a lot of these tracks I sang on the first track, so a lot of these things were done on first and second takes and if we couldn't get that type of vibe we would stop for the day. So he knows how to get it, get it quick and get it with emotion when it comes to a singer, sitting in there for five hours trying to get it to happen, that's not music for me you know.
Everyone's favourite Uncle, Al Jourgensen makes an appearance on the record 'Suffer In Silence' is there a great story as to how Al got involved on this track?
Dude, Al's been a long-time friend of mine, and a mentor, and a legend, I mean obviously he created a scene, we wouldn't have industrial music or NIN or anything like that without Al Jourgensen, and I was home for a while I said to Al 'Come on down, let's have a BBQ and drink some wine and do you wanna be on a track?' and what I did was I told him the name 'Suffer In Silence' I read him the lyrics, told him what it was about, sent him the track and he was like, 'yeah, let's do this' he came down to my house and we had a great time… I don't know if he enjoyed me or my Doberman, but I'm telling you he loved my dogs… we were sitting in my studio drinking wine and watching Al track was an incredible thing. I've had the chance in my time in music to work with some incredible people, man, everybody from Ozzy Osbourne, to Nikki Sixx, to Phil Anselmo, to Max Cavalera, but watching Al in my own studio get his vocal tone that he's been famous for, for how many years now was one of the most awe inspiring moments that I've ever experienced as an artist. The thing with me is I never lost that feeling I had when I was a kind, whenever I work with someone I grew up on, I grew up listening to, somebody I admire and it almost took the life out of me watching that. He was a total pro in there man, he got in, got his sound, he hit the track a bunch of tones, he hit the choruses, he did the spoken part just off the top of his head man, he wrote it down and practiced it a few times and then boom, he hit it and it was incredible watching him work, I felt honoured by that and I'm honoured he's on a Coal Chamber record. I'll say this too, he's probably one of the only cat that understands what we do, because Coal Chamber as equally Bauhaus as it is heaviness, I mean we've got as much darkness as we do heavy and groove and we're one of the only bands out there that do that now, so he's the only other guy doing that in his form, in his art of music that he does, it's very dark but it's also metal and heavy as shit so he understood what we were trying to do and it was cool that he came down.
Yeah we just had Misitry here for Soundwave and they slayed it, they were unbelievable…
How could you not, I mean it's Ministry, it's one of my favourite bands, one of my favourite artists and like I said I've been blessed and it's because I never lost that perspective, of a blue collar guy who got lucky and got a record deal so anytime I work with these cats it's unbelievable you know, it's unreal, so I feel blessed, man. People are freaking out over this track because now people can hear it and everybody is just like 'oh my god, what a track'… the whole record has that type of style where every song sounds different from one another and I think that's just very important for a band nowadays, we're trying to almost push our peers that started out at the same time as us to come out of the box and do something different and don't be afraid and give us some artisticness and don't be afraid to give me something heavy too, you know? Like I said, if the radio or whatever dig Coal Chamber, then cool, but I'm not writing it for that, I'm writing it for the artistic state… you've got to remember when Coal Chamber first came out, that first record, man that was heavy, heavy, heavy at the time and it got us gold records and on the radio so I feel like now is the time for a band to push the boundaries for that kind of thing and we're trying to do that right now. Coal Chamber are trying to push the boundaries of what people perceive as heavy, not heavy and give them something a little special and fresh.
On touring, you just played Monsters of Rock to a massive almost unbelievable crowd, what was that experience like up there again?
Well that's another conversation… as a kid I would look at photos of Monsters of Rock and just listen to the fuckin name 'Monsters of Rock' *laughs* it's unbelievable and to play that thing was unbelievable, it was 30,000 people at least, when we came out they were chanting our name, they sang almost every song, they have a very long memory, man, for being gone for thirteen years which we were and when we looked down I saw the crowd and much like all our crowds these people are pretty young and some not even born when our records came out, it's incredible to see them singing the songs. The festival is very well run as well, so we were treated well, the crowd was great and we did nothing but smile the whole time, we had a great time.
Last time Coal Chamber was Down Under was for Soundwave in 2012, are there possible plans to come back and see us again?
Don't know… AJ is coming to my house in a week or two so we're going to have a conversation before I leave for Europe and we'll see what's going on and what's in the cards for me coming down with either band, really… What I'd like to do to tell you the truth is come down and have a headlining tour because it's one thing to do to get on stage for forty five minutes at Soundwave, which is one of my favourite festivals and I've always had a great time, but it's another thing to come down and give everyone an hour and a half of a headlining set, play enough songs that it feels like a special moment. So that's actually what I'm going to talk to him about, us coming down, getting a package together and headlining.
So what are the continued touring plans for 2015?
Touring plans for this year, we go to Europe, after Europe I come home, I've got two weeks off then we're going to do the United States of America again, that's getting ready to get announced and then from there we're going to have to see, because in October and November I'll be recording a new DevilDriver record which I'm sitting on twelve tracks now and it's absolutely blistering, so I'm going to have to get some time off to be at home, recharge and write that. So we'll tour July and August in the United States and from there we'll have to see what comes for the rest of the year but I'm sure the following year will present touring opportunities for Coal Chamber as well because DevilDriver is not going to release until I would believe late spring, summer, maybe even fall time next year.
Following up 'Winter Kills' too, man, such a good album…
Thank you man, I appreciate that comment, I mean we worked very hard and it is the reason that DevilDriver had to take about a year and a half off because we did twelve years on straight, six record within twelve years, most bands do four records within twelve years, so most bands take a year and a half off between cycles and we just didn't… we did twelve years completely straight where I was coming home for two weeks at a time only, was spitting out records that I thought were really great, we did a great run, and 'Winter Kills' was really well received, I mean even in The United States it debuted higher than any of our records, so it felt really appropriate to after that record to take a year and a half off, Mike my guitar player built a beautiful studio at his house, I've got my own studio, Neal Tiemann my guitar player and Austin my new drummer are in, they've been writing daily, I'm sitting on twelve tracks, they sent me one yesterday called 'Sandscraper' and I said man this is unbelievable, so I feel blessed, there's a lot of music around me, man, and that's what I'm about, working, making music and having a good time and hanging out with my family, you know?
Lastly, let's look ahead to the future, so finish this sentence for me, by the end of 2015, Coal Chamber will…
Have released its first record in thirteen years, have gone basically around the world and had amazing shows, having a great time in life and I will have recorded a DevilDriver record for release in 2016, and hopefully have health and happiness and everyone around me including my family and my friends, and even you who help me keep this thing rolling who keep people talking about the band and I'll be happy and healthy… I've always got a glass half full, man, I left home at age 15 and was sleeping underneath bridges and stealing food, so for me I don't take much as long as I'm with my family and I've got a good meal and life is good, then I'm in a pretty good place.
Essential Information
From: Los Angeles, CA, USA
Band members: Dez Fafara: Vocals, Meegs Rascon: Guitar, Mike Cox: Drums, Nadja Peulen: Bass
Website: www.coalchamberofficial.com
Latest release: Rivals (Out May 19 – Metal Blade Records)