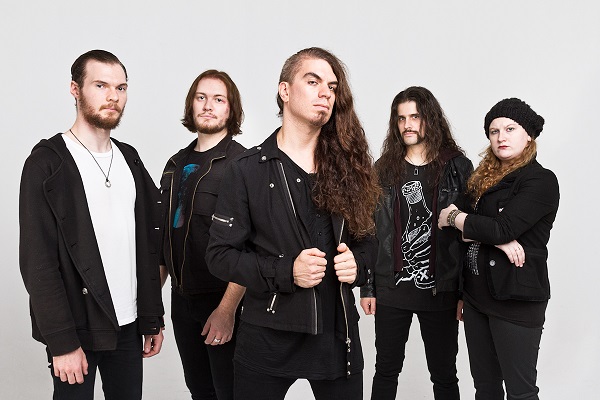 "So the nice thing about having an album and having it released for some time already is that you get all the sort of end of year reviews coming up on facebook and all that and you see peoples top ten lists and you see consistently that you've made it into their top ten lists and that's a really nice feeling, it really makes you want to keep going."
From tour release: Australia's foremost progressive metal act, Voyager are busting out of their home city of Perth for a national tour this May and June to launch their new video of Seasons Of Age taken from their critically acclaimed album, 2014's V. V is available HERE V landed in the Top Ten of practically every media outlets Years End list for 2014. A powerful and melodic feast for the senses, it is a bold and dramatic statement that has been described as 'pure prog goodness at a world-class level.' by former Triple M Distortion host Higgo.
We caught up with Danny of Voyager again for a chat about the band's upcoming Australian tour, their new video for 'Seasons of Age', realizations, changes and much more…
Touring wise you're starting your Australian dates this week…
Yeah we've been pretty busy touring actually, looking at the last twelve months or so it's been pretty full on…
So what can people expect at these upcoming shows?
Well the good thing is that it's a Voyager headline show so we get to dictate what we want to play and have a bit of fun and take what we want to play and take our time and have a bit of fun, maybe play a nice full set of over an hour, sometimes we're doing supports like when we did the tour with Dead Letter Circus, that was just a snippet, just a taste and we got like 30 – 35 minutes, but I guess this is a nice journey through the back catalogue of Voyager.
You're also launching your new video for 'Seasons of Age' can you tell us a bit about the video and creating it?
Yeah so we thought we'd never done a live shot video, our videos have always been themed and had a storyline, the early one a bit of a cheesy story line but the more recent ones more modern, more edgy I guess, and we realised that there was no real live performance that people could see on YouTube and social media, so we decided to get a whole bunch of footage from shows around the country and put that together and that's what we did, I saw it the other day and it looks really cool. It gives a really good impression of what we're like live.
Joining you on this run will be 'Klone', have you played with these guys before?
No… never heard of them to be honest, it's a bit of a risk, it's one of those things where you speak to booking agents and they suggest an international and you think 'it's a bit risky and maybe it's better to take an Aussie band that people know' but I know we know how hard it is as an Australian band to get a new territory up and running in terms of international exposure. So we had a listen to Klone on the internet, they're a great band, I think they'll really suit us stylistically as well, so it'll be good to have them on the road. Good to have a good international support and of course local supports in every city as well, so I think it's a strong line up as well.
'V' has been out for pretty close to a year now, how crazy has the last year been since its release? Have you had time to stop and take it in?
Sort of… you have to have time to stop and look at the logistics and the bank accounts of the band you know? That sort of stuff… we've done heaps, we did an Australian run just after the album was released, then we did European tour in November, came back and did Dead Letter Circus around Australia, just played with Opeth last Friday and now we've got this up and going. So the nice thing about having an album and having it released for some time already is that you get all the sort of end of year reviews coming up on facebook and all that and you see peoples top ten lists and you see consistently that you've made it into their top ten lists and that's a really nice feeling, it really makes you want to keep going.
I was going to ask about Opeth, how was that experience?
You know, it was good… I think a lot of people were just sort of surprised, they didn't know what to make of it, because it was a packed venue, there was probably about 1,200 people there and a lot of people came out to the show not expecting anything else but Opeth, and the sorts of people that come to Opeth are people that really don't know about the local scene much, so it was a really great opportunity to sort of put the local scene in people's faces. I think we definitely made a lot of fans, our merch stand was pretty chockers after the show, so it was a really, really good experience and we gained a lot of fans, and Opeth were great.
Have you had time to start working on anything new?
Yeah the creative juices are sort of flowing, I guess it's hard between tours when you're just rehearsing sets for the next tour and working on promos and interviews and things like that and video clips, to actually sit down and work on stuff and be a musician I guess… a lot of the time gets taken up the more you do and the bigger and more successful you get with actually being in a band and playing music you know? So you've got to constantly get on social media and stuff like that, so when you do get to sit down and actually play music and start bandying around stuff and ideas it really gets you going and really makes you feel like you're making progress, so that's definitely happened in the last couple of months.
Outside of Australia are there any international touring plans for you this year?
Yeah so after this we'll start rehearsing for a U.S. and Canada tour, we'll be doing twelve shows around the east coast of The U.S. and four shows in Canada as well, that's around August / September and we'll end up at the ProgPower festival in Atlanta, so a nice little run there and we're playing with a Swedish band called Evergrey, so it's a pretty good market for us, and it's something that unexpectedly really shot up in terms of fan numbers, but we've got a really cool cult following over there so we're really looking forward to going back there.
So in being in this band for over ten years now, what's the biggest thing you've found to be a part of the music industry that you didn't think would be a part of it when you started the band?
I don't know, hard work *laughs* I think when you start you just want to play in a band, make some tunes and then someone's going to snap me up and fly me around the world and play me lots of money and do tours… nup… you can't expect the red carpet to be rolled out, you've really got to work hard, you've got to do your own promo, you've got to be present, you've got to do your own logistics and it's one of those things that outside people think 'oh wow, this band's made it so big' but the reality, and we've spoken to really big bands and they say yeah, it's really tough and I think that sort of smoke and mirrors that you see when you're starting out about bands being big in all the magazines and stuff then you see the reality of it when you get out on the road it's just sobering to be honest… I mean for a band to be making money and doing it sustainably you've got to be doing two hundred shows a year, I mean Opeth is a perfect example, it took them seven albums to really get catapulted in that upper echelon of progressive metal and heavy metal and now they're doing fine, but it took a long time to get there and I don't know if they're rich, so…
Well they're still doing it…
They're still doing it and they're still loving it, that's the main thing and if you can do what you love and you're getting paid for it and you're getting by, that's awesome.
Other side of that question, what do you feel has been the biggest and most notable change in the band within your time together?
*laughs* Probably members… you go through line-up changes and some of it's sad because you lose an integral part of the band, but part of it's really good because you get fresh blood, and I think the biggest change has probably been in the last few years where we developed from what was a very neo-pathical sort of power metal type genre to something that's a bit more progressive, a bit more sort of groove oriented as well, so heavy riffs and that combined with the overarching pop and chorus mentality, I think that's been the biggest change. I think we've definitely modernised our sound a lot.
Now I haven't done this with you yet so let's throw in some quick fire questions…
Last album you bought?
Scar Symmetry and I can't for the life of me remember the title, it was something 'Part 1' but it was really good.
Favourite band to see live?
Infected Mushroom… that is a psychedelic trance band mixed with a bit of metal, mixed with everything, they're just the best, they're just the bomb. Check them out for sure.
What band or artist made you want to be a rockstar?
Peter Steele from Type-O-Negative… what a depressing rock star he was…
Favourite band besides Voyager with a Keytar player?
*laughs* I don't know any other bands… I don't know… D:Ream that band from the 80's
I would've also accepted Pseudo Echo…
*laughs*Pseudo Echo,  yeah and who could forget Alestorm? We toured with them around Australia, they're a pirate metal band with a keytar and we did a keytar duel at our Melbourne show, probably the only keytar duel in the history of everything…
So lastly, let's look ahead and try and predict the future, so finish this sentence for me, by the end of 2015 Voyager will…
Have increased its worldwide following and exerted world dominance over the world… *laughs*
VOYAGER TOUR DATES
Thursday, May 21: Adelaide – Jive
Friday, May 22: Canberra – The Basement
Saturday, May 23: Sydney – The Factory Floor
Friday, May 29: Melbourne – The Evelyn
Saturday, May 30: Brisbane – The Brightside
Friday, June 5: Perth – Amplifier
Saturday, June 6: Bunbury – Prince Of Wales
Official Event Page HERE
Essential Information
From: Perth, WA, Australia
Band members: Daniel Estrin, Simone Dow, Alex Canion, Scott Kay, Ashley Doodkorte
Website: http://www.voyager-australia.com/