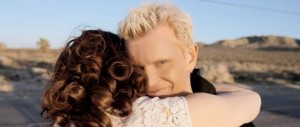 NEW SINGLE AND VIDEO FROM BILLY IDOL's 'KINGS & QUEENS OF THE UNDERGROUND' ALBUM
BILLY IDOL builds on the urgency of his last single "Can't Break Me Down" with a dramatic and mysterious video: http://smarturl.it/savemenowYT .  The new video is set to "Save Me Now," an electro-rocking highlight co-written by Idol, Twin Shadow, and Greg Kurstin, from IDOL's acclaimed current album KINGS & QUEENS OF THE UNDERGROUND.
Known for his striking and compelling videos, the multi-platinum British rock icon headed to the California desert with his longtime guitarist and collaborator Steve Stevens to film the video that was directed and conceived by Thomas Kirk (who has worked with Muse on multiple videos).
The clip follows a priest and a police officer on a wild ride set against the stark, desolate California landscape, accompanied by a leading lady entwined in the drama. In describing the video, Kirk said:  "I went for a concept which very much took the lyrics of 'Save Me Now' and turned them into a surreal story that I felt was as true to the very visual lyrics as possible. I loved the image of a bruised cop and a priest trapped inside a car."
Meanwhile, IDOL continues on his "Kings & Queens Of The Underground Live" 2014-2015 world tour with North American dates wrapping June 4, followed by another run of shows in Europe this summer.  IDOL will return to the U.S. from August-October for a mix of solo shows and festival appearances.  
KINGS & QUEENS OF THE UNDERGROUND—IDOL's first studio album in almost a decade–was released in October 2014 on BFI Records via Kobalt Label Services.  The album was primarily produced by Trevor Horn, with Greg Kurstin also contributing as producer to two songs, including "Can't Break Me Down." Upon the album's release, USA Today named "Can't Break Me Down" their song of the week, declaring "with its punkish drive, sneering vocals and roaring Steve Stevens guitar, Can't Break Me Down could have made a great follow-up to latter-day Idol hits.
About Billy Idol:
From punk pioneer to global superstar, William Michael Albert Broad, aka BILLY IDOL, has left an indelible mark in popular music and remained a household name for over three decades. IDOL is currently set to kick off a North American tour in January 2015 following the successful October 21 release of Kings & Queens of the Underground, his first album of new material in nearly a decade. IDOL's autobiography DANCING WITH MYSELF (also released in October) entered the New York Times bestseller list at #13.His style, music, and attitude have transcended time and trend. 
Born in 1955 in Stanmore, North London, IDOL spent several formative years living on Long Island, NY as a child before returning to the UK and emerging as a central figure of the British punk movement.  As part of the infamous Bromley Contingent and a fan of the Sex Pistols, IDOL was inspired to front the pioneering British punk band Generation X from 1976 until the band's split in 1981. Determined to break through in America, IDOL hooked up with guitar genius Steve Stevens and a crucial musical partnership was forged. IDOL created some of rock's most enduring anthems including "White Wedding," "Dancing With Myself," "Flesh For Fantasy," "Hot In the City," "Eyes Without A Face," "Rebel Yell," and "Cradle of Love," among others.  BILLY IDOL is the original punk rocker who found a way to take that sneering punk attitude into the pop and rock mainstream, carving out songs that have lasted a lifetime.  For all the latest BILLY IDOL updates and information, visit BillyIdol.net.