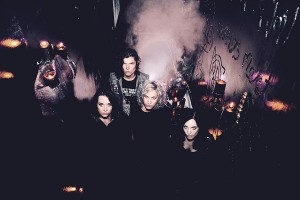 The new single DEAD INSIDE from The Art, is scheduled for independent release on April 25, (in physical and digital format).  DEAD INSIDE evolved after experiencing the highs and lows of touring, and the binary feeling when the whole crazy party is over.  Trying to relate to the home life (polar opposite in nature to touring) and coming to grips with reality, (whatever that may subjectively be).
The chorus lyrics – "your standing at the edge but you can't jump or walk away," paints the imagery of standing at the edge of The Gap in Sydney,  not wanting to end it all, yet not being able to walk away, to try and find peace within the chaos….
Although in purgatory, musically THE ART are trying to offer some hope in this song. There is some kind of calm, in the whole storm.  When the piano ends, the musical piece after the feedback of guitars, slowly melt away, there is almost a peace at the end of this chaos!  Written by the collaborative, which is THE ART,  Azaria Byrne (Vocals/Guitar), Kara Jayne (Bass/Vocals), Jordan McDonald (Drums) and Natalie Connolly, (Guitar).
Dead Inside was produced by Stevie Knight, recorded at Electric Sun Studios, Sydney Australia. Mixed and Mastered by Dave Petrovic and they are joined by special guest, Gene Clark on Piano.
THE ARTwere plucked from the obscurity of Australia's far north and into a circuit of international showcases.  This act has torn through it's infancy with cannonball velocity.  Founding members, KJ and Azaria have recruited the hard hitting drummer Jordan McDonald and melodic hard rock guitarist Natalie Connolly.
Stylistically, THE ART are difficult to pigeonhole.  A darkly perfumed oddity, eclectic in emotional elements and delivered with blistering rock and roll impact.  The sonic diversity of 'The Art's' sound has earned them fans across genres, the common tie binding all elements at play being an intense sincerity.  A tight wound tapestry of verosity, nobody at an 'Art' show leaves shortchanged, and more often than not, nobody at an 'Art' show leaves unaffected.
"THE ART is beating their forerunners at their own game with music that is not only an ongoing revolt against the corporate sanctioned status quo fitting music into neat categories, but a declaration for the admittedly messy (r)evolution of making life art and art life." – Huffington Post
"Front man Azaria could be described as the pied piper with a room full of hungry rats hanging on every sound whispered from his mouth."  – Faster Louder
"The Art have been sharing not only their skill and imagination with audiences over the last 3 or so years but have been creating and infusing a sound and aesthetic that goes beyond that of a mere band pushing out tune after tune in the vain hope of cashing in on whatever scene or genre happens to be that month's particular flavour." – Music Feeds
 "My Favourite Australian band!" – Rodney Bingenheimer
The Art are proud to announce they are currently supported and sponsored by Pistonhead  Lager Australia. Great Brew, great times, awesome people & rock 'n' roll attitudes. Kustom built in Sweden.  We built it, you tilt it!    #pistonheadlagerau
THE ART kick off their DEAD INSIDE nine date, east coast tour on May 7 in Victoria.  
Thursday May 7 Pelly Bar Frankston
Friday May 8 Northcote Social Club
Saturday May 9 The Loft Warnambool
Wednesday May 13 Hamilton Street Hotel Newcastle
Friday May 15 Sweaty Betty's Miranda
Saturday May 16 Dicey Rileys Wollongong
Thursday May 21 The Pier Port Macquarie
Friday May 22 Coolangatta Hotel
Saturday May 23 Sonny's House of Blues Brisbane