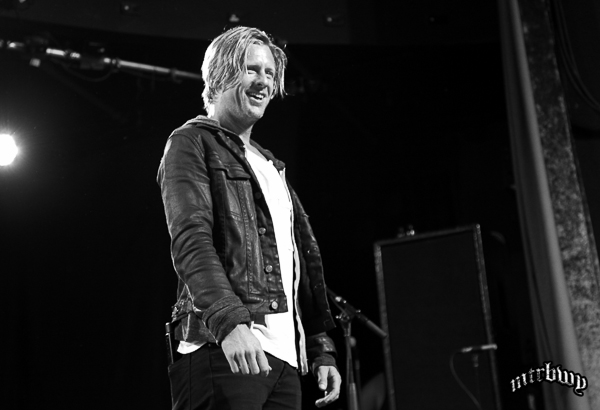 Review by: Gwendolyn Lee
Arriving at The Hi-Fi once doors opened, I was met with the longest line I've ever seen at the venue, especially this early into the night, travelling all the way down the side of the venue and across to the car park. Tonight was going to be a great night to see Switchfoot live once again, and I have to admit, pretty cool knowing that I first saw them just under 5 years ago at this very same venue, only, it was called The Forum back then.
I made my way in for Sydney-siders Breakaway as the line just kept on building, and if you've seen these guys before, they're definitely local talent making a mark in the music scene. As I looked up, the balcony was already pretty full, along with the rest of the venue, and you could see fans of the band really enjoying themselves and getting psyched up for what was coming next. I've seen this band live countless times, supporting really great international acts, and they always give it their all. And what's better than a song that's fun and catchy? The lyrics "Is there anybody out there? Can you hear me screaming?" from "Scream" is easily one of their most popular tracks and it's great live. Playing through a nice half an hour set with some old and new songs, the band also rocked out to their latest cover of Kelly Clarkson's "Behind These Hazel Eyes", which was a pretty great surprise!
The half an hour wait between sets felt like it went on and on, but even before the curtains were drawn apart, the entire venue of fans lit up and knew what was up in just a few seconds! Without missing a beat, Switchfoot were up and throwing it all into "Say It Like You Mean It" from their latest album "Fading West", followed by one of their greatest hits "Stars" which had fans from the barrier all the way down and up the balcony singing along. Being in the photo pit while all this was happening right up front, you could feel every ounce of energy bouncing off the walls and the natural urge to just let go and enjoy the band live was very much alive.
As the band headed in to begin their fourth song- one of their latest singles "Who We Are", frontman Jon Foreman made his way off the stage and up over the barrier to engage with the rest of the crowd. Now, if you've seen this band live before, you'll know that crowd interaction is a definite must at their shows, and this night was nothing different. Making his way through the centre of the crowd and over to the bar on the left, he stood up and began with the rest of the band. All eyes were clearly on him, with fans old and new, singing along, creating a much more intimate vibe to the night. As he made his way back through the crowd and over the barrier, he was carried by some pretty enthusiastic fans, of course, not before giving some smiles and high-fives to a couple lucky ones on his way.
Introducing his brother Tim on guitars, Jon gave him a little bit of power over the set list, as instead of going back a couple years for "Your Love Is A Song", he went straight to the band's newest single "Love Alone Is Worth The Fight" with a perfect intro of "oh oh oh, oh oh oh's" back and forth between the band and crowd, switching the order of the set list just a tiny bit. Getting back on track and bringing it down a notch, the crowd mellowed out while Jon went on for a little acoustic guitar and harmonica session for "Your Love Is A Song" with a nice singalong of "I've been keeping my eyes wide open" for good measure, followed by "The Shadow Proves The Sunshine".
It's always refreshing when you get to see the band all together, for a nice family feel to a gig, and that's exactly what happened when Jon introduced the rest of the band- Drew Shirley on lead guitars, along with Chad Butler and Jerome Fontamillas up back, as they were brought to the front on percussion for "Hello Hurricane" which was nothing short of perfect. As the night went on, Jon went back into the crowd, and let me tell you, despite seeing quite a number of bands live, Switchfoot definitely stands out as one of the best when it comes to involving the fans, making them feel like a part of the show. One of mine, and I'm sure many others' favourites, "Meant To Live", was up next, and hearing it for what must be the third or fourth time live, I still can't get over how good it is.
The band left the stage and came back with a super old school track which only the best of the best fans would have known- "Only Hope" from their 2nd album "New Way To Be Human". And of course, a Switchfoot show is never complete without their most popular song, "Dare You To Move", which was met with the loudest roar of energy all night, and a sea of lights from fans filming to remember this night for years to come. Of course, all good things need to end, and for all of us, that meant a perfect goodbye with "Where I Belong".
Needless to say, if you've never been to a live Switchfoot show, you've been missing out. And being the frontman that keeps on giving, shortly after the show, a rather large handful of fans waited out back, and Jon came out with his acoustic guitar as everyone followed him across the carpark and gathered around him for a little show of some of his solo work. Zac Brown Band were playing across the Hi-Fi at Hordern Pavilion, and as both shows had finished, after a couple songs, Jon introduced his mate, Brad Corrigan from Dispatch who had supported Zac Brown Band, and they continued to play a couple more songs together, which was such a great topper to an already incredible night.
Essential Information
Venue: The Hi-Fi – Sydney
Presented by: Metropolis Touring
Support: Breakaway
Date: April 1 2015
Website: http://www.switchfoot.com
Photo by: Annette Sheridan – check out our full gallery HERE
Check out our recent interview with Jon Foreman HERE
Set List:
Say It Like You Mean It
Stars
The Sound (John M. Perkins' Blues)
Who We Are
Love Alone Is Worth The Fight
Your Love Is A Song
The Shadow Proves The Sunshine
Hello Hurricane
Let It Out
When We Come Alive
Dark Horses
Meant To Live
Only Hope
Dare You To Move
Where I Belong