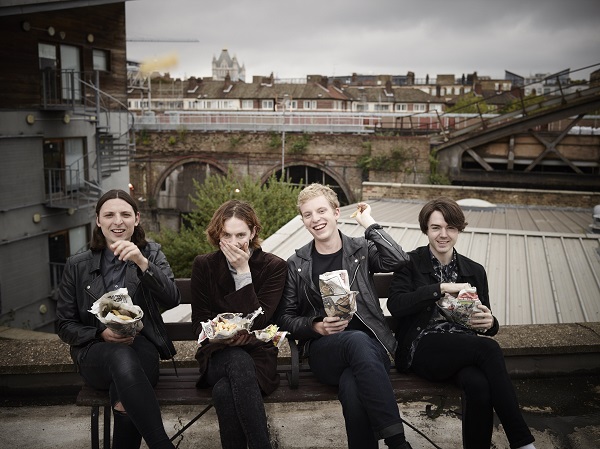 "…some of the songs on the record are sad and some are happy, but in our world even at our saddest we should be happy in comparison to some of the stuff that's going on in the rest of the world, with what's going on in the news and I don't know, some of our worst problems are not problems at all, do you know what I mean…"
From release: Hot off the release of their new album 'Happy People', Peace have announced GTM Festival side shows, listed below. The indie four piece exploded onto the scene with their debut album 'In Love' last year and have moved quickly to follow up that success with a new album. Their debut offering 'In Love', full with indie anthems and youthful zing, climbed into the UK Top 20 and in turn saw the band play two sold out shows at Shepherd's Bush Empire as they transformed from a misfit band from the Midlands to an international success. The new album sees Peace continue their relationship with producer Jim Abbiss who has worked with the likes of Arctic Monkeys, Kasabian, Bombay Bicycle Club as well as the band's debut album
After coming last in a pub trivia quiz, we had a chat to Harry Koisser from Peace about the band's return to Australia for 'Groovin; The Moo' as well as some headline shows, their new album 'Happy People' and a whole lot more…
Now you haven't wasted much time in terms of music releases with 'Happy People' out now just under two years from your debut, why was it important to you to have a new release out so soon?
I think just because we're at that age where you've still got energy and can still write songs and I haven't quite worked out if you stop writing good songs over time or whether there's an amount of songs inside you that you can get out or whatever, but we're just striking while the iron is hot, we had songs and we did them as soon as possible.
Why was 'Happy People' the perfect name for the album?
Because some of the songs on the record are sad and some are happy, but in our world even at our saddest we should be happy in comparison to some of the stuff that's going on in the rest of the world, with what's going on in the news and I don't know, some of our worst problems are not problems at all, do you know what I mean? I guess as in song writing being a young person in 2014 and in a band, it was like these problems that felt real to us were like this should be happening to us, being able to run around having your heart broken and not understanding the world, maybe that's what should be happening? I don't know… but it just fit, it was the right title, we want to be happy people, we're trying to make people happy and that was it, it just fitted.
So what was the process like putting the new album like compared to the debut?
Hmm… quite different to be fair… the debut record we just went in, didn't have a clue what we were doing, just grabbing anything we could find, effects, pedals, whatever trying to make everything as loud as possible. I think this time we still don't have much of a clue, I mean we were still kind of grabbing everything that we could and shoving it on there and experimenting but I think this time we had a little more purpose, kind of knew the way we wanted it to sound, we weren't just going in blind do you know what I mean? So that was the only real difference, we could articulate our thoughts a little bit more, if we wanted the drums to be dry we knew how to explain it. That's pretty much it to be fair, we asked for dry drums this time, that was it.
So you once again worked with Jim Abbiss as producer, what does he bring to the band that works for Peace?
He just whips us in to shape and gets songs on record because we just fuck around all day, we wouldn't get anything done. We'd happily sit in a room together and play songs over and over and change things and experiment for a year if we could, but he's the man that goes 'right, we're going to record that, that sounds good' and he's the man that sonically shapes it in to something that isn't just a mess you know what I mean? We've got all these sounds but he knows how to EQ them and fit them together, the more technical side and he knows when to calm us down and say 'lads take a minute' and if I'm getting like this song that needs to be a fifteen minute journey he'll say it doesn't need to be fifteen can you get it down to seven? And I'm like yeah Jim, you're the voice of reason. He's a good guy, he's the daddy in the studio you know, he's nice to deal with.
Now you're heading back to Australia as part of Groovin The Moo as well as some of your own shows, also a quick return trip from your last visit in 2013, how have the Australian audiences attached themselves to Peace?
Yeah I think really well, we went over last year and did some club shows and they were all really good, and meeting fans afterwards there was just an eagerness, we're equally as eager, we just want to get over there. With the internet now you see when people want you there and we're constantly being hounded by people saying come to Australia and we just had to do it, you know? Well excited, especially to do a festival, I've heard good things and we've never done a festival in Australia.
What can we expect this time around, with a new album can we expect it to be new album heavy?
I'm not sure, we kind of experiment, I'm sure we'll do different sets throughout the festival circuit and we'll probably do an equal balance to begin with and see what goes down better and try and tailor it to the audience. We never go in with an idea of we're going to play the new record because that's what we want and what we're listening to, if people are reacting to a certain song we'll just work around that and kind of go with the set, if the new stuff's going down well then by the end we'll have a few new songs in there you know, we kind of communicate on stage, we have a set list but everything is flexible and under negotiation between us and the audience.
What are you looking forward to most about coming back that you didn't get to do last time?
Mate, like everything! Last time I was writing and I wrote a load of songs that ended up on the record, I wrote 'Happy People' the song in Australia and worked on some other stuff that ended up on the record and I didn't get a chance to actually like leave the hotel room or do anything, so this is going to be the first time I experience the culture rather than the inside of a hotel room or a venue. I'm looking forward to that and sussing out the vibe.
Ok, so let's get a bit of a quick fire insight into you:
First album you bought?
James Brown 'Sex Machine' no, that was bought for me, the first one I bought with my own money was Led Zeppelin 2.
Favourite band to see live?
At the moment it's Foals, I went to see them and it's a bit of an experience, they really hammer it in.
What band or artist made you want to be a rockstar?
Jimmy Page… and Keith Moon, just those two, they were my icons when I was younger, they were the two guys and I started playing drums and then guitar because I realised God Jimmy page didn't play drums. Good idols.
A song you'd love to cover that no one would expect?
I guess we did cover it, but Charli XCX 'Billionaire' but when I did hear that song I said we've got to cover this, it's just got a really good groove and I like the lyrics and I can't really get into pop music but I love that song and I think we might try and do it live.
What about a song that you wish you'd written throughout musical history?
'Don't Let Me Down' by The Beatles, every time I hear that song I think I could've written this, this is my style. It's just the emotion of it, and I don't know it's such a good song, every time I hear it I say 'I could write a song like this' and I wish I had.
Have you ever said to someone who doesn't like the band "come on, give Peace a chance…"?
Have I said that? I'd like to… I think I probably have said that, the thing is it's a bit of a battle sometimes to get the more senior music journalists to see what's going on, but it is kind of a thing when people don't understand, so yeah I have probably said that.
Ever thought about covering that song?
Yeah I played it in DJ sets, maybe we should cover that, not a bad idea.
Being together for six or so years now, what do you feel you have learned in this time together as a band?
Oh God I have no idea *laughs* absolutely nothing, if anything I've just unlearnt everything I did in education, all the stuff I learnt in school I just absolutely forgotten *laughs*
Lastly, let's predict the future so finish this sentence for me, by the end of 2015, Peace will…
Have their own helicopters… I don't know where that came from *laughs* Peace will have been achieved on a global level, world peace will be installed, it's just a software update away you know? The Earth just needs to update its firmware, the human race just needs to install the software and everyone will wake up and go 'oh God equality's alright, we are all the same race so let's treat each other with a bit of respect.' Fingers crossed for that one…  I hope that one day everyone wakes up and says 'Oh God we've been doing it wrong this whole time.'
Catch PEACE at Groovin' The Moo at the following dates:
Oakbank – 25 April
Bunbury – 26 April
Bendigo – 2 May
Canberra – 3 May
Maitland – 9 May
Townsville – 10 May
Check out PEACE at their headlining dates:
TUESDAY 28 APRIL ROSEMOUNT HTL, PERTH www.oztix.com.au, www.heatseeker.com.au
THURSDAY 30 APRIL DING DONG LOUNGE, MELBOURNE www.oztix.com.au
WEDNESDAY 6 MAY THE ZOO, BRISBANE www.oztix.com.au
FRIDAY 8 MAY OXFORD ART FACTORY, SYDNEY www.oztix.com.au, www.moshtix.com.au
Presented by XIII touring
ALSO we have 2 sets of double passes to give away and you can WIN a double pass to the SYDNEY show on May 8th by simply sending us an email to mtrbwy@maytherockbewithyou.com with your name and the subject of 'PEACE giveaway' and you could win a double pass to the show. You must be 18+. Winners will be notified by email.
Essential Information
From: London, UK
Band members: Harry Koisser – vocals, guitar, Samuel Koisser – bass, Douglas Castle – guitar, Dominic Boyce – drums
Website:  http://peaceforeverever.co.uk
Latest release: Happy People (out now)