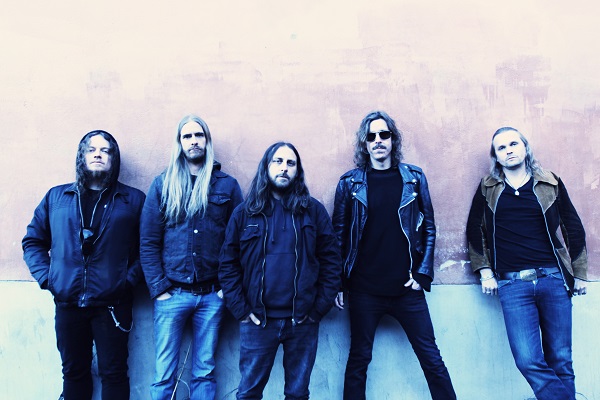 "…it's just the five of us playing the songs and we're trying to play them as good as we can with as much passion as we can. I think what we have to offer is just more of a musical experience you know and very little eye candy, and some people probably find that very boring and they need that eye candy in order to make it interesting, but we don't have that on offer unfortunately."
From release: Swedish progressive metal heroes Opeth are set to return to Australia in 2015 in support of their 11th album 'Pale Communion'. Hailed as one of the most influential progressive metal bands in the world, Opeth have an ever-growing fanatically loyal fan base in Australia and are returning for a headline run after their highly successful 'Heritage' tour in 2013. One factor which makes Opeth's live shows second to none is that their concerts are always filled with surprises and you never know what their setlist is going to be! Featuring songs from their earlier death-metal material, up to their later symphonic prog-rock, an Opeth live show is like no other and is a must see for all die-hard fans.
In his home in Stockholm we gave Mikael of Opeth a call to talk about the band's return to Australia, as well as their latest album 'Pale Communion', how they almost may not have been a band anymore, and about tattoos…
Now we're here because you're heading back to Australia, as you continue to release albums and as the sound of the band progresses, how do you go about putting a set list together these days?
Well it's similar to the process how it was ten to fifteen years ago, we just basically take a collection of songs that we think that the audience wants to hear and songs that we like playing, I mean it happens that we pick a few songs that are popular songs, the fans like them but they're boring to play you know what I mean? If that happens we kind of scratch them out of the equation and choose some other songs, but right now what we're going to do in Australia is we're playing songs from each album apart from the first one and that's because of time restrictions basically, and restrictions that we put on ourselves basically because we don't want to play for too long. We don't want people to go away thinking it was too long, it's around two hours so I don't know how many songs, but every record apart from the first one.
We love you down here, what do you think it is about Australian audiences that allows them to attach to Opeth the way they do?
Australian audiences have always been great since the first time we were there which must have been in 2002 or 2003 I think it was around the Deliverance record, always had a great response there and it always went down well and it's kind of become a very important market for us on a commercial level as well as we love playing there. It's a great country, we love just being there and I've been there many times privately and obviously we've played there many times now and they've always been good to us. I mean we see some negative reactions in Australia too when we toured for the last two records, for the Heritage record but that's been the same everywhere, people yelling out 'Play some fucking metal' or whatever, and it's been the same in Australia. Overall it's been fantastic, we always pull a good crowd and have a good time and at the end of the day the people leaving the shows seem to have enjoyed themselves so that's all good.
I shamefully have never seen Opeth live before and will be changing that in May, so for someone like me who hasn't been to a show before, rather than describe a typical live show, what do you want the concert goer to walk away with from the experience?
A good memory, we don't really have a show if you know what I mean, we don't have a nice stage set up, we don't really run around, there's no monsters coming down, it's just the five of us playing the songs and we're trying to play them as good as we can with as much passion as we can. I think what we have to offer is just more of a musical experience you know and very little eye candy, and some people probably find that very boring and they need that eye candy in order to make it interesting, but we don't have that on offer unfortunately. We just play the songs and that's it, hopefully the songs are strong enough so they don't need extra spice, extra cream on top you know what I mean? *laughs* it always surprises me when we play sold out shows and I'm wondering why? When I think that the only thing that it boils down to at the end of the day, it's not that I have a great fucking torso that people want to see, it's all about the songs, there's no crazy personality in the band like isn't that guy crazy let's go watch him… it's only songs and we still pull people and that's great. It couldn't be better, because I'm shy, I'm not like an entertainer in that sense I'm just a simple musician and it kind of works well for me.
'Pale Communion' has been out for just over seven months, and was three years since 'Heritage' in that time did you have an idea or direction of how you wanted this newest album to come together?
I didn't have really have much of an idea, the only idea I had is that I didn't want to repeat anything from the past including the Heritage album, even if I loved that album I didn't want to try and make another record like that, quite frankly I don't think it would be possible for us to do it. So it was just that I like to go into every writing process with a clean slate basically, I rarely use old ideas that were never finished, I always like to write everything from scratch and there are a few exceptions to that of course, but generally just got into the writing mode thinking I want to come up with a great collection of songs and I want to be a bit different to the previous record or previous records and I was really lucky, I wrote this album fairly quickly and we recorded it supremely quickly, it was recorded in only thirteen days which is realty fast for us. I don't really think too much, I listen to and consume a lot of music and I like to think that I draw inspiration from my record collection, you could say I'm a product of my record collection, I just sit down and write, sooner or later something decent is going to come out.
As producer, do you feel you have to be harder on yourself as an artist than you would be if you were simply performing?
Yeah of course, I'm quite specific. I don't see myself as a producer even if I have been producing every record, it's easy for me to come up with ideas and solutions when you run into problems while recording, like how are we going to merge this piece with the next? For this band at least I don't seem to have a problem with taking care of this band musically if you know what I mean, but I don't see myself as a producer, but we did put a lot of pressure on ourselves as musicians, everyone's got their stations within the band, like Fredrik who's playing lead guitar, he wants to do the best most emotional playing he's ever done with each new record Martin our drummer and Mendez our bass player wants to nail everything down better than they ever have before and that's also somewhat of a demand from everyone else in the group you know? I wanted to sing better than I'd ever done, so I pushed myself a lot, but I think you can only kind of play with the cards that you've been dealt, if the songs are not up to par what can you do? This time around we were kind of lucky, everybody understood the songs, everybody put their own personality into the songs and it was a very, very smooth process writing this record and especially recording it, it was magical almost.
You worked once again with Steven Wilson who mixed the album, what is it about Steven that works for the sound of the band?
He's first and foremost he doesn't come from the metal background that we do, we've been mixing and co-producing some of the heavy records we've done in the past that was a good decision I think because it helped us to kind of advance and broaden our sound his help did… We have had people working with the band that have done a great job but I've never felt able to put my complete trust in their hands you know what I mean, so as a result there's been a lot of fights between the engineer or the mixing guy, but with Steven he might feel strongly about something I don't agree with but in the end he always folds because it's not his record… mixing it, co-producing it so it's a healthy way to work. We had an argument me and Steven about one song on the new album and I wanted a little bit of a vocal effect and he was like 'this is your best vocal performance ever and you're gonna fuck it up with an effect?' I'm like 'no Steve it's gonna sound great, it's not an effect perse, it's just gonna make the voice sound a bit more thin and it's gonna sound great' and he was against it, but he said I'll do it, it's your record, so let's do it, in the end he came back and he got used to it and he loved the song just as much.
I'm a huge fan of melody and the new album is swimming in them, was that intentional and you wanted to do something different this time around?
Yeah I wanted melodies, when I come to think of it that's one of the early kind of ideas I had for this album, we've always been somewhat of a melodic band and I wanted to get back to the strong melodies. I think I'd been listening to music with a strong sense of melody privately and I wanted to get back to that and to have a strong almost sing a long type choruses which I think we succeeded, it became a very melodic album without me being cheesy I think.
We spoke with Fredrik a couple of years ago and he said that if it wouldn't have been for 'Heritage' and the direction change for the band that maybe the band wouldn't have existed anymore, was that truly somewhat of a pivotal point for the band and its future?
Yeah it's not untrue, I was struggling after 'Watershed' after 'Watershed' and going to the writing process for 'Heritage' I kind of continued writing in the vein of the 'Watershed' record and I finished one song, almost had another and I think I had a third idea of songs in that vein but I knew in my heart that it's not really what I want to do, it sounds good and it could be an Opeth record I guess, but it wasn't crystal and that's not acceptable for me. I was worrying, I was like fuck, if I write the music that I really want to write maybe the other guys won't like it then maybe we don't like the sound and we don't have a career, but the more I thought about it I kind of changed my opinion, if I just do write the music that's expected of us as a band without feeling it myself, then we're really doomed because no record that we've ever done in the past has been written under those premises, every record has been written under the idea that we're gonna write what we want to hear or what was expected of us, or what the fans want to hear. So I had Mendez come over, our bass player, and played him these ideas that I had, and when I stopped the music  he just looked at me, kind of shrugged and was like 'what's this?' I'm like what do you mean? He says 'that's not what you should be writing, that's not at all what I wanted to hear at least, this is not what we're supposed to do now.' It was almost like we were linear and it was  relief, he basically slagged me off, he killed me saying the music I'd written was shit, it wasn't good enough basically that's what he said, and I'm string headed and stubborn and I'm surprised my reaction want along the lines of 'write something better yourself then motherfucker…' instead I was like 'you're right'  it's not what I want to do, it's not what we should do, and he left and I think he was worried that fuck, maybe we're over because I write most of the music and if I can't deliver the goods then we're fucked basically. So I started writing again and the first song that I wrote after I'd been deleting these early songs, I basically bunched them up in the computer and deleted them and saved so I couldn't get them back, I couldn't rework ideas from there, they were gone forever. So I wrote another song quickly in the afternoon, a song called 'The Lines In My Hand' which is on the 'Heritage' record  and called up Mendez to come over again, then played him that song and he was fucking shocked, yes, ok… I looked at him and he looked afraid but very, very excited and that's when I knew we were onto something because that song was so fucked up it gave me a whole new corridor of open doors for me to play around with so I could write however I wanted and that's basically what I wanted to do in the first place. So we ended up with a  very schizophrenic record like 'Heritage' which I love and we as a band are very, very defensive about that record because it was such a beautiful experience to record it too, so that's what happened basically.
You've now been in Opeth for 25 years this year, in terms of goals and things you still want to do with the band, what's left that you haven't yet done?
I don't really think in those terms, I don't set up goals basically and I think it might be a way to not get disappointed that I didn't reach my goals, that I didn't achieve my goals. I've become comfortable in the fact that I'm a professional musician after twenty five years and that's ok, that's what I am, it defines me as a person, I think defines the other guys as persons too and so we're just a happy camp. We make plans for maybe tomorrow or for a week or if it's something to do with touring you have to plan ahead but when it comes to the creative side of the band I don't really have any plans, I'm just gonna try and sit down and write songs like I always have like when I'm writing for the next Opeth record. I don't think we're over yet at least…
Your logo is instantly recognizable, and many fans of yours have taken to get it tattooed on, what do you think it is about your music that encourages people to get this image on them permanently?
Well I mean it is a nice logo and it almost looks like something you can find in a decent tattoo parlour you know what I mean, the O, and it's a beautiful thing, I don't think you necessarily have to be a fan of the band, you just have to find something in your life that means a lot to you that starts with a fuckin' O *laughs* and then just tattoo it. I think obviously people or a lot of them with that tattoo are fans of the band or have been fans of the band and our music has meant something to them maybe throughout their lives or maybe at a particular moment in then I'm going to get a tattoo and then I'm going to buy myself a couple of beers, it's so normal to have a tattoo but back in the day it wasn't, so everybody's got a tattoos anyway, it makes me happy that they choose to have an Opeth tattoo, and a lot of people have come up to me and shown of various body parts and said 'ok look at this' so that's super cool, I can't explain why they go to those lengths but I hope it's because we have made music that moved them.
Lastly, I know you said you don't look ahead but let's try and predict the future, so finish this sentence, by the end of 2015, Opeth will…
Celebrate New Year's Eve…
*laughs* Taking the easy way out…
Yeah, sorry *laughs*
Catch Opeth at their Australian Tour Dates
Sunday May 3 Sydney – Enmore Theatre
Monday May 4 Adelaide -The Gov
Wednesday May 6 Brisbane – Eatons Hill
Thursday May 7 Melbourne – The Forum
Friday May 8 Perth – The Astor
Tickets on sale now from HERE:
Essential Information
From: Stockholm, Sweden
Band members: Mikael Åkerfeldt – Vox, guitars, Martin Mendez – bass, Martin Axenrot – drums, Fredrik Åkesson – guitars, Joakim Svalberg – keys
Website:  http://www.opeth.com
Current release: Pale Communion (Roadrunner Records)