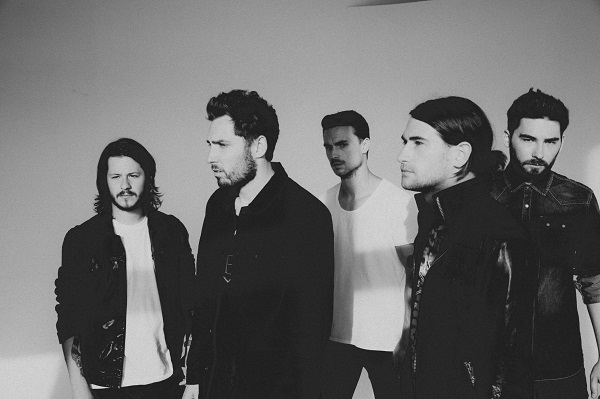 "I remember the first time we did it was a Soundwave we were plying to four or five hundred people and then last time was supporting Paramore on those gigs was absolutely monstrous, some of those were like 15,000 odd people, so it's been a steady grow I think."
From release: From infamous sold out shows at London's Wembley Arena and around the globe, YOU ME AT SIX are hitting Australia with their incredibly energetic live show. If it's anything like previous Australian tours, these shows will sell quickly, so don't miss out!
Sitting at home not doing much we chatted to Matt from YMAS about the upcoming tour as well as new music, power ballads, and looking back at the last ten years with the band…
You guys seem to almost be making Australia a second home, how have you seen your profile rise here in Australia after repeated visits?
Well it's amazing, first off we love coming to Australia, so any chance we get or if our agent just emails us and says 'Australia tour, do you wanna do it?' we don't even know what it is and we're like 'yes, yes, yes, sign us up' so we absolutely love it and when you say it's a second home, it is, because it's a classic pommie thing to do, love Australia, go to Australia, but we are classics. I think it's our ninth time coming over for Groovin' The Moo this time so we've been there a bloody long time. I remember the first time we did it was a Soundwave we were plying to four or five hundred people and then last time was supporting Paramore on those gigs was absolutely monstrous, some of those were like 15,000 odd people, so it's been a steady grow I think. Even our headline shows, this time we're doing some smaller ones because obviously Groovin' The Moo won't let us do massive ones but even then a small headline show for us in Australia is like a thousand people which is absolutely fantastic and we can't ask for anything more really.
This time you're heading to play Groovin' The Moo as well as your own shows, in terms of preparation for shows, how does it differ for you between a festival set and a headline show?
I'd say it depends on what type of festival it is, and I'd say for Groovin' The Moo maybe yes because it's a different dynamic of what we're used to, it's not the sort of festival we're normally used to, we normally do the straight up rock thing like Soundwave or Reading, this Groovin' The Moo is slightly alternative with some different mix of bands, we almost feel like we actually have to win people over that maybe haven't seen us before, don't really know about us or maybe even haven't heard about You Me At Six before. So we structure the set differently, we play the same songs you know, but the way the songs are structured, like the songs that are bigger at our headline shows, maybe we won't play that one last or something… there'll still be our fans in the crowd which is great, but I don't know… the best thing about this Groovin' The Moo thing is we get to go to places we've never been in Australia, so maybe there is a secret hidden You Me At Six fan club in these places *laughs* which have been waiting for a while and we haven't come. So we don't really know what to expect…
It seems like you guys just don't stop, what has been the biggest challenge you feel you've had to tackle, particularly over the last few years?
I'd say writing music for any band is the biggest tackle and the biggest stress, and I don't think we've written a shit album yet which is been quite big in itself, like some bands, if they're four albums in maybe there's one that's a little dodgy and I feel like we've always remained sort of relatively consistent, like the fans have never been 'Oh my god this album sucks blah blah blah' like every single ones has been more up in the charts and we're getting more and more fans which I think is quite warming, so it's adding even more pressure on this next album now, but it'll need to be just as good as everything else, but that's something that You Me At Six has always been pretty good at.
With 'Cavalier Youth' out now for just over a year now has there been any thought or preparation started on new material?
Well yeah we haven't had much time yet, this is the first bit of time we've had in a while… we just came off an arena tour in The UK and we've been chilling, I mean I've got a cat in front of me now, I got a cat three days ago so that shows you how much I've been doing at the moment which isn't much really *laughs* so we're maybe about to start jamming and writing after the Aussie dates because then we have the rest of the year to write and relax and chill and so what we want to do. So we don't want to rush it, I feel like when you rush writing songs they come out terribly… I remember one time on our second album, we did a writing session up in Leeds which is four hours from where we live. We got into the studio for a week and we were almost forcing riffs out, forcing ideas out and we scrapped every single song. So the way we work is we write when we want to write we practise when we want to do it, you can't just go 'oh today we're going to write a song, so let's go and write a song' we can't do that…
Now I've spoken to Chris and Josh before, and always reiterated my love for the big ballads you guys create such as 'Crash' and 'Wild Ones' so just throwing it out there, what are the chances of an entire album of power ballads?
Oh yeah I'd love to! I really like doing the slow songs and writing the slow songs. We always end up writing a few for each album as well and picking the best one, so maybe what we could do is go back and take all the slow songs we've written and release 'You Me At Six – Power Ballads' with some sort of lightning bolt on the cover… I can see it now… that could be a success actually, we'll have to give you like 20% for that idea I think.
I'll do it for 10% and a credit in the album…
*laughs* OK, deal!
The special edition of 'Cavalier Youth' is out, tell us about the experience of putting the DVD together playing with the quartet?
Oh it was amazing, we were in a studio actually playing a long to proper strings and working with a guy names Stephen Street who's worked with The Smiths and Morrissey who are some of his bigger bands, but you really didn't feel like what we were doing was a real thing, because over the couple of years every time you record an album it's been with bigger people and better studios and you never actually feel like a proper musician. This time we were in one of the best studios in London and you've got four string players that are pro in the other room and you're like 'oh my god, this is an actual thing… we are proper musicians' because we have no time to really stop because we end up going from album to album, year to year, because You Me At Six have had ten years this year and I'd say for the first even six or seven years because it was so non-stop we almost didn't have a chance to sort of stand back and think about what was happening, we were just going from tour to tour and getting stuck in. Recently we've had a little time and with Cavalier Youth going to number one in the UK we've had a chance to sit back and look at what we've achieved and what we can do and how we can go into the studio and rework some acoustic songs and get some string section in and work with them and help them write what we wanted to do. Basically an amazing experience…
Being in this band now for just over ten years, has there been a highlight in that time that stands out above all others?
Well it was almost like a stepping stone festival for us, called Reading and Leeds in The UK, I'm sure you've heard of it, everyone knows Reading and Leeds, and about seven years ago we played on this tiny stage to like six – seven hundred people and then two years later we played the Radio One tent which is the second biggest stage and now we're playing to ten – eleven thousand people, and eventually we played main stage but half way up the day and that was maybe to forty thousand people, and then last year we played main stage but third from top which was something ridiculous to like sixty thousand people and it's almost like Reading festival has always been something we look at like 'our band was this size when we did it this year, this size when we did it that year' that's how we sort of gauge how big and how far we've come, by Reading in The UK.
Sounds like a child with a growth chart on the wall at your parents…
yeah, literally, and we've got all the posters from each year and you look at them and they're in a line and it starts off with You Me At Six at the bottom of the poster in the bottom space because they do it alphabetically *laughs* and then moving up a little bit more, up a little bit more, up a little bit more so we've almost got our fingers crossed to see where we could end up in a couple of years or so, you never know.
Other side of that, the business can be a crazy thing, what's been the most eye opening thing about being in a band that you didn't expect would be a part of it?
I'd say almost fan reaction of how you are, because when we're at home and spending time with our family or with our friends we're just sort of what we do is the You Me At Six thing and everyone knows that I'm in a band, but at home we're just getting pissed at the pub and walking home after a couple of pints, but on tour you leave the venue and everyone wants stuff signed or they want a picture, or they start screaming for you and stuff. It's really weird for us because we never got into a band to be sort of… and I don't want to use the word, but 'famous' perse and what someone wants you to be for who you are. That's almost the weirdest thing that I think we've ever done because we never expected anything like that to happen and still to this day it still weirds us out a little bit that people actually want to meet us because when we're at home we're kept so grounded by all of our friends and family which I think is a very good thing and a good idea, because if you let it go all to your head you can always turn into a massive dickhead and no one actually likes you anymore, so we keep it quite chilled. The fans still blow our minds.
Lastly, let's predict the future, so finish this sentence for me, by the end of 2015, You Me At Six will…
Oh God… by the end of 2015 You Me At Six will have written the best power ballad known to man…
Fuckin' A!
*laughs*
Catch You Me At Six at Groovin' The Moo at the following dates:
Saturday 25 April – Oakbank 
Sunday 26 April – Bunbury
Saturday 2 May – Bendigo
Sunday 3 May – Canberra
Saturday 9 May – Maitland 
Sunday 10 May – Townsville

Check out You Me At Six at their headlining dates:
TUESDAY 28 APRIL – PERTH, CAPITOL THEATRE – 18+
www.oztix.com.au
THURSDAY 30 APRIL – MELBOURNE, THE HI-FI – 18+
www.thehifi.com.au
WEDNESDAY 6 MAY – SYDNEY, METRO THEATRE – Licensed All Ages
www.ticketek.com.au
THURSDAY 7 MAY – PENRITH, EVANS THEATRE – 18+
www.ticketek.com.au
Presented by Soundwave Touring
Essential information
From: Surrey, England
Band members:  Josh Franceschi – lead vocals, Max Helyer – rhythm guitar, backing vocals, Chris Miller – lead guitar, Matt Barnes – bass guitar, Dan Flint – drums, percussion, sampling
Latest Release: Cavalier Youth (Cooking Vinyl)
Website:  http://www.youmeatsix.co.uk