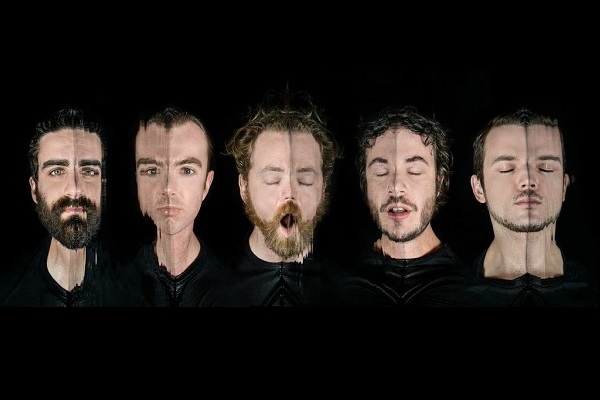 "So it was a challenge and it was exciting but we knew we had something, we knew the sound was fresh so we were just excited. We weren't kids but we were much younger back then and I think we just wanted to get it done real quick and get out there and present it to the world…"
From release: Ten years ago an unknown band from Perth, Western Australia pooled their very limited resources and questionable facial hair, and got to work on their debut album. Recorded in various spaces, in various ways, with a slightly varying line-up, they borrowed gear, they borrowed money, they borrowed space and they used some tunings that perhaps haven't been heard again. The band were KARNIVOOL and the album that had so much blood, sweat, tears (and god knows what else) expended on it in those early hours was THEMATA.
A decade later and Karnivool are an international force to be reckoned with. They tour most of the continents, most of the time, playing to a rabid worldwide audience that follows and debates their every move. Their headline sets are quite long, in part due to the fact that there are quite a few songs from that first album that people insist they play. Somewhere on earth, possibly right now, they are finishing a set with "Themata" and people are about to go ape-shit when that riff kicks in…
At home in the weeks leading up to the Themata decade tour we had a chat with Hoss of Kanivool to fill us in on the upcoming tour, new music and the band's goal for the end of the year…
I remember hearing Themata for the first time and hadn't heard anything like that before. What were the bands feelings like at that time just before releasing it?
Exciting, man, promising, we knew we had something, we didn't know what it was but we knew we had something. We sort of basically gave ourselves a sixteen month period to finish writing, Drew had written most of it and Kenny had done his vocals over some stuff, we had a little package of songs and we all sort of nit-picked at it and added our own little twings and twangs to it and then jumped around a whole bunch of random studios trying to fit this in our tiny budget at the time *laughs*. So it was a challenge and it was exciting but we knew we had something, we knew the sound was fresh so we were just excited. We weren't kids but we were much younger back then and I think we just wanted to get it done real quick and get out there and present it to the world, so looking back at it, it was a lot of fun I think, we had this sort of mindset that it had to get done, we had to get it out there and we had to tour, but none of us knew what we were doing, it was the first sort of LP that any of us had ever put together in a proper form so it was definitely a challenge.
Well it was a pretty bloody good one to start with…
*laughs* Thanks man, I'm glad it's what it is. I can't say I don't look back at it and say 'I wish I had changed that' but I'm certainly happy ten years on with what it became.
What do you think it is about that album that so many people gravitated towards?
I think it's a combination of things, I think Kenny's voice and his melodic sense had a lot to do with it, he's definitely got that melodic tone that draws you in and creates that emotive space. I think that coupled with the sort of progressive rock stuff that we were writing that Australia in general seemed to latch on to with bands lie Cog and Butterfly Effect and all those sort of people who had treaded before us in a way… part of it was good timing, part of it was the melodic sensibility *laughs* I don't know, man… I've tried to calculate it many times, I think people just associated with it on whatever level, for me it's about the emotions you get out of music, for others they get a lot more out of rhythm and soul and melody and the rest of it, so god man, who knows what they latched on to but I'm glad they did.
Now ten years on from its release, you're celebrating by playing it in its entirety for us…
Sure am, track one to track whatever… however many tracks there are *laughs*
What was it like going back to learn some of the tracks again that you may not have played for a while?
It's a work in progress, we're still doing it *laughs* there's songs we haven't quite hit yet but that's this week and next week, so it's tough man, I've got to be honest, the complexity level on some of these songs, there's an acoustic song that's in a funny tuning with a very funny phrasing and we sort of looked at it and said 'that'll be easy' and then we sat around with guitars and said 'how do we play this again?' and then we got the basics down and then thought 'oh shit, whatever happened to the old samples? I guess we'll have to remake them', so it was sort of a real lesson for us in what that song was… and that was one of the easier tracks on the album, respectively and that was kind of a challenge. So we were reminding ourselves how much effort we put into it by pulling some of this stuff together I think.
What else can we expect from the upcoming shows and how are you structuring the nights?
It's still a bit TBC but definitely at some point we'll be playing the album from start to finish, no interruptions, and then obviously after or before we're going to jump around and play some of the newer stuff and probably, hopefully our plan is to play a new song we've been working on from the forthcoming album, so plus guest appearances, random fun, a bunch of lights, yada yada yada it's gonna be a fun evening. Originally when we talked about the idea of doing a ten year retrospective tour, none of us really liked the idea and thought it was a bit naff, then a few of us saw things like when Regurgitator did that thing at Falls when they played the whole album, then The Living End when they played night after night of full albums, and there's something, some emotive context in just hearing an album from start to finish which is kind of cool, as naff as it sounds, it's kinda cool and it definitely puts you in a headspace when you hear it, so we sort of said 'bugger it, let's do it' and since making that decision it's been quite exciting as to how we can present it and what we can present to people to make it a little bit fresh but still pay a good tribute to what the album was.
You've gotta be stoked at the reaction of the tour so far with sold out signs all over the place?!
Man, it's been really impressive, we've had to put extra shows on and that we definitely didn't expect to happen, that's why we did the smaller rooms. It's nice, its humbling in a way that people definitely appreciate what the album was, so we're hoping to get some new faces there as wall, maybe some older people can bring their kids down *laughs*that's how it works nowadays, so it's going to be fun.
I have to mention that the first time I saw you guys live was at the Gaelic club in Sydney back in maybe 2006 and it was either yours or Drew's head that blew and you were one guitar down for most of the set, but you guys didn't miss a beat…
Oh man, I remember that venue… It was Drew's, his 5150 blew up, yeah, but that's not uncommon *laughs*
Your live show and professionalism stands true to this day after seeing you a number of times. How important is the live aspect of this band?
Oh incredible man, it's everything, we really enjoy recording, we find recording as frustrating as hell because of how long it takes us and the nature of it, but we know that once we've got a record in the bag presenting it live will be a different challenge, but that's where we get our joy and we get our buzz from, it's that emotive sensation of looking into the whites of people eyes and getting feedback from people and coming off stage and saying 'oh that wasn't such a good gig' or 'that was a fantastic  gig' and not necessarily of how we played them but because of what people brought and that's what I think makes the difference in a live performance and that's just super important for us. That's what we base what we do around a lot of the time, and it's such an amazing thing to do that to an album that old, you know? I guess it's something that not a lot of people get to do.
OK, now Asymmetry was out in 2013, the pattern does go in a four year block for albums so do we really have to wait until 2017 for a new Karnivool album?
*laughs* We follow The Olympics in the way we write music… we're hoping not man, but we said the same thing before 'Asymmetry' and it did take four years, we've certainly got a bunch of stuff we've been working on and we're pretty excited about it. The problem with Karnivool from an audience perspective is we're just horrible song writers in the time sense, we write a song and we get it 75% finished and if anyone from the outside came in they'd be like 'that's days away from finishing' but I know it's probably not, it's probably at that point that it gets torn back to 1% and is reborn or it gets shelved for two months, it's just the horrible way we do things. We've tried to change it and you know, we're semi apologetic but at the same time we're not apologetic at all, it's just how we do it, and we know it creates good results, it just takes some time. It might be four years, I've got a feeling it may not be, but we'll see how we go, man…
Each album has had a different vibe to it, is that intentional or is it purely evolutionary due to time between albums?
Definitely intentional, we always said the band is not going to write the same album twice, that's not like we sit down and say it has to be this or it has to be not this, just sort of natural in the way we write music, but it's an intentional thing for us to keep changing as a band. I was talking to someone about this band and how we've managed to stay together for so long when other bands haven't and I think part of it is that process… every time we come back and do a new project it feels completely new to us and we have different influences and we have different approaches to music, and we go out and we all do things different things musically in our lives, we've all got other projects going on, so that means every time we come back we are different people and the project is a different project, so it's all underneath the banner of Karnivool and it's all definitely changing, but we certainly hope and feel that the next album will be different again. Then in saying that I can certainly already hear some retrospective stuff that's coming out from the old Karnivool in the newer things, maybe we've finally hit that cycle thing other bands do where you start to feel like you've come full circle, I don't know… *laughs*
So maybe a country or even dubstep album coming in 2017?
Probably Acid Jazz I'd say… yep with all female performers, we'll just write it and pass it on I think, but we'll see how we go. *laughs*
It to me seems you guys like to push the boundaries as to what a band should be able to do musically, structure wise. What's the challenge like being in such a technically proficient band?
Keeping it simple, we tend to do that by the nature of what we love in music and how we approach music, but the challenge honestly is that god man, we'd love to write a song in 4/4 that stays in the same key, that has a verse, chorus and an outro we'd honestly love that, we just tend to be the people that write that and then go 'ooh what if we did this?' so for us the challenge is keeping it as honest and simple as possible and that obviously never happens for us, but that's the goal. If we could write a song that was simply that and it sounded amazing, we'd be the happiest people in the world.
You've been out in Europe where you have a big following, have you been playing the new Themata shows? If so, how have the shows been going down?
Yeah we were in India at the start of the year, then hit a whole bunch of European shows and then UK shows at the end, it was amazing, we toured with a band called Monuments from the UK who are a killer band and again man, just the same sort of thing, killer turn outs, great shows and just a whole bunch of fun.
So were you doing the Themata thing over there, or is that just for us?
No, that's purely for Australia, over there we called it the Divergence tour purely just a chance to play a cross section of the three albums, we actually did something we've never done before, we did it chronologically, we did Themata first, then a tiny little break, then Sound Awake and then Asymmetry, and that actually worked a lot better than we thought it would, there was actually something really cool about that.
After these Aussie shows, what are the plans for the band touring wise?
We've had a bunch of offers and we're just trying to work that out now, ideally nothing because we want to lock ourselves down and write, but something will definitely come up whether it be festivals or some spot shows or whatever, we'll see what happens but were trying to keep it as minimal as possible for the rest of this year, because we're sort of enjoying what's coming out of us in the studio at the moment, we want to sort of concentrate on that and do the best we can.
Lastly I want you to finish this sentence for me, by the end of 2015, Karnivool will…
Be Prime Minister of Australia, in a new party that solely concentrates on music, has no real political values whatsoever, but for some reason they will get voted into power, or possibly had a coup and take over the Australian parliament, and send everyone free lollipops…
Well you've got my vote…
*laughs*
Catch Karnivool on their Themata Decade tour at the following dates:
Thursday April 30 – University, WOLLONGONG
Friday May 1 – Panthers, NEWCASTLE
Saturday May 2 – Metro, SYDNEY – SOLD OUT
Sunday May 3 – Metro, SYDNEY  *Second & final show  – ON SALE NOW*
Thursday May 7 – The Northern, BYRON BAY
Friday May 8 – The Coolangatta Hotel, COOLANGATTA
Saturday May 9 – The Triffid, BRISBANE – SOLD OUT
Sunday May 10 – The Triffid, BRISBANE – *Second & final show – ON SALE NOW*
Tuesday May 12 – The Corner Hotel, MELBOURNE – SOLD OUT
Wednesday May 13 – The Corner Hotel, MELBOURNE – SOLD OUT
Thursday May 14- The Corner Hotel, MELBOURNE – *Limited tickets remain*
Friday May 15 – Kay Street, TRARALGON
Saturday May 16 – Wool Exchange, GEELONG – SOLD OUT
Tuesday May 19 – The Gov, ADELAIDE – *Limited tickets remain*
Thursday May 21 – Discovery, DARWIN
Friday May 22 – Metro City, PERTH – SOLD OUT
Essential Information
From: Perth, WA, Australia
Band members:  Ian Kenny – Vocals, Andrew "Drew" Goddard – Guitar, Mark "Hoss" Hosking – Guitar, Jon Stockman – Bass, Steve Judd – Drums
Website: http://www.karnivool.com.au
Current release: Asymmetry (Sony Music Australia)