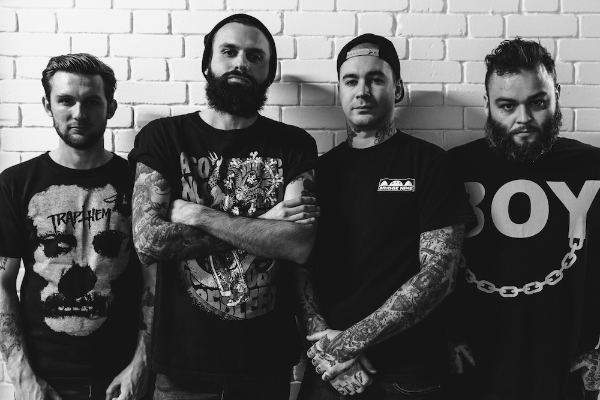 "I felt like this album is a chance for us to really experiment and push ideas and try new things… I feel like Gallows has always been a very aggressive band and for this record it would be nice to turn that aggressive behaviour and explore the darker depths as opposed to just being angry in black and white you know what I mean?"
From release: Hailed as 'The best British punk band since The Clash', Gallows hammered an adrenaline spike into the body of the British music industry with the release of 2006's Orchestra Of Wolves and 2009's savage, unflinching state-of-the-nation address Grey Britain. The departure of original vocalist Frank Carter shortly after, offered the band an opportunity to re-assess the chaos that had been wreaked. Re-affirming their commitment to the punk rock cause, the band re-emerged in 2012 with a new vocalist, former Alexisonfire man Wade MacNeil, a new self-titled album, a new label (their own Venn Records) and a new-found sense of self-determination and purpose. Desolation Sounds represents the thrilling next stage of this re-birth.
After a day hanging out at the National Gallery Lags of Gallows gave us a call to chat about the band's new album 'Desolation Sounds' and how it all came together, as well as looking back to the beginning…
You've released your fourth album, called 'Desolation Sounds' can you give us a bit of insight as to what the title represents to you?
The title actually comes from a body of water in Canada which Wade saw that's called Desolation Sound and I think he basically saw that and he attributed it to and could equate to a name Desolation Sounds, so that's where the name comes from but at the same time I think when it comes to the album itself it reflects the mood of the record. It's very varied and there's a lot of ideas and a very varied sounding album, but over everything it's very dark record, a very moody record, a very atmospheric record and I feel that I don't think we meant for it to sound like the title suggests in any way because we went in there with a completely blank slate and worked up from scratch but when I mentioned doing another record with Wade, before we even hit the studio I remember him saying to me that Desolation Sounds would be a great name for a record and as soon as said that I agreed basically.
So, the self-titled album in 2012 was Wade's first recorded with the band, how was it putting 'Desolation Sounds' together after now having worked with him for some time?
It was pretty easy, I think when we did the self-titled record we learnt how to work with each other really quickly and obviously Wade's a really accomplished musician having come from Alexisonfire and stuff, so he brought in a really strong and positive work ethic when it came to writing and he's someone who really works hard and it's a good motivator as well, so I think that just made things a lot easier. Then especially when it came to this record, the last time we did an album as a four piece was 'Orchestra of Wolves' and going back to this one as a four piece things just move quicker, when less people work on something, the easier it is and never afraid of too many cooks, but its true basically *laughs*. So it was just a really fun and easy process and I really enjoyed making 'Desolation Sounds'.
The album is a monster, did you have an idea of how you wanted it to come together or did you let this one evolve into what it became?
I demoed a bunch of ideas and sent them out to the boys on email, those ideas were so varied but I kinda wanted to show the guys how extreme the album could go in all directions basically. I felt like this album is a chance for us to really experiment and push ideas and try new things… I feel like Gallows has always been a very aggressive band and for this record it would be nice to turn that aggressive behaviour and explore the darker depths as opposed to just being angry in black and white you know what I mean? I always feel that Gallows has been that black and white band where it's either really angry or really firm, whereas now it's a multi-dimensional thing, I hate when bands say it's a chore and things like that but I think changes like that just happen naturally and I see a lot of bands do it now, I think it's great that bands can feel comfortable making new music and try new things and have the confidence to do it. I feel like that when all a band does is release the same style of music over and over and over again in my mind they must be getting bored and that's not what I want to do and it's not what the rest of the guys in Gallows want to do, they want to try new things and explore new avenues and I feel really good about 'Desolation Sounds'.
So was it a case of it just felt right at the time?
Yeah, obviously we didn't really plan to do another record and I can't just hit the guys up and say I want to make new music what do you guys reckon, and luckily for me they were like 'yeah, we're down' and so I think everything just came together really easily and it shows in the music, I mean the music is very much like you can hear real songs and a real coherency, like every vocal I do is very different and when you listen to the whole album it's the same kind of atmosphere throughout.
I wanted to ask about 'Chains' specifically, as this stands out for me on the album, is there a story about this one you can share with us on how it came together?
'Chains' kind of came together with the opening riff and I just liked how kind of slow it was, it sounded to me like some kind of impending doom thing and I didn't want the song to break into something fast and heavy, I just wanted it to power through from beginning to end. So 'Chains' is the very first song that came together for the record and it just so happened I was in the studio recording my girlfriend who is in another band called Dios Mio who are really good, she was in the studio too and we asked her to come sing on the track and it just gave it that whole another level of haunting beauty and it kind of adds another string to Gallows' bow because we've never done anything like that before and it kind of gave us that while push to make that album as different as we could in a way. We do 'Chains' and we realise fuck we can we do this stuff and it sounds wicked, so why should we just stop there and that kind of gave us the push that we needed to make the rest of 'Desolation Sounds'.
You worked with Steve Sears as producer again, what is it he brings to the band that works for you?
The thing about a lot of producers I find is often they try and impose their kind of views of what a band should sound like and Steve's been a very close friend of mine for many, many years and he's someone I can trust with the music, he puts his ideas in but he's not going to like force ideas onto us, he's gonna take what we do and make the best out of it, which is what I think a producer should do. He's just someone we can trust with our sound and someone who believes in the band, working with any producer it's not a case of someone coming in to do a patch up job or something like that, it's someone who's already a fan of the band and understands where the band's coming from and knows where the band wants to go. So it was just a really easy and laid back experience.
2015 is ten years now since Gallows began, looking back to 2005, what for you has been the most notable change in the way that you create music?
I feel like when we did the first album it was very much a reactionary record, we didn't know much about making albums or anything like that, so it kind of came together quickly and I think that's what people loved about it, it was a very raw and passionate album. I think whereas now, now we think about the music and the song structures and what works and what doesn't as opposed to just firing out riffs and putting them on to tape, it's a very much more creative process and it's a lot more satisfying where before it was all about recording that anger, capturing that energy and excitement whereas now it's about recreating an atmosphere and making something that's haunting but has a lot of meaning and a lot of depth and Gallows is more multi-dimensional and less black and white now.
Over the last few years we also saw the emergence of your own record label in VENN, has having this allowed Gallows to have the freedom that you truly want to make your own music?
I think like a lot of record labels there's always an expectation, like an underlying everything where a label is a business and they have to make money so they want a band to almost represent a certain sound or to be something that is clearly marketable and I feel like being in control of our own label it just means we can be free to do exactly what we want to do and make music the way we want to do it. Obviously as a result from that we have the chance to work with other bands and release their music, so I think like the label has benefited us in so many ways that we're really glad we decided to do it.
You've been to Australia a few times now, are there any plans on when we can expect you back?
I know that everyone's really busy this summer with work and other bands and other projects but I think it's just the case of finding that gap in everyone's schedule when we can get together and play some more gigs so I can't say for sure at the moment.
Lastly, let's predict the future, so finish this sentence for me, by the end of 2015, Gallows will…
Oh God… that's a tough one… *pauses* oh man you've really stumped me there… *pauses* I know, by the end of 2015 Gallows will not die…
Essential Information
From: Watford, Hertfordshire
Band members: Wade MacNeil – vocals, Laurent Barnard – guitars/keys/vocals, Stu Gili-Ross – bass, Lee Barratt – drums
Website: http://www.gallows.co.uk
Latest release: Desolation Sounds (out now – Venn Records / Double Cross Australia)