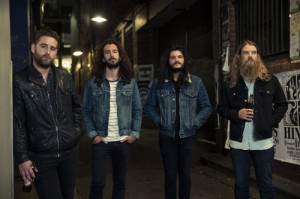 Creatures of the night, Kingswood, one of Australia's hottest live bands, have joined forces with Coopers Dark Ale to rock the Coopers After Dark national tour with a series of exclusive live shows.
The Melbourne band has had a huge year. They debuted at number 6 on the charts with their Microcopic Wars record, secured two places in the triple j Hottest 100 and have blitzed the country with a series of sell out shows and festival line ups at the likes of Falls Music & Arts Festival and Splendour In The Grass.
Since 2009, the band has slaved through many a night, producing a string of hit songs and touring the length and breadth of the country. From dingy pubs and clubs to iconic rock venues, they've developed a signature sound and an explosive live act that draws fans out after dark on even the coldest of wintery nights.
They're the embodiment of what is great about live Australian music, true craftsman who value authenticity and hard work above all else. They're the perfect band to partner with Australia's beer craftsmen – Coopers Brewery for the Coopers After Dark Tour, presented by Dark Ale.
Coopers National Sales & Marketing Director, Cam Pearce, said "Live Australian music belongs in Australian pubs alongside Australian-owned beers. As our largest family owned brewery, we're proud to get behind bands like Kingswood who are giving it their all and succeeding, not just here, but also internationally."
After the success of last year's partnership with British India, Coopers After Dark has become an annual event bringing together crafted Australian music with crafted Australian beer. It's a celebration of Australian music and everything it stands for. It's for the musicians, rhymers, writers, and all the midnight marauders who truly love what they do.
Hot on the heels of their Microscopic Wars II tour, Kingswood will set off for six exclusive shows across six cities, giving fans the chance to get up close and personal in some of the countries best live music venues.
The only way for fans to get tickets is to purchase a six-pack, carton or glass of Coopers Dark Ale and enter online. Coopers Dark Ale drinkers can win four VIP tickets to an exclusive Kingswood gig. There are hundreds of tickets to be won instantly at CoopersAfterDark.com.au. Each gig includes complimentary food and Coopers Dark Ale.
Good things happen After Dark.
COOPERS DARK ALE PRESENTS
KINGSWOOD
LIVE & EXCLUSIVE
Thurs, 28th May – The Factory | Sydney
Fri, 29th May – Shadow Electric | Melbourne
Thurs, 4th June – Jimmy's Den | Perth
Fri, 5th June – The Gov | Adelaide
Wed, 10th June – The Great Northern Hotel | Byron Bay
Thurs, 11th June – Triffid | Brisbane
For more info and a chance to win tickets to these exclusive live shows, head over to CoopersAfterDark.com.au.
WATCH THE EXCLUSIVE NEW LIVE VIDEO FOR KINGSWOOD'S 'SUCKER PUNCH'