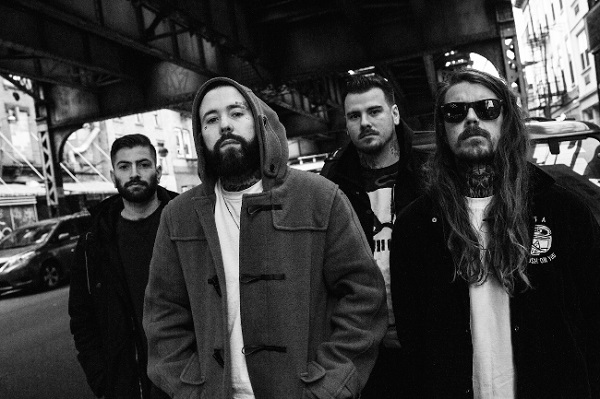 "We have always been a band that likes to let things come together organically you know what I mean? If you head into an album or head into a studio to write songs with something set in your mind of it has to be this or it has to be that or has to remain in the compounds of this sound then it's going to sound laboured and it's going to sound forced…"
From release: Word Is Bond showcases front man JJ Peters at his most real. It's a short, sharp shock of pure honesty delivered in inimitable old-school style, and shouts loud and proud that Peters, guitarist Matt 'RealBad' Rogers, bassist Sean Kennedy and drummer Alex Salinger are here to stay. Word Is Bond is out on April 24 via UNFD. Sure, Deez Nuts still go harder than any other motherfucker in the room but now, with Word Is Bond, their fourth album, produced by Andrew Neufeld (Comeback Kid) and Shane Frisby (The Ghost Inside, Bury Your Dead), Peters is confronting exactly what happens when the party stops.
In the heart of Dusseldorf in Germany getting ready to embark on a huge European tour, we spoke with JJ Peters of Deez Nuts about the band's new album 'Word Is Bond', their presence in Europe as well and much more…
You're about to release your fourth album, with each album do you go in with an idea of how you want it to come together or do you let it become what it does?
We have always been a band that likes to let things come together organically you know what I mean? If you head into an album or head into a studio to write songs with something set in your mind of it has to be this or it has to be that or has to remain in the compounds of this sound then it's going to sound laboured and it's going to sound forced, it's not going to come from a natural, easy place. We've always been very strong in just getting together and just jamming riffs no matter how good or bad they may be and just giving everything a chance and letting things just naturally taking form along the way and I think that's what results in the most honest and reflective songs for us.
The new album is called 'Word Is Bond' can you tell us about the title and what it represents?
'Word Is Bond' is kind of in the same vein as I guess when our name 'Stay True' a few years back, it kind of means the same thing to me, it's just kind of I wanted a name that was going to be how I feel about things and also going to be kind of brewed in hip-hop as that's kind of an important thing in the aesthetics in the band with the artwork and also the vibe of the band musically. Word Is Bond is something that I highly associate with 90's hip-hop and that culture and that term gets thrown around a lot there, and also by Wu Tang Clan which also ties back to the writing and recording process because we wrote everything in Staten Island, New York which is where two of the members are from, and Wu Tang is rad so it comes full circle.
So can you give us one word that you think sums the album up perfectly?
I think at the risk of sounding cheesy, honest is the word that I would associate most with this album because sometimes to my own detriment even there were some things that I said and that I put on this album that I kind of hesitated on doing and had some trouble with in putting out the most honest body of work that I could, I did those things anyway because that's important to me to have that integrity in your music, so as much as people think we're just about a good time or whatever there's a high level of integrity in the DN camp as far as being a musician and an artist and also a person, so I think honest would be a good word to describe this album at the risk of sounding cheesy.
In terms of the songs on 'Word Is Bond' was there a catalyst or driving idea behind writing what became the songs?
Yeah I guess obviously we're all musicians and that's been 90% of our lives for as long as we can remember, so there's obviously that natural drive to want to create that rap music and the longer it's been since the last album process in writing, recording , touring etc, the longer that process was gone for the stronger your need to create new music is, so it had been a couple of years for us and we had a lot that we wanted to put out there, so that alone is enough of a driving force, that build-up of creativity and that build-up of energy and that sort of creative part of your mind. It allowed us to power through an album pretty quickly and it definitely worked for us. Also dude, just personal experience and things that happened in that time can only really sort of be reflected and aired out through music, those things that kind of drive you and force you to put out new work.
I can't stop listening to 'What's Good' it's short, sharp and to the point, is there a story behind that song you can share with us?
Yeah there's always something pretty specific behind everything that I write, but not trying to be too mysterious and cloak and dagger about shit, but I like to not put too much of a final or definite reasoning to songs even though I could put a name on most of the *laughs* you know what I mean? I prefer not to because people are gonna really resonate with a song and really connect with it they have to be able to make the song about them, they have to listen to it and make it relatable to them or something that's happened in their life or somehow tie it in to themselves and if I put a definite meaning on it and say this song's about this person or this situation or make it definite, it's hard for people knowing that after that to make it about themselves and really sort of build that connection with the song. So I like to leave it a little bit open to suggestion
I dig that, and I have to say I love the riff in it, it reminds me of that driving 'Psychosocial' riff from Slipknot…
*laughs* Yeah just a driving force!
You guys kill it in Europe and are heading over shortly for a string of shows, what do you think it is about Deez Nuts that the Europeans dig?
Probably that they don't have a strong handle on English *laughs* I don't know… it's a little bit of a mystery to me as it's so much stronger out here than it is elsewhere, but at the same time I think a lot of that can be put down to the fact that we saw a grounds for a run right from the early days. Ewe came off the back of our EP and opened for Bring Me The Horizon in 2007 and I honestly expected nothing in terms of response, we were just doing it because it was a cool experience and a good opportunity to see the world and hang with friends, but what I was surprised to find was there was already a huge amount of kids singing along to songs and arriving early just to see us and even making their own merchandise because there wasn't any available at that point. So I kind of recognised that in Europe straight away and made an effort to keep coming back short and sharply after that and I think since then we've probably been back no less than two times a year and something three and four times a year to keep doing Europe and most of those tours go for a month at a time and we hit festival season every year and we really recognized that early in the piece to like build that report with the European audience over the last few years. So that probably had something to do with it and also that initial venture over here was what set it up.
Then of course you're back here in June for some shows with Antagonist AD, what can we expect at this upcoming run?
I think that Australian tour is going to be really cool for us, also not only because it's with Relentless and Earth Caller who are very good friends with us and really cool bands, but I think it's going to be a turning point for DN because I think this album is really going to solidify a place in the heart of old fans and hopefully kind of turn around some naysayers and make some people re-evaluate the band and even wake up some old fans and let them know that we're still doing our thing and I think these shows are going to be really exciting for us. Smaller venues that we'll hopefully pack out, keep it live and keep it energetic and anyone that comes out of it definitely guaranteed to have a good time.
In your time as a band so far, what's been the biggest thing you've learned about the business and process of being in a band that you didn't expect was part of it all?
I would say *pauses* I'm a pretty positive guy *laughs* and I try not to be too negative, but maybe put it down to being a little older and a little jaded, but I see so much industry big noting going on and I guess it's always been the case but I've just turned a blind eye to it over the years, but there's so much you scratch my back I scratch yours and so many people like that and it's allowed to be a big part of the industry because everybody plays into it, and I think the biggest thing I've learned is that you can either be part of the problem or you can be part of the solution, and we try to be part of the solution to our own detriment by only ever touring with bands who we are either close friends and people we want to spend time with or who's music we love and want to share with the world. We'd never tour with a band purely because somebody at a label says that's going to further our career, or it's going to be in our best interests, that doesn't interest me, I'm too old and I've worked too much to spend with somebody I don't like, playing music I don't like, so I think the biggest thing I've learned about the industry is make sure you control the things immediately around you as far as controlling your won happiness through that, not playing the game but creating your own game.
Lastly, finish this sentence for me, by the end of 2015, Deez Nuts will…
Be… in jail… *laughs* nah I take that back man, that's a horrible thing to say… we're all grown ass men and we all take care of our business in a sensible and safe way, so that's a ridiculous thing to say, maybe a couple of years back that would've been correct…  At the end of 2015 will have traversed the globe and enjoyed everything in our own hedonist fashion, had a great time doing it, and hopefully doing it all again in 2016.

THE WORD IS BOND TOUR
DEEZ NUTS
ANTAGONIST A.D
RELENTLESS*
EARTH CALLER
Thursday 4 June – The Brightside, Brisbane (18+)
Tickets available from http://weareunified.oztix.com.au
Friday 5 June – The Bald Faced Stag, Sydney (18+)
Tickets available from http://weareunified.oztix.com.au and http://gobookem.com
Saturday 6 June – Red Rattler, Sydney (AA)
Tickets available from http://weareunified.oztix.com.au
Sunday 7 June – Magpies, Canberra (Lic/AA)
Tickets available from http://weareunified.oztix.com.au
Tuesday 9 June – HQ, Perth (AA)
Tickets available from http://weareunified.oztix.com.au
Wednesday 10 June – Amplifier Bar, Perth (18+)
Tickets available from http://weareunified.oztix.com.au
Thursday 11 June – Fowlers Live, Adelaide (Lic/AA)
Tickets available from http://weareunified.oztix.com.au and http://moshtix.com.au
Friday 12 June – Arrows, Melbourne (AA)
Tickets available from http://weareunified.oztix.com.au
Saturday 13 June – Corner Hotel, Melbourne (18+)
Tickets available from http://weareunified.oztix.com.au and http://ticketscout.com.au
Essential Information
From: Melbourne, Australia
Sounds like: Hardcore / Punk
Band members: JJ Peters – Vocals , Matt 'Realbad' Rogers – Guitar, Sean Kennedy – Bass, Alex Salinger – Drums
Latest Release: Word Is Bond (UNFD)
Website: http://www.deeznutshardcore.com/