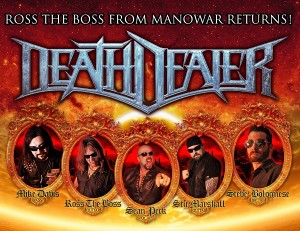 It's hard to argue with the pedigree of a band that includes members that worked with Manowar, the Dictators, Rob Halford, Lizzy Borden, Udo Dirkschneider, and Cage. And that's exactly who the members of Death Dealer have been associated with. Vocalist Sean Peck, guitarists Ross The Boss and Stu Marshall, bassist Mike Davis, and drummer Steve Bolognese have come together to form one of the purest heavy metal bands of recent years.
Death Dealer's mastery of metal is evident on their debut album, Warmaster which was released in 2013 to world wide critical acclaim. The Death Dealer sound is a mighty combination of five very talented and seasoned musicians. It's classic power metal with the brutal edge of thrash, speed, and precision.
As heard on such tunes as Death Dealer, Never to Kneel, and The Devil's Mile, Warmaster is an absolute godsend for fans of authentic, no-holds-barred, heavy metal.
Death Dealer's Australian & New Zealand fans can expect a set list that will draw upon more than just material from Warmaster, the band will be playing other tunes, including some Manowar classics!
If you like your metal, loud and proud with soaring solos, piercing vocals and a bottom end that penetrates your very soul, then be front and centre for one of the most powerful metal concerts of the year!
TOUR DATES
Friday, September 4: Kings Arms – Auckland
Saturday, September 5: Valhalla – Wellington
Thursday, September 10: Manning Bar – Sydney
Friday, September 11: Crowbar – Brisbane
Saturday, September 12: Fowlers – Adelaide All Ages
Sunday, September 13: Hi Fi – Melbourne
Tickets on sale Tuesday, April 21 from www.oztix.com.au  www.moshtix.com.au  & www.chaosnz.com
Pre show VIP Meet & Greets are available There will also be special Guitar Clinics with Ross The Boss and Stu Marshall Details TBC
Official Event Page www.facebook.com/events/884672251631176/
Watch the Tour Trailer
Death Dealer is:
Ross The Boss: Does this legend require an introduction? While with Manowar, Ross not only influenced legions of aspiring musicians, but he was also part of classic albums that have sold more than four million copies worldwide.
Stu Marshall: The Sydney, guitarist/producer achieved fame as the lead guitarist for Dungeon. He is also the mastermind of Empires of Eden, which led to his working with Udo, Rob Rock, Mike Dimeo, Steve Grimmett, Zak Stevens and many more.
Mike Davis: Making a name for himself as the 'go to guy' in his days with Lizzy Borden, so when the Metal God himself, Rob Halford, put out a call for bassists, producer Roy Z knew Mike was the perfect fit.
Sean Peck: One of metal's most illustrious voices, Peck recently celebrated his band Cage's 20th anniversary. Referred to as "The man of a thousand voices," he has been compared to such names as Halford and Dickinson.
Steve Bolognese: An acclaimed metal drumming sensation, Steve began making waves in the hard rock/heavy metal music scene in 2005, playing with some high profile acts including Beyond the Embrace, Into Eternity and Baptized in Blood.
www.facebook.com/hardlinemedia  www.facebook.com/deathdealerband