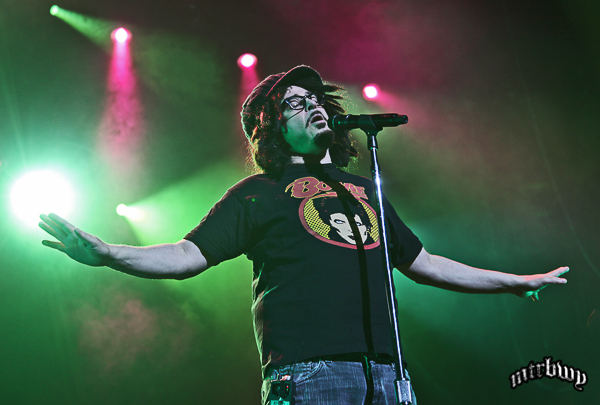 Counting Crows have been a household name since they burst onto the scene back in 1993 with their monster album 'August & Everything After'… and 22 years on, they're still going, still making music and now off the back of their newest album 'Somewhere Under Wonderland' they're back in Australia and here we go…
Support act Ben Salter made his way to the stage almost ninja style as he had to ask for applause which was classic. Just a man and his guitar singing some really nice songs with such lyrical precision and with some cool effects albeit with at times confusing arrangements up there, btu with a song like 'opportunities' being a stand out. He decided to make the mood a little happier as he belted out a cover of Sam Cooke's 'Cupid' and his vocal was so suited to this song and it sounded really great in the state theatre tonight. Closing with 'The Stars My Destination' the title track from his forthcoming album he won over the crowd and that I always a great site to see.
Ok, now I've never seen Counting Crows before so I'm looking forward to it as my sister used to play 'August and Everything After' over and over back in the day, so needless to say I hope we get a selection from that one tonight. Regardless of my wants, I'm looking forward to the show and know it's going to be one of those nights, especially in this venue that will be pretty special.
Ok here we go…  1, 2, 3, 4, 5, 6, 7 there are 7 crows, ahh ahh ahh… the band start 'Sullivan Street' while Adam Duritz sits and listens, he stands and begins to sing and instantly sounds pristine. Man, I know this sounds good but this sounds crystal clear tonight, amazing. Straight into 'Scarecrow' the guitars get a little louder and what's impressive about this band is that the remaining six of them are doing backing vocals with flawless precision. Duritz takes a seat on the riser again as David Immergluck and Dan Vickrey rock it out a little. Back up with some 'Hard Candy' and man, that one got some love that's for sure.
'John Appleseed's Lament' sounds great as does 'Have You Seen Me Lately?' as I can't help but just watch every member of this band, they all play a part and it's truly not just the Adam show. Slowing things down for 'Colour Blind' allowing the moodier deeper side of the band to emerge, the single piano and haunting keys under Duritz's vocal is truly magic as he sang it like he meant it and it showed. Things get a little country with 'Start Again' but things get real with 'Omaha' and it's the first real crowd sing along of the night, also the first accordion solo, special mention to the lady who ran to the middle to film his one on her iPad ha ha. Let me tell you this, no one will be asking for their money back at the door. That was outstanding. What a song.
The fact that Adam can simply stand at the front and sing with his hands in his pockets and deliver the emotion these songs warrant and were written for is amazing and he's doing just that on 'Possibility Days' and with lyrics like "you somehow mixed up goodbye and goodnight" wow, what a line. Duritz changes from his Bowie shirt into a Clash shirt and we get 'Time And Time Again' which sounded great  and after a false start we get 'Cover Up The Sun' another fun upbeat song as is 'You Ain't Goin' Nowhere' that got everyone clapping. 'God of Ocean Tides' from newest album Somewhere Under wonderland and its mostly acoustic based arrangement was really nice, what a song. The acoustics stay out for 'Friend Of The Devil' then some fine harmony guitar work for 'Richard Manuel Is Dead' was a treat to see and hear then staying on the new album with 'Earthquake Driver' which was a whole lot of fun.
Adam takes to the piano for 'A Long December' once again sounding great, I mean really, there hasn't been anything that hasn't been great so far. Let's get loud again with 'Murder' as the band play a most excellent outro whole Adam leaves the stage closely followed by the rest of the band.
'Palisades Park' sees the band return to the stage and give this one a good bash. But you can't fault 'Rain King' as the place went nuts. That was absolutely amazing in terms of energy and participation. The crowd here sure do love that debut album. They slow the set down again with 'Holiday In Spain' and sadly that's it…! As we go out to a chorus of California Dreaming lead by Duritz and we're actually done.
The discussions heard on the way out by numerous people was as simple as 'But they didn't play Mr Jones' in a quizzical manner. But what can ya do, with a catalogue so large now, sometimes songs don't make it, it happens… overall, let me sum it up for you. Tonight was filled with flawless vocals, amazing musicianship, great songs and a damn good time. That's what the Counting Crows are and if you were here there's no way you could dispute that. Simply outstanding.
Essential Information
Venue: The State Theatre – Sydney
Presented by: Live Nation
Support: Ben Salter
Date: April 9, 2015
Website: http://www.countingcrows.com
Photo by: Annette Geneva – Check out our full gallery HERE
Set List:
Sullivan Street
Scarecrow
Hard Candy
John Appleseed's Lament
Have You Seen Me Lately?
Colour Blind
Start Again
Omaha
Possibility Days
Time and Time Again
Cover Up The Sun
You Ain't Goin' Nowhere
God of Ocean Tides
Friend of The Devil
Richard Manuel Is Dead
Earthquake Driver
A Long December
Murder
Palisades Park
Rain King
Holiday In Spain