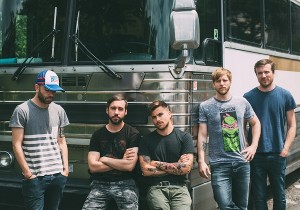 Whether listening to a CIRCA SURVIVE album or attending a live show, one thing remains constant; the experience is both exhausting and exhilarating.
CIRCA SURVIVE are a model of sonic and psychic consistency, ever since they brought us the explosive debut album Juturna in 2005. It should come as no surprise, then, that their fifth album, Descensus, falls in line as an incredibly strong and innovative album and is "just one more piece of evidence proving CIRCA SURVIVE are far and away one of the best bands operating today, and why 'Descensus' is yet another gold star in a career already full of them." – Alternative Press
There is no doubt that CIRCA SURVIVE fans are among the most passionate there are, whether it is worshiping Anthony Green's otherworldly vocals, the gorgeous guitar interplay of Brendan Ekstrom and Colin Frangicetto or the lockstep-yet-off-kilter rhythm section of Nick Beard and Steve Clifford.
Australian fans will be salivating at the very prospect of this incredible tour in September and to add the cherry on top PVRIS will be joining the party!
PVRIS released their debut album White Noise in 2014 to rave reviews and are taking the US by storm! Now it's our turn to witness firsthand what has fans and critics going crazy. "White Noise stands to be one of the most promising and impressive debut albums of the year, but more than just deserving that title, it stands to be one of the best albums of the year." – Absolute Punk
TICKETS ON SALE FRIDAY 1 MAY, 9AM LOCAL TIME
FRIDAY 18 SEPTEMBER – THE MET, BRISBANE – Licensed all ages
www.moshtix.com.au
SATURDAY 19 SEPTEMBER – THE METRO, SYDNEY – Licensed all ages
www.ticketek.com.au
SUNDAY 20 SEPTEMBER – 170 RUSSELL, MELBOURNE – 18+
www.oztix.com.au / www.170russell.com / www.eventopia.co
MONDAY 21 SEPTEMBER – 170 RUSSELL, MELBOURNE – U18
www.oztix.com.au / www.170russell.com / www.eventopia.co