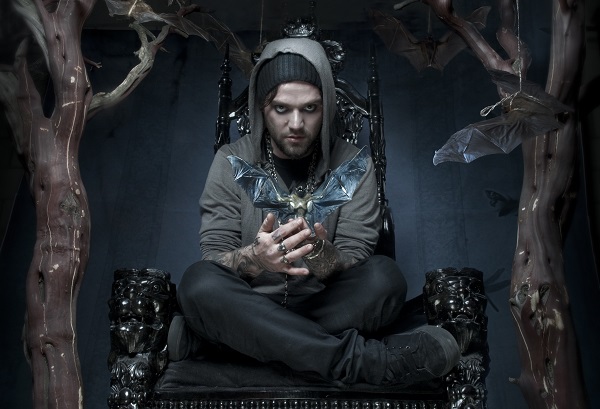 "This time I promised my Dad that I wouldn't paint on my spare time anymore, because I had about $40,000 worth of damages overall from hotels just fuckin oil paint stain on the rug and oil paint doesn't dry for like four days so it fuckin spread everywhere and at the end of my Australian tour I was $40,000 in the hole, so I promised my Dad I wouldn't paint on this trip."
From release: After selling out multiple shows on his last visit to Australia – under the original moniker F*ckface Unstoppable in 2013 – Margera has announced that with the inclusion of Andy McCoy on board, the project has undergone a name change to Earth Rocker. After cutting his teeth via cult reality TV-series Jackass, Viva La Bam, Bam's Unholy Union and Jackass Movies, Margera has also revealed the biographical- film trailer shining light on his journey and rise to fame – 'I Needed Time To Stay Useless'. Margera and McCoy will be accompanied by members from CKY, Viking Skull and Guttermouth with their highly critically acclaimed live show.
Just flying back from Finland after securing Andy McCoy from Hanoi Rocks to join the band, now titled 'Earth Rocker' we chatted to Bam Margera about the band's upcoming Australian tour, what we can expect and much, much more… break out the oil paints… or not…
For those that may not know of or about Fuckface Unstoppable, can you give us your best sales pitch as to what the band is all about?
Fuckface Unstoppable is pretty much anything goes you know what I mean? Usually when you go and see a band they say 'if a fan gets up on stage get them and throw them directly out' like dude, if you can make it on stage then you're on stage, if you want to throw a tomato at Novak then throw a tomato at Novak, it's just whatever you want it to be. Rubbish Heap he sings with me but he's usually too busy in the crowd the whole time *laughs* just riling them up. Novak usually comes out in the beginning before we come on and he sings Phil Collins' 'In the Air Tonight' naked before we come out *laughs*and if it's 18 and under he'll wear a girl's thong, so it's funny as hell.
I have to ask, the name is magnificent, where did 'Fuckface Unstoppable' come from?
It was actually Alex, he's in Guttermouth, he was tour managing CKY on the first Australia leg and that's how we met. Guttermouth was playing at my club in Philadelphia and they stayed the night and had a jam room so we just started jamming and he was like 'This sounds really good, dude we should start a band' and call it Fuckface Unstoppable and then we were just laughing for an hour straight about it and then sure enough *laughs* we went through with it.
Obviously Australia and most of the world know you from Jackass and your subsequent TV shows, and in watching you over the years (not in a creepy way, I mean on TV) it's obvious you're a rock music fan, what was it that made you decide to start Fuckface Unstoppable?
I've always been surrounded by music, I grew up skateboarding but my brother who is one year older than me he was in a band since he was like nine. He got signed to Island records when I was about fifteen and plus we're skating, you need to hear good heavy rock songs to get the confidence to try something hard you know? *laughs*
It's a great little band you've got too, what was the process like in putting the band together?
Jess because he's my brother and he drums, Rubbish Heap, he also drums but I realised he's a better hype man, singing with me, I keep the rhythm but people love it when you're constantly diving in the crowd and creating circle pits and stage diving and stuff, so keep that up because it keeps the energy there. Then we have Matty J from CKY on guitar, and the brand new ideal aka Richard Burs he's on guitar *laughs* and then Matt Deis from CKY, he's on bass at the moment, but now that Andy McCoy is in the band, Chuck Treece from The Badbrains is going to start playing bass.
You're heading back to Australia in May for some shows, what can we expect this time around, the same sort of frivolity from the last tour?
This time I promised my Dad that I wouldn't paint on my spare time anymore, because I had about $40,000 worth of damages overall from hotels just fuckin oil paint stain on the rug and oil paint doesn't dry for like four days so it fuckin spread everywhere and at the end of my Australian tour I was $40,000 in the hole, so I promised my Dad I wouldn't paint on this trip.
Have you thought about bringing Phil with you to look after you?
*laughs* At times just because if he was there I would have him insure the band and the fans would really like to see him, even if it is a quick appearance.
You've been here before obviously, what's your favourite thing to do in Australia besides playing shows?
Well, I really like Cairns, I went there for the first time, every time I went to Australia and I've been there six times, I always went to Sydney, Brisbane and Melbourne but we went up there and there's all there's all these fun zip line things to do and Koala bear holding and great barrier reef and I really liked it up there.
You released an album last year, what was it like actually going in and making a record compared to just performing live?
Well when we went and did the record we were in Iceland and we had this really cool Neve board, Bjork recorded there it was really cool equipment, but yeah it was fine, but I like playing live, it's one big sound all at once you know, drum track, then bass track, then guitar track, then vocal track, it's like a slow process but that's the way it has to be done.
Are there plans to continue to make music and release music as FFU ongoing?
Yeah actually now that Andy McCoy's on board we've been non-stop in the studio, we recorded in Helsinki and now I'm back in Philadelphia and just getting all this new material together, so really stoked.
I have to say I really dug your Iggy Pop cover of 'Go For The Throat', why did you choose that song to record?
Well I always loved Iggy Pop and when he came out with the album called 'Beat 'Em Up' that song just stood out bigtime, and that song just stood out 'Go For The Throat', and he actually played at my wedding in Philly so I wound up becoming really good friends with him. Iggy Pop you can't go wrong, everything he does I think is amazing.
Now people say Rock is dead, what do you say to those people who throw out this ridiculous statement?
It's definitely not dead I just think this whole DJ thing has been taking up a lot more than people expected you know what I mean? You think about all they're really doing up there is just wiggling a little record, there's not really any entertainment, the entertainment is the massive lights and they have a massive fuckin light show and half the people are probably on fuckin' ecstasy so they're having the time of their life. If there were no lights at these DJ shows, no one would go. Sometimes they don't even have vocals and lyrics it's just a steady beat with cool lights *laughs*
OK, let's get a bit of a quick fire insight into Bam…
What band or artist made you want to play music?
Well… I guess I would have to have, believe it or not, I would have to say Poison, RATT and Def Leppard *laughs*, it was sparkly clothes and shit, I thought it was great back then.
Favourite band to see live?
Let's see… live, man I've seen so many fucking shows because I won a club and been on many tours, best band live… I would have to say HIM in their earlier days just because it was new and fresh, then Vile went to rehab and he kind of turned anti-social and kind of lost his mood, it seemed like for a little while he was just going through the motions, but when the band was in their prime I would say them. CKY is always a great show too.
Last album you bought?
It was actually the other day… oh *laughs* Tokio Hotel *laughs* yeah… you know what, I like 'em, it's just rock songs I'm sure if you're a dude who likes mountain rock you would call me a 'homo' for days for liking them, but I think Tokio Hotel is great.
Favourite band in the whole world?
Clutch. They're from Maryland which is right near me, and I've been following them since I was like eleven years old and I seriously, Neil Fallon the singer, I always say 'I need a gallon of Neil Fallon' because the way he writes his songs to me are like completely the way that I would like to sing mine, so that's why we have three Clutch cover songs but we're writing new material so we might only play one or two this time around.
Lastly, finish this sentence for me, by the end of 2015, Bam Margera will…
*laughs* will have a clothing line called 'Earth Rocker', will have a new cd out or vinyl called 'Earth Rocker' and will have a new movie out with Andy McCoy called 'Earth Rocker' and another movie called 'I Need Time To Stay Useless'
And not have spent $40,000 in paint damage…
*laughs* Yeah and hopefully stay away from the paints on this trip…
BAM MARGERA
EARTH ROCKER (F.F.U)
BALLS DEEP IN AUSTRALIA 2015!
Wednesday 6 May | ANU Bar – Canberra, ACT
w/ Foreign Kings
www.oztix.com.au
Thursday 7 May | Manning Bar – Sydney, NSW
w/ Mindshank
www.oztix.com.au
Friday 8 May | Alhambra Lounge – Brisbane, QLD
w/ Bayharbour
www.oztix.com.au
Saturday 9 May | The Small Ballroom – Newcastle, NSW
w/ Mindshank & Maids
www.oztix.com.au
Sunday 10 May | Mona Vale Hotel – Mona Vale, NSW
w/ Mindshank
www.oztix.com.au
Wednesday 13 May | The Entrance Leagues Club – Bateau Bay, NSW
w/ Mindshank
www.oztix.com.au
Thursday 14 May | Barwon Club – Geelong, VIC
w/ Wolfpack
www.oztix.com.au
Friday 15 May | Corner Hotel – Melbourne, VIC
w/ Wolfpack & Misfits Stunt Crew
www.cornerhotel.com.au
Saturday 16 May | Fowlers – Adelaide, SA
w/ At Fates.
www.moshtix.com.au
Sunday 17 May | Capitol – Perth, WA
w/ Children of Poseidon & Chainsaw Hookers
www.oztix.com.au
* All shows 18+ 
Essential Information
From: West Chester, Pennsylvania, USA
Band members: Bam Margera, Alex Flamsteed, Andy McCoy, Brandon Novak, Jess Margera, Chuck Treese, Matty J, Matt Deis
Website:  http://www.bammargera.com