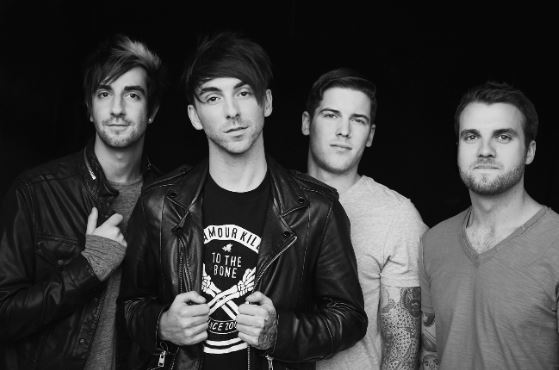 "…the record started taking shape as we started writing songs but we definitely knew we wanted to push things, we wanted to make a dynamic record, we didn't want to do a repeat of the one we had just put out before. Those were all the things that we went in with to start and then I think when we wrote a couple of songs that felt like they were going to be winners for the album, that's when we started pushing it…"
From release: American rock band All Time Low has topped the charts, sold over 1.1 million albums worldwide, raked in 100+ million views on YouTube, toured with bands like Fall Out Boy, Green Day and Foo Fighters, and have played major festivals like Soundwave in Australia and Vans Warped Tour in America. All Time Low burst onto the scene in 2003 with their debut album, The Party Scene, and have released five studio albums to date. The band hit #1 with multiple album releases on Billboard's Rock Albums and Alternative Albums chart and debuted their last three consecutive albums in the Top 10 on the Billboard 200. All Time Low's sixth studio album, Future Hearts, is their most anticipated new album to date and the band will tour throughout 2015.
At home on a quick stop between tours we chatted to All Time Low front man, Alex about the band's new album 'Future Hearts', Australia, working with heroes, learning experiences and much more…
To start us of, in relation to the new album, can you tell us about the title 'Future Hearts' and what it represents to you personally?
The title kind of comes from all these moments throughout our career where we sort of felt free or kind of the most alive that we ever felt, you kind of have those moments as a kid when you first start feeling the shackles of your youth kind of come off and suddenly the whole world's at your fingertips and it's kind of sort of about that. Aligning with that past of freedom and self-discovery and doing what makes you happy and sticking to that path and how we sort of chased that for our career.
Obviously after twelve years a band needs to evolve a little and I love what you've done on 'Future Hearts' did you go into this album with an idea of how you wanted it to come together?
I think so, not a clear cut one at first, the record started taking shape as we started writing songs but we definitely knew we wanted to push things, we wanted to make a dynamic record, we didn't want to do a repeat of the one we had just put out before. Those were all the things that we went in with to start and then I think when we wrote a couple of songs that felt like they were going to be winners for the album, that's when we started pushing it and saying alright, we have a story here and the story is basically about what I just told you before.
Six albums in now does it get easier with each release or is it the opposite and you continually try to or feel you need to do something different?
You know it's kind of weird because it gets easier in the sense of you know how to approach it and you know there are a lot of similar steps and all of that so a lot of that gets easier, but at the same time there's obviously a strive to keep things original and to not keep making the same record and to push yourself to grow, and also on the other side of that coin, we as a band also know what we do and are familiar with what people come to expect from us, so there's also an aspect of that we don't want to betray our fans, we don't want to let people down by making a record that completely throws them for a loop. There's a time and a place for change but we didn't feel we were quite there yet as in taking a massive left turn or anything like that, so it's sort of a balancing act of creatively growing enough but not so much that we end up with a product that no one recognises anymore.
On this album you've worked solely with John Feldman as producer, a guy you worked with a little on 'Dirty Work' why was he the choice for this record and what did he bring to the band?
You know John has just been a good friend for a long time. We've worked on other stuff together and he's just a really talented guy, he knows our genre, he knows our band, he gets it, and that was a big thing, having a guy that gets what he's coming into. We didn't want someone to helm this thing that was going to try and take us off in a bizarre direction because it just wasn't what we were looking for and he just kind of fit the mould for that and he's such a good creative force, he's done a bunch of albums that we're fans of and all sorts of things so it seemed like a no brainer at the time.
Listening to the album 'Runaways' stood out for me, man, what a song and hook, is there a story behind that one specifically?
Oh dude thank you. Yeah essentially it's kind of about young love and how young love can end up lasting and sort of really about me and my now fiancé and how we've been through a lot of stuff together… years of stuff *laughs* and good times, bad times and all of it. It's kind of about just those celebrating that we've managed to escape all the negativity and we sort of ended up in this really great place together. When that happens it feels like you've escaped some sort of crazy catastrophe, what did you do to get here and that's sort of what that song is about.
I do have to bring up your recent Soundwave experience in Sydney, let's talk about the rain… what goes through your head when that starts to go down?
Oh it was a bummer, I mean, when it first starts happening I love it because it kind of creates pandemonium which for our kind of show we embrace it, I always love it, I thought it was rad but at the same time there's definitely, when it started getting bad we were like 'shit…' we knew there was a big storm coming and we were just afraid we were going to get cancelled or postponed or whatever and so when that ended up happening that was definitely a bummer. We really didn't want to stop but there's not much you can do, when it's the elements you can't really fuck with it *laughs* there's a lot on the line…
Do you think we could expect to see you back soon though?
Absolutely, that was a such a positive tour for us, we had such a blast out on that one, so I really think we'll try to get there again hopefully this year, if not then very early next year to do some of our own shows I think.
Now I have been able to witness one of your live shows before, it was so ridiculously fun, upbeat and entertaining, how important is the live aspect of the band to you?
I think personally it's the most important, I love a good live show and I really try to hold up to a high standard when it comes to that. For us I think our recorded music is sort of a vessel that carries us to the stage and just gives people something to sing along to, but really for me it's all about actually getting on the stage and putting on an amazing show. So that fun energy and that dynamic is I think what this band is built around.
Australia has always been good to you, do you have a particular stand out memory of a previous trip here?
We've been over there a bunch of times now so there's a lot of good memories but I remember a few years back it was another Soundwave tour and Story Of The Year was there and Yellowcard was there and they're some of our really good friends and we were all in the same travel group and so pretty much every city we got to we were out to 3am every night, 4am every night, just raging, tearing up the streets with those guys and that definitely made for some really fond memories with those guys.
In your career thus far, has there been an All Time High for All Time Low?
Oh man there's a lot of really amazing moments, it's a tough question because it's hard to pinpoint one, we've been really lucky in that we keep having these awesome moments for our band and these awesome accomplishments, but I think there was a big one recently, we sold out Wembley Arena and we were shooting a DVD there of the show and that was pretty incredible. That stage is very well known and it's sort of legendary in a lot of ways, a lot of amazing bands have played there over many years and to step out on that and know that it's sold out for us and only *laughs* that was a really cool thing to be a part of and to accomplish.
So starting a band is fun and everything but over the years what have you learned about being in a band that you didn't expect would be a part of the whole thing?
Ooh… Until you're in it I don't think you know just how much travelling and oh you know what? I don't think people know how much down time there is… and when I say down time I don't mean down time at home and relaxing down time, I just mean that you spend a lot of time sitting in dressing rooms and in airports and stuff like that *laughs* maybe it's not the worst thing in the world obviously but I would say that's probably the most boring aspect of being in a band, all those moments where you've just played a show, it's 4am, you're at the airport, still sweaty from the show the last night, maybe a little hungover and waiting for a flight to get to the next place and your flight's stuck on the tarmac… there's a lot of that, a lot less glamourous side to it that I think a lot of people don't acknowledge or see because that's kind of the behind the scenes stuff, but it's not all fun and games…
You should write a book about the opposite of being a rock star, all the stuff that actually doesn't happen when you're on stage…
Yeah *laughs* I don't know, like when the valet can't find your car and shit like that? *laughs*
Now anyone that's worked with Butch Walker in the past we always have to ask about because we think he's a genius, so… How much of a genius is he? *laughs*
He is a genius, I can confirm *laughs* no, Butch is amazing I really love that guy, I'm such a fan of him as a song writer and it was really cool that we got to work with him, he taught me a lot at a young age which I still hold on to now, and I just feel like he moulded me as a writer in a lot of ways.
OK so let's do a quick fire insight into you with a few questions…
What was the last album you bought?
Oh last album I bought was The Maine's new record 'American Candy' it's awesome. They've been so consistent over the last few records, they're great.
What band or artist made you want to be a rockstar?
I think ultimately it was probably Green Day, followed closely by Blink and The Foo Fighters…
Speaking of Blink, you got Mark Hoppus to work on a track on the new album, how good was that?!
Amazing, it's awesome that we grew up fans, kind of became friends and now to have him contribute that to the record is definitely big for us.
Does it freak you out in a way? For instance, I'm a huge fan of music obviously and if I had one of my heroes come and work with me it'd be like a head exploding moment, is it like that for you?
It definitely was, I was trying to keep it cool when it was happening *laughs* but no, the record comes out next week and I haven't listened to it in a long while, typically when we finish a record I have to step away from it for a while otherwise I kind of end up hating it. I was driving the other day and had just received a physical copy of it and so I popped it in gave it a listen and it came onto that song and it definitely made me take a step back and really appreciate how far we've come to make that happen.
Sorry for the tangent *laughs* back to the questions…  Who is your favourite band to see live?
Foo Fighters, one of the best.
You've been doing this now for twelve years, what is it that you still enjoy about being part of this band?
Oh there's so much to enjoy, first and foremost is getting to travel the world, see all these new places and experience things that a lot of people never get to experience, we're very lucky to be able to do that. Then second, to be able to do that with your brothers, your friends you know? It's a unique position to be in when you get to travel in a band because you're touring with basically what becomes your family on the road so that's always special to share it with good friends like that. Above all else just to be able to do something that's creative, I'm a creative person, I don't do very well in other environments, so it's super cool to be able to do what you're passionate about.
I love that it's still the four original guys too, nothing's changed there…
Oh hell yeah man, like I said it's a family.
Lastly, let's predict the future, finish this sentence for me, by the end of 2015, All Time Low will…
Shit… do something absurd at The Grammy's *laughs* I don't know if we're even getting an invite to The Grammy's but if not we're going to have to sneak in. *laughs*
Essential Information
From: Towson, Maryland, USA
Band members: Alex Gaskarth, Jack Barakat, Rian Dawson, Zack Merrick
Website: https://www.alltimelow.com
Latest release: Future Hearts – (Out Now – Hopeless Records / UNFD)