Promoter Garry Van Egmond announced the Australian dates for AC/DC's ROCK OR BUST WORLD TOUR today.   Following on from the release of their worldwide Number One album 'Rock Or Bust', the legendary band will play Australian stadium shows in November and December.  AC/DC will blast their way through each of the five major capital cities where they will appear at outdoor stadiums.
TOUR DATES: 
The Australian tour announcement comes soon after AC/DC delivered an explosive performance of the single "Rock or Bust" and their classic "Highway To Hell" at the 57
th
 annual Grammy Awards.  This weekend AC/DC are confirmed to headline the Coachella Valley Music and Arts Festival on April 10 and 17 kicking off what is slated to be a massive touring year for AC/DC.
The Rock or Bust World Tour
 begins in Holland on May 5 and will play dates in Europe through to July.   When tickets went on sale in Europe Rock or Bust World Tour sold 1.75 million tickets in 24 hours! The North American leg commences in August through to September before the band head to Australia in November. New Zealand dates have also been confirmed for December with tickets going on sale in May.AC/DC last toured the world from 2008-2010 with the Black Ice World Tour, which had the band playing to over 
5 million fans in 108 cities in over 28 countries.
  Box office records were smashed in Australia and New Zealand with 750,000 tickets sold and The Black Ice World Tour earned AC/DC a Pollstar Award for Major Tour of the Year in 2010.
AC/DC's album 'Rock or Bust' was released on December 2 last year and immediately topped sales charts around the globe.  The album's first 2 singles "Play Ball" and "Rock or Bust" were added to major radio around the world.  The band's third video "Rock The Blues Away" shot in Los Angeles has just been released and has already notched up more than 9 million views.
'Rock or Bust' is the band's fifth No.1 album in Australia and the bands seventeenth studio album overall, with the previous four being: BACK IN BLACK (March 1981),LIVE (22-Nov-1992), BALLBREAKER (8-Oct-1995), and their last was BLACK ICE(27-Oct-2008).
Don't miss the concert event of the decade which is heading to Australia in November and December 2015.
If there is one thing you have to do in your life its AC/DC live!Tickets are priced at *$99.00 and *$159.00 and go on sale on Monday 20 April.
*Booking and transaction fees may apply to credit card transactions
For further information on the AC/DC Australian tour visit:
www.acdctour.com.au
Australian Tour presented by: Van Egmond Group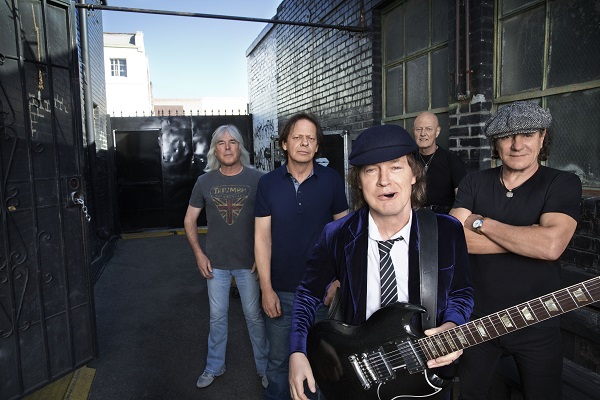 THE BAND:
More than four decades into a career that shows no signs of slowing down or letting up, AC/DC, like electricity itself, provides the world with an essential source of power and energy. Since forming in 1973, AC/DC's high voltage rock 'n' roll has flowed out into the world via consistently sold-out concert tours and global sales totaling more than 220 million albums and counting.Sony BMG Music Entertainment's #1 best-selling catalog act worldwide.AC/DC has sold nearly 71 million albums in the US alone, making AC/DC one of the top five selling bands in American music history.
One of the group's best-loved works, the enormously successful and influential "Back In Black," has achieved RIAA "Double Diamond" status, for sales in excess of 22 million copies in the United States, and is the U.S.'s fifth largest-selling album ever.
But the roots of AC/DC lie back in Australia, and before that Glasgow, Scotland, where Angus and Malcolm Young, the musical core of the band (and still the most formidable guitar team in rock history), were born (in 1958 and 1953, respectively). In 1963, the Young family migrated to Sydney, Australia, where music would make its mark on the brothers. (As a member of the Easybeats, Angus and Malcolm's older sibling, George Young, was responsible for one of Australia's first international hits, "Friday On My Mind," in 1966. From 1974 through 2000, George and musical collaborator, Harry Vanda, produced a number of AC/DC albums including "High Voltage," "T.N.T.," "Dirty Deeds Done Dirt Cheap," "Let There Be Rock," "If You Want Blood You've Got It," "Powerage," "74 Jailbreak," "Who Made Who," "Blow Up Your Video," and "Stiff Upper Lip.")