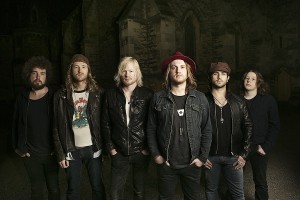 Many doomsayers are writing rock's obituary in 2015. But if you think rock is dead, ready yourself for the debut album from Melbourne's Palace Of The King.  Titled White Bird/Burn The Sky, this is rock and roll that leaves a trail of denim-clad soldiers and converted non-believers in its wake.
On June 19, 2015, it's time for the White Bird to take flight. From three minute funk-infused rockers through to seven minute Sabbath-esque crushers, Palace Of The King has seized the opportunity to explore every intricate corner of their influences and craft a debut album that captures a band at a point where 'scratching the surface' isn't nearly enough. White Bird/Burn The Sky tears apart the 100-year history of the blues, adds a distinctly modern edge and smothers a 'no holds barred' attitude across 44 minutes worth of riff-a-minute, hook-laden rock and roll.
Formed in late 2012, Palace Of The King – nameless at that point – quickly recorded a three-track demo and developed the vision of a six-piece blues-infused rock and roll band. Far from a grave-robbing retro trip, Palace Of The King has just as much in common with Rival Sons, Graveyard and Jack White as they do Led Zeppelin, Black Sabbath and Deep Purple.
Having spent their formative years storming stages in every corner of Australia – alongside bands as varied as Airbourne and The Tea Party – and priming themselves for an international assault, the time has come for Palace Of The King to take their brand of rock n' roll abroad. White Bird/Burn The Sky will be released in Europe on June 12 through Listenable Records, with the band's European tour following in October, presented by Teenage Head Music.
"Palace Of The King is literally like a huge ground shaking Palace of RIFFS, SOUL and Rock'n'Roll." comments Joel O'Keeffe, lead singer and guitarist of Airbourne. "With more hooks and lines than a hard working Bering Sea fishing fleet they are guaranteed to tangle you up, reel you in and blow you away with their unique six-stringing, soul singing, sexy stomping Rock'n'Roll! They are the real fuckin' deal and I can't wait to see them setting fire to Europe soon! Crank up POTK!"
The 'freight train' metaphor may be overused and stale. But you'd be hard-pressed to find one that is better suited to a band that has played over 200 shows and released a mountain of music at such a prolific rate, all within two years of striking their first chord as a band.
Turn it on, turn it up and strap yourself in for the ride – Palace of The King's 'White Bird/Burn The Sky' Australian album release, June 19, 2015.
European album release, June 12, 2015 / European tour, October 2015.
Melbourne live date: Saturday 4th April, Cherry Bar
With The Ugly Kings + guests to be announced
Listen to 'No Chance In Hell' here
About Listenable:
LISTENABLE is a metal/ rock label founded in 1997 based in France. Distribution partners are Warner Music Group in : United Kingdom, Denmark, Sweden, Norway & Finland. EDEL : Germany/Austria
IRASCIBLE : Switzerland. SOUNDWORKS : France. AUDIOGLOBE : Italy GRAN SOL: Spain ROCK EXTREMUM, MYSTIC, MASTERS OF METAL : Eastern block : various in Czech republic/Slovakia WIZARD : Bulgaria, MUSIC200 : Hungary.