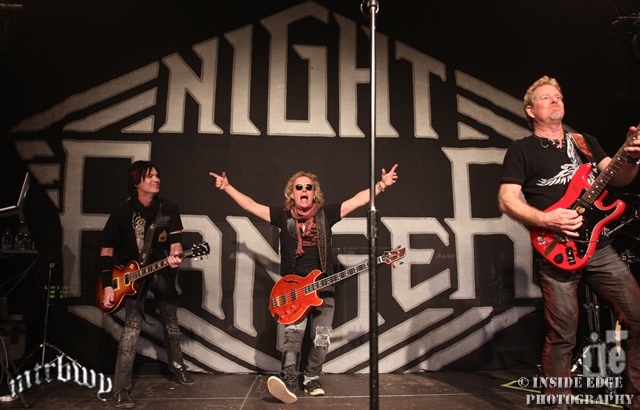 Turning up at the O2 Academy Islington half an hour before the doors opened, I was surprised to find a couple of hundred people already in the queue….many of the potential audience would already have gone off to North Wales for HRH AOR, so it was excellent to walk in to find the 800 capacity venue pretty well full.
There was no support band, and we were promised a 2-hour set….so after a short delay, the lights went out, the intro to TOUCH OF MADNESS kicked in, and the band hit the stage in front of a huge Night Ranger banner – drums on one side, keys on the other, and the three front men with space to roam!
Jack Blades is a pocket-size dynamo onstage…..and wields his oversize bass with enthusiasm…and we raced through 7 WISHES, SING ME AWAY, 4AM and RUMOURS before launching into ST BARTHS from the new HIGH ROAD album.  Jack's voice was sounding a bit tired at times, but Kelly Keagy kept filling in from behind the kit with his really strong vocals. Brad Gillis is a monster on lead guitar, with a unique playing style and a very distinctive sound – and is well supported by new boy Keri Kelli on lead / rhythm guitar (ex Love Hate and Alice Cooper), with them both ripping into solos through each of the songs. After the initial rush of NR tracks, we were hit with COMING OF AGE from Jack's previous band, DAMN YANKEES, which was met with a huge roar from the appreciative crowd.
Opening track from the first album, NIGHT RANGER, is still one of my favourites, and the song sounded huge live, and was followed up with SECRET OF MY SUCCESS, before a short interlude to feature Keri and Brad's other bands too – SCHOOLS OUT from Alice Cooper, and then some OZZY to note that Brad had filled in on tour with OZZY after Randy Rhoads death.
Title track from HIGH ROAD is a classic Night Ranger sound, and after a couple of ballads, we got a second Damn Yankees treat with a soaring rendition of HIGH ENOUGH, followed by an acoustic BOYS OF SUMMER.
There were no real gaps in the set….no pretending to finish, go off, and come back on for encores……we just got more NR classics, with LAY IT ON ME, WHEN U CLOSE YOUR EYES and a rip-roaring DON'T TELL ME YOU LOVE ME, before the set wrapped up with SISTER CHRISTIAN, with Kelly Keagy coming out front to sing the intro, and closing with ROCK IN AMERICA, with yet more trading of solos from Brad and Keri.  Over 2 hours of nostalgia, mixed in with highlights from the new record – and promises to keep coming back to the UK to tour in coming years.
Essential Information
Venue: O2 Academy Islington, London
Date: March 12, 2015
Website: http://www.nightranger.com
Photos and review by: Peter Coates – Inside Edge Photography – Check out our full gallery HERE

Set List:
Touch of Madness
Seven Wishes
Growin' Up in California
Sing Me Away
Can't Find Me a Thrill
School's Out
Four in the Morning
Coming of Age
St. Bartholomew
Sentimental Street
Night Ranger
Crazy Train
High Road
Don't Live Here Anymore
Eddie's Comin' Out Tonight
High Enough
The Boys of Summer
Goodbye
When You Close Your Eyes
Don't Tell Me You Love Me
Sister Christian
(You Can Still) Rock in America