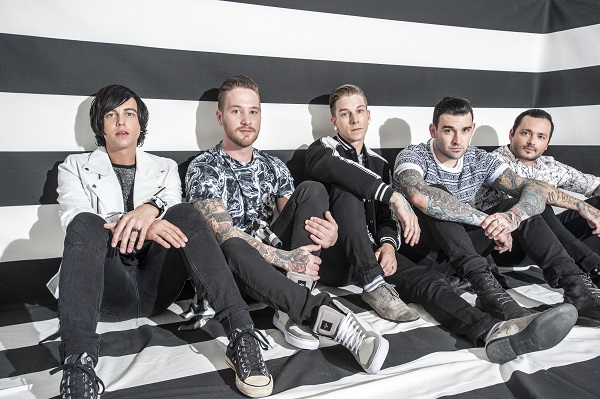 "I think when we originally did the record that got scrapped, there were some preconceived ideas and kind of direction they wanted to go in but then when we did 'Madness' I felt all we threw all that out the fuckin' door. Let's not have a path and got into it and see what comes out…"
From release: Sleeping With Sirens drive right to the core of that place inside that connects people through music. Kellin Quinn's intimate vocal revelations arrive drenched in a warm vulnerability that has stitched fans around the world to the band. Even as their penultimate album, 'Madness', promises to crack the mainstream wide open, the band remains steadfast in their determination to keep things welcoming (and sheltering) to the people who've been there since day one and the ever-increasing number of new fans alike. 'Madness', frankly, is an unashamed masterpiece of melodic pop rock perfection, driven by an undercurrent of punk aggression and beautifully tempered by an overwhelming soulfulness and sensitivity. Together with Quinn, guitarists Jack Fowler and Nick Martin, the rhythm section of bassist Justin Hill and drummer Gabe Barham forge a vibrant musical collage in songs that serve the powerful audience connection SWS celebrates.
Before running off to a meet and greet with some fans we caught up with Nick of Sleeping With Sirens to tell us about the band's new album 'Madness' and its creation as well as being a part of the Epitaph team and when we may see them in Australia…
Now, 'Madness' is the title of the new album, tell us, why was that the right name for the album and what does it represent to you personally?
Madness in general that term kind of represents the whole entire process and the whole entire last year of our lives you know? Recording a record before this and then completely scrapping it and then just literally going in to making another record just completely mad and out of our minds and creating something that was really beautiful, like a beautiful madness I guess… you know I'm sure madness has a negative connotation but for us it was kind of conducive in making the album that we made.
This is your first album with the band, what was it like coming into an already established band and having to almost jump straight into proceedings?
I don't know, for me I feel like I thrive in situations like that I've kind of always been in those positions or kind of not necessarily already established bands but maybe walking into a project where all the guys already have their chemistry and already have their friendships intact, for me I was kind of like this new guy walking into all of this. Lucky for me I have a very long history of being in bands and touring and it kind of fills in my personal resume in doing it. It wasn't too weird especially with writing as that's a different kind of beast, it's its own entity and I was lucky enough to kind of fit in amazingly well with these guys. I never had any issues with them and we have a friendship that feels like we've known each other for twenty years and it worked out really well.
It is the bands fourth album, in terms of the creative side of it, was there a clear direction on how the album was going to play out?
No, I think at least from my stand point as an artist and a musician I think it's always kind of good to go in with a blank canvas, I've always appreciated musicians and artists that don't really have a set mind or set direction for what they want to accomplish, they let that happen as naturally as possible, and I think that was a big part of this. I think when we originally did the record that got scrapped, there were some preconceived ideas and kind of direction they wanted to go in but then when we did 'Madness' I felt all we threw all that out the fuckin' door. Let's not have a path and got into it and see what comes out, if it's crazy and mental and completely out of control then let's do that and I think it's a much better idea for us to not have any set ideas and just go in and have fun, have that blank canvas and do whatever the fuck we wanted to.
The album sounds great, you worked with John Feldmann as producer, now you'd worked with him before on the D.R.U.G.S. album but this was his first time working with Sleeping With Sirens, what did he bring to the album that worked for the band that they felt may have been missing before?
I think just an intensity and an extreme eccentric personality… I think in the past the guys had really worked with producers who were close friends or people who had this really deep friendship with which is good too, but with Feldmann none of them had ever spent any time with him, so they came in really blind to it and I did everything I could to prep them for him because he's a very insane person but very controlled and very methodical from his end and I think they needed that, I think they needed someone to not have them settle for anything. Feldmann does not settle for anything less than 100% so I think it was important that we had somebody like that to really push us until we wanted to fuckin' kill ourselves, he's that guy, and that's the beauty that comes out on the record.
This also the band's first album on Epitaph, a huge label for the band, what's it like being a part of their family now? You've got some bitchin' label mates over there now!!
It's amazing, I mean for me I probably have more of a background of what I grew up on as I'm a lot older than the other guys, I'm thirty two and I grew up in San Diego and the Punk Rock like Skate Rock all that kind of music, I grew up with Rancid, Pennywise, Millencolin and all those kinds of bands shaped me to be who I am today, so to be on that label is amazing. When we started having meetings there I'm the guy just walking around with my jaw dropped looking at everything on the walls and looking at all these records that changed my life, so to be a part of that it really means the world to me and it's crazy to think that we're label mates with some of these bands that I grew up on that completely changed my life.
Touring, it would be crazy of me not to ask about when we may see you in Australia, any plans?
You'll see us there some point this year, I know we've had talks and trying to figure out timeframes but we are most definitely, inevitably going to be in Australia this year, we love it there.
Lastly, let's predict the future, finish this sentence for me, by the end of 2015, Sleeping With Sirens will…
Ooh this is a good one… we will have completely lost our minds from touring our asses off from this record heading into 2016 still touring our asses of and losing our minds even more in the most positive way possible.
Essential Information
From: USA
Band members: Kellin Quinn – lead vocals, Justin Hills – bass guitar, Gabe Barham – drums, Jack Fowler – lead guitar, Nick Martin – rhythm guitar, unclean vocals
Website: https://www.sleepingwithsirens.net
Latest release: Madness – (Out Now – Epitaph)