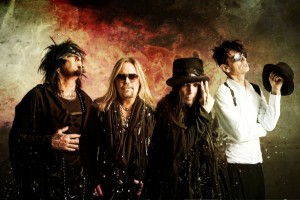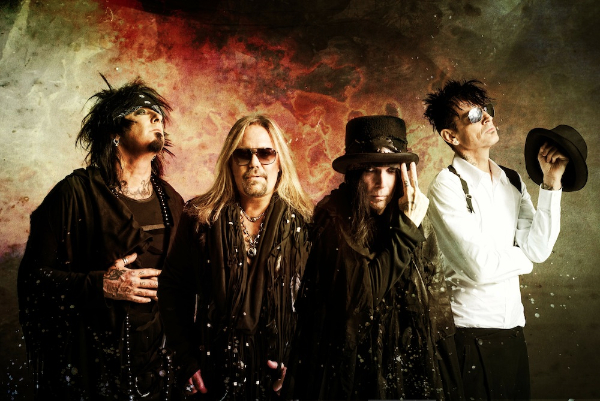 'THE FINAL TOUR' ADDS 2nd & FINAL MELBOURNE SHOW 
DUE TO OVERWHELMING DEMAND
AUSTRALIA'S LAST CHANCE TO SEE THE BAND LIVE!
FRIDAY MARCH 13, 2015 –
 Kickstart My Heart! Due to overwhelming demand, legendary rock icons 
MÖTLEY CRÜE 
have confirmed they will perform a second Melbourne show during their highly-anticipated Final Tour of Australia this May.
Special guest at all shows will be shock-rocker ALICE COOPER.
Mötley Crüe's FINAL Melbourne show EVER will be at Rod Laver Arena on Wednesday May 13.
Tickets will go on sale at midday on Friday, March 20.
My Live Nation members can also be among the first to secure tickets during the pre-sale beginning at midday this Wednesday, March 18.
The Final Tour marks the end of an era for the band. In January 2014, all four original members gathered to sign a binding 'Cessation Of Touring' agreement taking effect at the end of 2015 before a press conference in their hometown of Los Angeles and announcing the global two-year Final Tour. A year later, on January 20, 2015 in New York City, the band announced 
Mötley Crüe
's highly anticipated final live performance of the band to take place at LA's Staples Centre on New Year's Eve 2015.   The 2014 portion of 'The Final Tour' was one of last year's top grossing US tours, selling close to a million tickets across 72 cities and grossing more than $45 million USD.
Australian fans had better brace themselves; the mighty Crüe are bringing their full production with them, including the ground breaking Crüecifly drum coaster, fire spitting bass, over the top pyrotechnics, that have made 'The Final Tour' such a wildly successful, memorable experience for hundreds of thousands across the world. "My career focus has been on building artist's careers – it's kind of perversely cool to be responsible for ending one," says Michael Coppel, President & CEO, Live Nation Australasia.
Bassist, Nikki Sixx says of the band's visit, "We can't wait to celebrate 34 years of Mötley Crüe with our Australian fans and come over there one last time.  We always have an amazing time in Australia and we're not holding back either… we are bringing along our full production including the Crüecifly drum coaster, as well as the pyro and every other bell and whistle."
Ensuring they farewell Australia in epic style, the inimitable Alice Cooper will accompanyMötley Crüe on all Australian dates as very special guest. The Hall Of Fame inductee continues to connect with Australian audiences via his broadly acclaimed radio show Nights With Alice Cooper, which airs on a variety of rock networks Australia-wide.
Once coined the most evil rock singer in the world, Alice Cooper recently suggested Crüe let him kill them on stage, "That finishes everything. Four guillotines, floomp! Done!" he enthused. While his villainous vision may not be realised, an equally evil performance is guaranteed as Cooper unleashes his hard rock classics.
Thirty-four years into one of the most tumultuous and staggeringly successful careers in the history of rock music, Mötley Crüe continue to command unwavering allegiance from fans of all ages. The classic line-up of Vince Neil, Tommy Lee, Nikki Sixx and Mick Mars still packs a powerful punch and they're ready to remind Australian audiences why Mötley Crüe will go down in history as one of the greatest rock bands of all time.
Coinciding with the announcement of the final dates and the theme of the Final Tour, the band also released its new single 'All Bad Things', which is available for sale digitally here. The single is accompanied by a video clip of highlights spanning the 34-year career of Mötley Crüe which can be found here.
Do not miss one of the tours of 2015 – Mötley Crüe with special guest Alice Cooper!
Tickets for this double down on debauchery will disappear fast. There will be no second chances.
#RipMotleyCrue
AUSTRALIAN TOUR DATES
ROD LAVER ARENA, MELBOURNE
TUESDAY MAY 12
WEDNESDAY MAY 13*  NEW SHOW!
ALLPHONES ARENA, SYDNEY
SATURDAY MAY 16
BRISBANE ENTERTAINMENT CENTRE
TUESDAY MAY 19
ADELAIDE ENTERTAINMENT CENTRE
THURSDAY MAY 21
PERTH ARENA
SATURDAY MAY 23
*2ND MELBOURNE SHOW ON SALE 
MIDDAY FRIDAY MARCH 20
*Fan Club pre-sales:
10am Monday March 16 until 5pm Tuesday March 17
*My Live Nation & Ticketek pre-sales:
midday Wednesday March 18 until 5pm Thursday March 19
ALL OTHER SHOWS ON SALE NOW
For complete tour and ticket information, visit:
www.motley.com     www.alicecooper.com
www.livenation.com.au