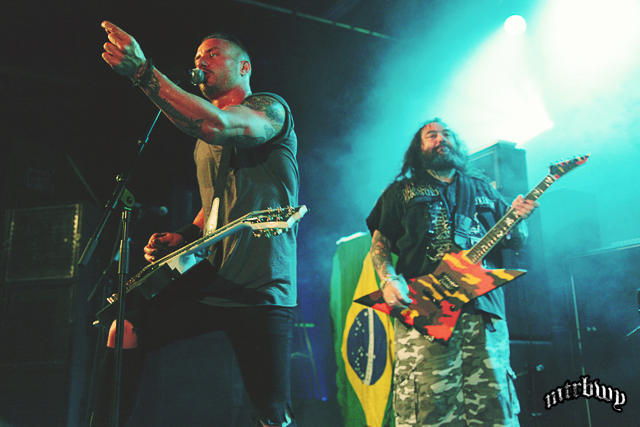 Gotta love a week where we cover Roxette and the next night we're all about the METALLLLLL at Lamb of God and Killer Be Killed for their Sidewave… As the show isn't even close to starting, many people behind me are clearly peaking to early, they are pumped. It's actually quite cute as they are shouting out lyrics and getting ready for mayhem. Oh yeah, I used the word cute at a metal show… Big whoop, wanna fight about it?
Killer Be Killed, a line up comprising of a who's who of rock and metal are here tonight playing their fourth ever show as a band, and when you've got someone of the calibre of Max Cavalera in the band, well shut the front door, it's on, yeah, as confirmed by the reception when he walked on the stage.
'Fire To Your Flag' is where it begins, and the mayhem is evident as I stand here at a respectable distance from the floor, taking it all in from the back, this is some heavy shit. There are fists pumping, heads banging and horns raised high. 'Curb Crusher' showcases the bands almost trio of vocals of clean, dirty and Max, this one is heavy, with a three guitar assault in a five piece band, come on, this is huge. 'Face Down' sees singer Greg also from The Dillinger Escape Plan brave the crowd and in true metal crowd style they respect the artist and keep him up while he belts it out. Oh shit now he's up on the speaker stack… Where is this going? Oh it's ok everyone, he's down safely!! Man, these guys are metal.
In what I'm calling the ballad of the set, we get a little doomish with 'Twelve Labours' followed by a melodic little track… These guys are killing it, the sound is great, their vibe is tight and my favourite so far of the set. As 'Dust Into Darkness' has a little bit of an 'Enter Sandman' vibe to it in the riff department, which is a good thing by the way, and another chance to get the crowd chanting. Troy (great name) from Mastodon leads the next one off, as this one turns into a big metal rocker. I don't want to harp on Max but I will as it's amazing to see him enjoying himself playing the guitar and not centre stage where we usually see him, he's killing it. In saying that, this band wouldn't be what it is without the other guys, and it's so obvious that these guys from other bands are up there and enjoying what they're doing.
'Melting of My Marrow' with its driving beat is letting my ears enjoy that bleeding they do sometimes but who cares, man these guys are great. Greg takes to the crowd again to surf to the back, and comes out unscathed. What I'm loving is that these guys are only new in their collaboration and with only the one recent album under their belt the people here really know these songs! Oh fun a circle pit at The Metro is always a spectacle and an even bigger one for closer 'Snakes of Jehovah' as we see the drums get destroyed, the band leave the stage to a won over crowd. What a killer set!!!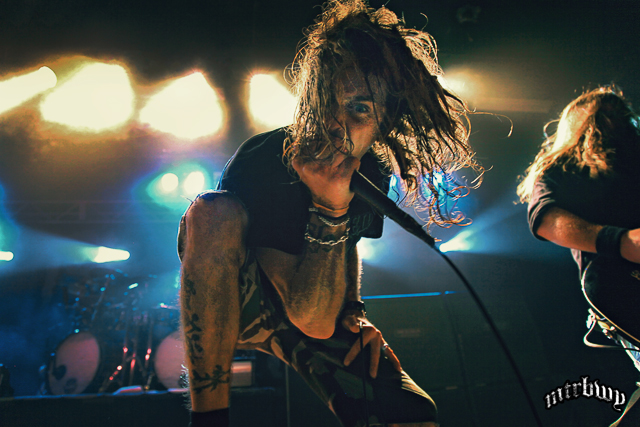 Lamb of God are back in Australia, and shit is about to get real. As the 'Lamb. Of. God' chants start over fifteen minutes before the show starts, the atmosphere here is awesome, I love metal crowds. I have to laugh as even the sound of a guitar being tested gets a cheer… Ok It's almost time…
Darkness and mood encompass the stage as the drums kick in and the band take the stage. Randy pours a bottle of water on his head and we're off. 'Desolation' is fucking heavy!! Holy shit. It's ok I also didn't need my ear drums for anything else, ever again… Man, these guys sound tight!! There is a whole lot of power in this band and tonight I get the feeling that power is going to light this place up like a Christmas tree. What I like about this band is that while the three on instruments stand in their place Randy is a machine, he paces the stage, he is wild. Shamefully this is only my second time seeing Lamb of God and I know… But I'm making up for it tonight. The 'lamb of god' chants continue as Randy has a chat, they blast into 'Ruin' and this one is outstanding and as fast as it sped up it just as quickly broke down to give the mosh a break.
That lasted about eight seconds as 'Walk With Me In Hell' just about takes the roof off the place… I didn't think they could get any heavier ha ha I stand corrected. This one is one louder… What's so kick ass about Lamb of God is the music… The melody of these songs is outstanding, they have their formula down and 'Set To Fail' shows that perfectly as I watch not only the floor but the entire place start moshing it sure is a spectacle. Intensity just got upped with 'Hourglass' and this set just keeps getting better! 'In Your Words' belts it out of the park but 'Now You've Got Something to Die For' wow, didn't this one kill it as the disciples here thrust the horns back to the stage, this one takes a kick ass musical turn they don't miss a beat, this band is fucking tight, shown as 'Laid To Rest' takes syncopation to a new level, it is flawless.
My new mate next to me is loving the show so much that he decided to spill beer on me so that's good… Just when I think the gig can't get any heavier, it does… This is talent. Taking a short break with the stage now emerged in darkness Randy returns and as he speaks to us with an "I will kill you" 'Omerta' Has the band immersed in red lights giving this one the vibe it deserves. Ok tempo overload… This next one sounds like a punk metal song where the word frantic doesn't even cut it in terms of describing its pace in the verses, where it is perfectly structured when it breaks down only to explode into a slab of heavy metal goodness. Another quick breather and at an hour in I have no idea how they're keeping this intensity up, it's insane!! Ok now in what I'm calling their ballad (every band needs one), 'Vigil' the much slower than the other songs is a nice break up from the furore of the last hour, although that didn't last long…
'Redneck' oh yeah!! And as you'd expect the place just went wild. In a first, as the crowd yells the lyrics back I can actually hear them over the band and this band is loud tonight. As it's time for the last song of the night a wall of death erupts on the floor and how could they not play 'Black Label' and with fists pumping I can't even explain how good the vibe is right now as has been the whole damn night.
This is just what I needed tonight, a big dose of metal. This was loud, heavy and just a damn good night of music. Welcome Killer Be Killed and welcome back Lamb of God…
Essential Information
Venue: The Metro Theatre – Sydney
Presented by: Soundwave Touring
Date: February 26, 2015
Website: http://www.killerbekilled.com and http://www.lambofgod.com
Photos by: Annette Geneva – Check out the full gallery HERE
Set Lists:
Killer Be Killed
Fire to Your Flag
Curb Crusher
Face Down
Twelve Labors
Dust into Darkness
Save the Robots
I.E.D.
Melting of My Marrow
Wings of Feather and Wax
Snakes of Jehovah
Lamb of God
Desolation
Ghost Walking
Ruin
Walk with Me in Hell
Set to Fail
Hourglass
In Your Words
Now You've Got Something to Die For
Laid to Rest
Omerta
Contractor
Vigil
Redneck
Black Label