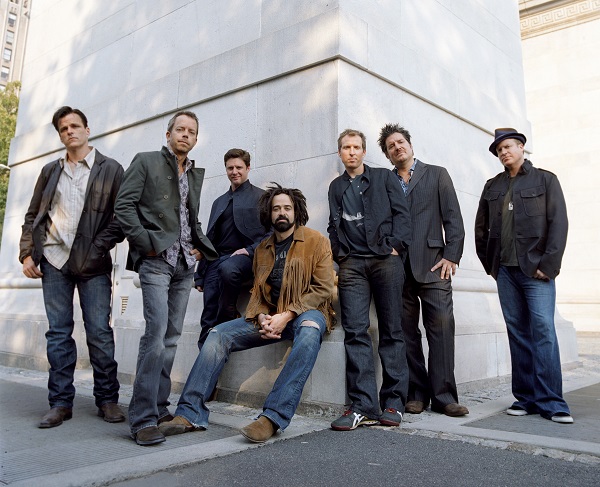 "It's great to have something that's stood the test of time like that and where people just relate songs to certain periods of their life or certain things that happened to them and you can see that on people faces because they get really emotional about a lot of the songs on that record."
From release: Counting Crows have sold more than 20 million albums worldwide after exploding onto the music scene with their multi-platinum breakout album August and Everything After in 1993. They continue to be propelled by the same earthy passion instilled in their songs since their debut. The band recently released their seventh studio album, Somewhere Under Wonderland, to rave reviews. This album is the band's first new material since 2007. With Somewhere Under Wonderland out now Counting Crows have delivered nine sprawling songs that yield some of the most grandiose, yet intimate material so far.
In Berkley, California and looking forward to heading back to Australia, we chatted to Counting Crows drummer Jim Bogios  about the band's return to Australia, their newest album 'Somewhere Under Wonderland' as well as coming into an established band & much more…
You're headed back to Australia as a part of Bluesfest as well as your own headline tour, do you as a band have to prepare for a festival set differently to that of a headline show?
I think you have to a little bit because usually the festival show is going to be a shorter set list for one, and you're not only going to be reaching just your audience but people that may not know you as well or not as big a fan so you probably want to go a little more heavy on the more popular songs ideally, but we're always going to give a good variety but I think we would change things up a little bit for the festival shows knowing that we don't have the ability to play a two hour set which we usually do when we do our own shows.
Obviously you are doing your own shows too, but with a new album how does a set list come together for Counting Crows in 2015?
Well I call it the stress list because it's always a carnival backstage with everyone getting together and throwing out the songs they want to play that night, so you can either be part of that action or stand back, but everyone gets to put in their requests and we throw it together. One of the rules is we try and just play a few songs from each record so you kind of get all the different time periods of Counting Crows and maybe a little heavier on the new record because it just came out and it's extra fresh with us and we're really enjoying playing it and the songs are going over great live. We actually did a tour before the record came out, so by the time the record came out, it wasn't one of those things where the songs needed to be played a while to get that live thing happening, they were already ready to go, the whole record, so we're as comfortable playing those as we are stuff from 'August and Everything After'.
As the man behind the kit, you get the view of everything, the band and the crowd, when looking out, in terms of crowd reaction and elation, what song always wins the people over the most?
You know everyone has the relationship with 'Mr Jones' because that's probably our biggest song and there's nothing wrong with having songs like that, and people have a serious relationship with that whole record and I don't think that that is a bad thing. It's great to have something that's stood the test of time like that and where people just relate songs to certain periods of their life or certain things that happened to them and you can see that on people faces because they get really emotional about a lot of the songs on that record.
Well for me it's 'Round Here' that's my favourite…
Oh yeah, that's a great one, and it's fun to play a song that speaks to people and that people get excited about and we've been getting a great reaction from the new record too and that's good, you're only as good as what you've done lately *laughs*
That's true, but the fact it can blend in with the material from the older albums must mean you're doing something right, right?
Yeah I totally stand behind it, I think it's a great record, now I wasn't in the band from the beginning, this is my thirteenth year but these songs, in fact all the records I really think that the song writing is strong in this band and that was one of the reasons that I joined years ago because I heard the latest record which at that time was 'Hard Candy' and I was like 'wow this band still has things to say, these songs are amazing' so that really clinched it for me to make the jump from Sheryl Crow to Counting Crows.
So in joining the band in 2002 and with the band already huge success in the years prior, what was it like coming into this already established band?
Yeah it's a sensitive thing, I've been used to it in a sense because I've played with a lot of different artists, so you're used to stepping in and fill different shoes, so for me the idea when you're playing a song you didn't play on is you want to capture the essence of what that tune is about and yet bring your own theme to it as well, I think I've done that, and you're definitely able to add your stamp. I knew a lot of the guys in the band and then David Immergluck one of the guitar players, we've played in bands for a really long time, so having one of my true brothers in the group definitely helped. Then later on when Matt Malley the original bass player left the band, I brought in another one of my good friends that I played with in Ben Folds, Millard Powers and he's been in the band ever since. I still have these moments where I'm looking over on the stage at some people that I've had all this history with and known since I was really young and it's a really good feeling, it's like 'wow, I get to do this great stuff with some of my true bros' so we're pretty lucky.
So with the newest album out now, the band's first of all original material in almost seven years, what was it like putting this album together after the big gap since 'Saturday Nights & Sunday Mornings'?
Well, you know… Adam wasn't writing for a long time, we were doing other things, he was working on an opera and you know when you've been in a band a long time and you're working a lot, people need breaks and a lot of the guys in the band have families and it was one of those things where he wrote one song and he just had an explosion of ideas and that's usually how it happens with him. He won't write anything for a long time and something will happen and then like 'boom' in a short amount of time just this burst of creativity and that's kind of how it went down. Then it's up to the rest of us to flush the songs out, but it was super exciting and we all really dug the material and we were able to record in my home town of Berkley which is great and my wife was pregnant and had our baby during the recording process. So many things happened in this process that were absolutely amazing, this record will always remind me of my daughter because that happened in the time, but I love getting in the studio in this band and we love recording things old school, we're all playing together in a room and looking for that great take together and then you kind of go from there and nowadays I just don't see bands doing that and I think it takes something out of the emotional aspect of the music.
Yeah I always try to figure out how a band can record different parts from the other side of the world and put things together like that, that doesn't really sound like a 'band' to me if you know what I mean?
No it's not and you can do it that way but I think it loses a serious emotional aspect of music and there's something about even looking at the guys that you're playing with and being in that room and I think when you hit a really good take and you guys are all playing together you can hear that in a song and in a recording, it's jumping out of the speakers… everyone playing on the other side of the globe to a click track, sometimes that's what it's going to sound like.
Then on the other side of that, without the studio interaction when you do finally get together it's almost like relearning the songs again…
It is and it morphs into something else, it just happens by playing and there's things that happen in the song that you may change that you're aware of and then things that you're not aware of that just happen from playing it. That's another aspect I love about this band is that we allow the songs to morph and to change and to do different things to them, you're not just going to hear exactly what was on the record.
So I always like to ask, what's your favourite thing to do in Australia besides playing shows?
Well I'm a tennis player so I always like to play tennis everywhere, my favourite thing to do when I'm in Sydney is to play tennis out there and then after, I'm feeling good from getting exercise and playing and then I walk back over the bridge and just looking over the city and going back. I love getting good meals, just walking around the town and getting a feel for things wherever we are and that's pretty much it for me. Man, one of my first tours was out in Australia with this band, it is always a blast, it is just beautiful out there, the people are great and we're really looking forward to it.
OK let's get a bit of a quick fire insight into you:
So, what band or artist made you want to be a rock star?
The Who.
Last album you bought?
Hmm… man… this is what happens when you have a one year old, I can't even remember that, and that's horrible…
Let's try first album then…
First album I bought was The Beatles… a bunch of them, a tonne, The Beatles and KISS and Elton John, how's that for a mix?  *laughs*
Favourite band to see live
I would say Radiohead, always have. I just have so much respect for that band, I guess their music just speaks to me a lot of those records.
Lastly, let's predict the future, finish this sentence, by the end of 2015, Counting Crows will…
Be finishing a very successful tour and working on their next record so they don't go seven years between it *laughs*
I'll hold you to that…
I'm going to do everything that I can… *laughs*
Catch Counting Crows in Australia at the following dates:
PALAIS THEATRE, MELBOURNE
SATURDAY APRIL 4
HER MAJESTY'S THEATRE, ADELAIDE
SUNDAY APRIL 5
CONCERT HALL, PERTH
TUESDAY APRIL 7
STATE THEATRE, SYDNEY
THURSDAY APRIL 9
FRIDAY APRIL 10
THE TIVOLI, BRISBANE
SUNDAY APRIL 12
Ticket details through www.livenation.com.au
Also appearing at the BYRON BAY BLUESFEST on APRIL 2
All festival and camping tickets are on sale through www.bluesfest.com.au or phone the office on 02 6685 8310.
Tickets are also available through Moshtix www.moshtix.com.au and Ticketmaster www.ticketmaster.com.au
Essential Information
From: USA
Band members: Adam Duritz (vocals), Jim Bogios (drums), David Bryson (guitar), Charlie Gillingham (keyboards), David Immergluck (guitar), Millard Powers (bass) and Dan Vickrey (guitar)
Website: http://www.countingcrows.com
Latest release: Somewhere Under Wonderland – (Out Now – Universal Music Australia)