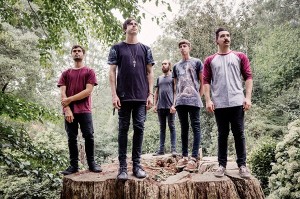 In Hearts Wake have announced their new album Skydancer, to be released on May 1, with lead single 'Breakaway' being premiered on triple j today at midday.
A documentary on the creation of the album is available to watch now at skydancerproject.com
All pre-order links and bundles will be available on the website tomorrow along with the video for first single 'Breakaway' is premiered on the UNFD YouTube channel.
Skydancer is the second half of an ambitious project that has been planned in secret well before the release of award-winning breakthrough album Earthwalker. Skydancer will be released 364 days after its predecessor. Both albums were recorded in the same session as 2013 drew to a close and share a multitude of themes across their artwork, lyrics and charitable intentions.
The Earthwalker CD contained a hidden booklet with a short poem referring to the masculine and feminine worlds and the lyrics to first single 'Breakaway'. But until very recently, no fans were aware of the secret clue.
"I'd been searching for a concept that could explain the relationship between the masculine and feminine worlds and how we needed to be at peace with both in order to be whole," says frontman Jake Taylor, who also wrote and produced the video for 'Breakaway'. "Many indigenous cultures believed that the human body was a bridge between Mother Earth and Father Sky. One could not exist without the other, and therefore everything was one. To me, the essence of these two divine energies could be seen even within my own parents, and I felt like I was the product of both."
The album includes a new version of former single 'Skydancer' featuring Jonathan Vigil of The Ghost Inside, as well as guest appearances from Marcus Bridge of Northlane and J Hurley and Ben Marvin of Hacktivist.
Skydancer will also see In Hearts Wake working in conjunction with Local Futures – a non-profit organisation lead by Helena Norberg-Hodge; pioneer of the localisation movement and director of of the award-winning documentary, The Economics of Happiness. The organisation is dedicated to the protection and renewal of ecological and social well being at a local, tangible level.
Byron Bay quintet In Hearts Wake released Earthwalker on May 2, 2014, which debuted at #5 on the ARIA Charts. They went on to sell out their entire album tour, break through into the European and North American markets and play as one of the headliners at the inaugural UNIFY Gathering in January. The band also planted 1,379 native Australian trees as part of the album campaign. Voted #1 album on triple j's Short Fast Loud poll and the Best Australian Album in the Blunt Magazine Readers' Poll, the album was a critical and commercial success.
Skydancer will be released on May 1 via UNFD. Lead single 'Breakaway' will premiere on triple j at 4pm today. Vocalist Jake Taylor will be appearing on triple j's Short Fast Loud tonight discussing the double-album concept. Worldwide premiere of the 'Breakaway' music video will be at skydancerproject.com tomorrow at 9am.

In Hearts Wake – Skydancer
1. Aether
2. Skydancer (feat. Jonathan Vigil)
3. Breakaway
4. Badlands
5. Insomnia
6. Oblivion
7. Wildfire
8. Cottonmouth
9. Erase (feat. Ben Marvin & J Hurley)
10. Intrepid (feat. Marcus Bridge)
11. Father