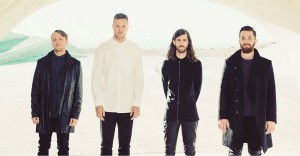 Frontier Touring are thrilled to confirm that Las Vegas quartet Imagine Dragons will be returning to Australia and New Zealand this September for their biggest tour yet, including their first ever Christchurch show!
Led by frontman Dan Reynolds, Imagine Dragons stormed into the ears and hearts of the world with their multi-platinum debut Night Visions. The album reached #4 on the ARIA Album Chart, and has racked up over 3.9 million album sales and 24 million single sales worldwide.
In Australia Night Visons is now approaching double platinum and has sold over 1 million singles here alone, with all four singles from the album receiving Top 40 National Airplay.
Filled with anthems like 'Radioactive', 'Demons' and 'On Top Of The World', Night Visions took the band from playing clubs to sold-out arenas and sharing the stage with Kendrick Lamar at the 2014 Grammy Awards for a both literally and figuratively explosive mash-up of 'Radioactive' and 'Maad City'.
The band also received the Grammy for Best Rock Performance at the ceremony, joining the American Music Award, World Music Award and five Billboard Music Awards the quartet have already received in their relatively short but illustrious career.
The success of their debut saw Imagine Dragons touring relentlessly for two years, including 130 headline dates, 50 festivals and a critically acclaimed sold-out tour of Australia and New Zealand in 2013.
'Reynolds is pitch-perfect and performs before an enthralled audience… It is the definitive dream moment of anyone who attends a rock concert' ­– The Music

'Explosion is quite literally the only word that comes close to accurately accounting for Imagine Dragons set.' – AAA Backstage
Songwriting for their sophomore release Smoke + Mirrors, also debuting at #4 on the ARIA chart (out now through Universal) was inspired by and began during this time on the road. Once touring wrapped up, the band built their dream studio; surrounding themselves with vintage gear and placing a framed note from Paul McCartney above the mantle.
Holed up in their self-built studio six days a week, the group produced 100 demos which eventually became the lucky thirteen final tracks. Entrenched with Imagine Dragons' signature stomp and impressive musicianship, tracks like 'Shots' and 'Gold' are made for foot-stamping, hand-clapping arena audiences:
'Hits? Smoke + Mirrors bristles with them.' – Q Magazine

'…rife with chest pounders destined for commercial ubiquity' – Entertainment Weekly

'…a well-balanced blend of self-reflection and nostalgia delivered via undoubtedly catchy alt-rock anthems' – Music Feeds

Tickets to Imagine Dragons' last tour sold out quickly after going sale and with a much-loved follow up album and bevy of awards to their name, this tour is expected to sell in a similar fashion. Don't miss the chance to see a band who come alive on the live stage do what they do best this September!
TOUR DATES
Wed 2 Sep
Margaret Court Arena, Melbourne, VIC
www.ticketek.com.au
132 849
Fri 4 Sep
Qantas Credit Union Arena, Sydney, NSW
www.ticketek.com.au
132 849
Sat 5 Sep
Riverstage, Brisbane, QLD
www.ticketmaster.com.au
136 100
Tue 8 Sep
Vector Arena, Auckland, NZ
www.ticketmaster.co.nz
0800 111 999
Thu 10 Sep
Horncastle Arena, Christchurch, NZ
www.ticketek.co.nz
0800 842 538
(All show All Ages)
Frontier Members pre-sale runs from Mon 23 Mar (AUS shows: 2pm AEDT | NZ shows: 2pm NZDT)
Click here for details
General public on sale from Thu 26 March
10am local time (AUS)/12pm NZDT