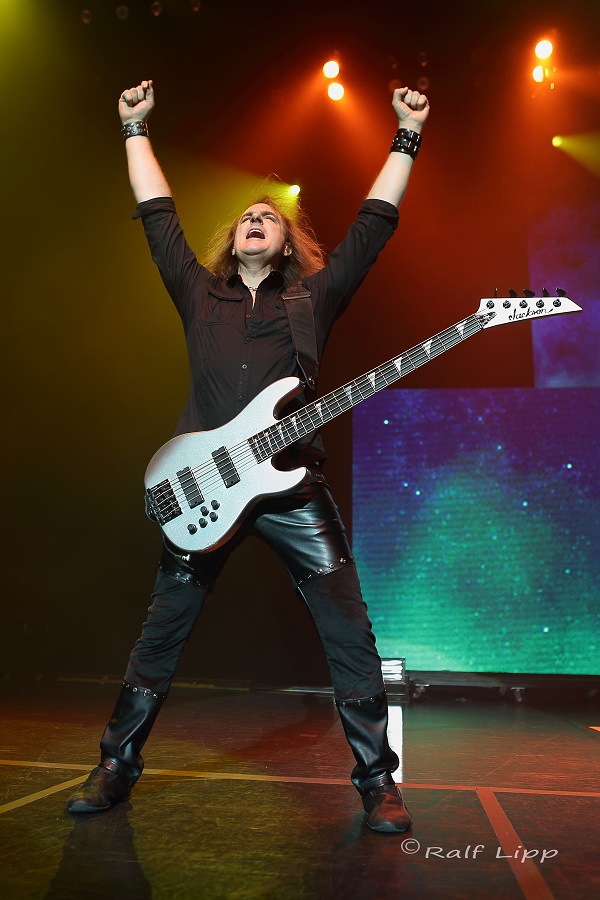 "Part of rock and roll is doing things out of the box and trying new things that push the envelope and kind of open your thinking up to different things, so I'm very appreciative that Australia has welcomed the idea and opened it up for me to do it."
From release: From the Megadeth's inception in 1983 until the band's temporary disbandment in 2002, David Ellefson was the only constant member other than bandleader, Dave Mustaine. David was a pivotal part in Megadeth's progression from a ferocious jazz infused thrash group to a state of the art speed metal band and into a multiplatinum, chart topping, global juggernaut. After Megadeth disbanded in 2002, Ellefson pursued a variety of projects including playing with Soulfly and forming the band F5, amongst other endeavours. In 2010 David re-joined Megadeth for the 20th Anniversary of the band's seminal, genre defining classic, 'Rust in Peace'. Since then he has reclaimed his rightful place within one of heavy metal's most revered bands. Through highs and lows, David Ellefson has experienced the gamut of rock star fame, fortune and excess and lived to tell the tale. This is your only chance to get a personal insight into the history and behind the scenes of one of metal's most iconic bands, Megadeth. Don't miss this unique event!!  A must see for every metal fan!
In the studio finishing up a track, we caught up with David Ellefson of Megadeth ahead of his spoken word tour of Australia and what we can expect, as well as an update on Megadeth and a little bit more…
Thanks for your time, David, now of course we're here because you're heading to Australia to have a chat with us! This is your first spoken word tour, can you tell us a bit about what this solo spoken word tour will entail and what we can expect?
The premise is certainly based on my book 'My Life with Deth' and that of course tells my life story as well as some of the Megadeth story, from there I wrote a music business book and a lot of people ask me things with that and I even have a lyric and a poetry book so as I put together what I think it's going to be and the truth of it is it may change little bit from night to night and that's part of the fun of it. Sort of like a repertoire for a live show you don't have to get locked into the same set list every single night.
Other than the spoken word, I hear you're going to be doing a Q&A and even a bass demonstration?
Yeah I figured I'd bring my bass with me since it's one of my best friends, I should probably bring her with me *laughs* and definitely the Q&A because the Q&A  to me it opens up a while different thing as fans have really intriguing questions and sometimes they will bring about things that will open up the spoken word to a whole other dynamic, maybe a whole other set of stories or a whole set of things I didn't think of.
Do you ever get any questions relating to things you don't want to talk about?
You know, I've been asked damn near everything in my life *laughs* so not really, there are some things that get beaten to death a little bit, some people talk about and ask me questions about Dave and Metallica, I think I don't know, I wasn't there I didn't know Dave yet you know? So there are certain things that sometimes fans will ask me about just because it affects fans, they want to know if I've got any insight into it. To be honest I'm not afraid of any question and everything is open game but there are a few things that are beyond my realm *laughs* because I wasn't there at the time that they happened.
In writing your book and telling these stories, what was it like going back and putting these experiences down as words?
Oh it was cool because my life, I don't have a problem opening up, I've done that for the last twenty five years in a sobriety journey so that part I don't have a problem with, that quite honestly was the easy part opening up deep and divulging personal things about my life which I understand is maybe not as easy for some people. The good thing about being drug free for now most of my life and certainly the better part of my career as I remember most of what happened you know *laughs*so as I was writing the book Joel McIver would ask me about certain moments in Megadeth history and things that we did and Joel being very well steeped in the Megadeth legacy and history of the band was really able to go to places that maybe I wouldn't have thought of to go and almost get into details as a fan would want to do it and honestly that's what inspired me on this spoken word tour was writing this book knowing that I can tell a large part of a very fascinating story and that is certainly Megadeth and my part in it and as well as the other pretty brad cast of characters that have been in those ranks over the years. Then also to have someone like JOEL did, to have the fans sort of purge things out of me as well, it takes it to a whole other level of fun and an interactive place. To me it should be a really cool night of back and forth between me and the audience.
Can we maybe expect some stories that didn't make it in to the book?
Sure, of course, yeah it's funny that even when you write a book you think about things and go 'yeah that's right, I totally should've put that in the book' *laughs* so this is the chance to write a little bit of an appendix or an addendum.
Have you thought about filming any of the spoken word shows?
You know I have and I figure some of these things just naturally end up on YouTube anyway you know, but properly actually filming one, yes I have thought about doing that, it's something I'm looking forward to trying to make happen.
So Australia the first time you're doing this in this format?
Yes it's technically the first time I've ever called it spoken word… I've done some speaking engagements at colleges and things like that where I've been able to tell a pretty similar story I've just never called it technically a spoken word event but I've done similar things to this, yes.
Now being to Australia before, what's your favourite thing to do here besides the shows?
You know I'll tell you what, one thing I've never done is I've never been out to the coast, I love Sydney Harbour of course that's just beautiful. Perth, the first time I was there was four years ago and to be able to go out and see the ocean and be on that edge of the world was beautiful and I'm hoping I actually have a little bit of time to do that when I get to Perth. One thing I really enjoyed the first time I was there in 1991 on tour was to go to the zoo in Brisbane and see the kangaroos and the emus and to hold a koala bear, man, that was a pinch me moment because being a kid from North America, that's something we would only see in the movies or a comic book *laughs* so to actually be able to go and live that was really, really cool.
It's always funny when people answer that was and to picture these metal dudes holding koalas, it's classic…
*laughs* I have this picture man, here we are, Thrash metal titans and we're holding koala bears you know, but it's one of my favourite pictures. Then later on when I had kids and my son was born I used to call him a little scruncher like a koala bear because I totally remembered that moment with the koala bear and it directly translated to when my son Roman was born.
You talk about that being a moment, but has there been one moment throughout your whole career that stands out as the 'can't be beaten' moment, almost a favourite story?
Boy, that one's pretty huge, you know there's a couple of moments even recently when we went to the Grammy's for instance was really awesome in fact more importantly when I went two years ago I took my daughter Athena to the Grammy's and we were nominated and didn't win but the funny thing is that having that experience of taking her there and letting her experience the grandiosity of it all was at that moment definitely a career highlight for me.
I have to ask, what's the status of Megadeth at the moment, I believe you guys are about to start working on a new album, can you give us a bit of an insight into any plans or what we can expect?
Well… a lot of it is written and I say a lot because we're leaving a door open to further developments of things as we start to and continue that process, and it's been a very interesting journey and actually a couple of huge hurdles have been overcome just even in the last week. So keep waiting, the news is coming…
Obviously we were a little sad when Megadeth didn't make it here for Soundwave last year, do you think we'll see you back here as a band in the near future?
I think so, last year was a very bizarre year, there was some internal management changes and things that went on and a lot of that did effect our appearance in Australia, those things have been rectified and cleaned up but the fans don't really care as it's not their concern on the business side of things but unfortunately when internal things do get changed it does affect outward appearances you know? I think those things have been overcome and to be honest when this opportunity came up for me to go to Australia on my own as the spoken word thing I hope it sort of mends a fence and bridges a little bit of a gap until we can get Megadeth down there as a band again. Part of rock and roll is doing things out of the box and trying new things that push the envelope and kind of open your thinking up to different things, so I'm very appreciative that Australia has welcomed the idea and opened it up for me to do it.
Are you working on anything else musically?
I am, I am, I actually have two things in the works… one that I can mention briefly and that's me and Frank Bello have our record 'Altitudes and Attitudes' and in between his schedule working on a new Anthrax record he and I have been working very diligently in getting a full length 'A&A' record done, so hopefully we'll have some more news, I think we should be finished it in about a month so hopefully we'll have some more news on it and the release of that coming up. Then I have one other thing that will probably hit the news wire and be announced maybe in the next couple of weeks or so… it's kind of funny I'm going to be in Australia right around when a lot of the news is going to start to be hitting, so hopefully I'll be down there with everybody when the news hits and we can all celebrate together.
Lastly, let's predict the future, so finish this sentence for me, by the end of 2015, David Ellefson will…
Be on tour with Megadeth… I'll leave it there…*laughs* I was going to say something else but I can't tell you because it's part of the release in two weeks I can't tell ya.
Damn, almost got an exclusive…
Yeah right *laughs* so I'll stop right there…
Catch David Ellefson on his Spoken Word tour at the following dates:
TICKETS ON SALE NOW HERE:
Tuesday 24th PERTH Civic Hotel
Thursday 26th SYDNEY Factory Theatre
Friday 27th MELBOURNE Prince Bandroom
Saturday 28th BRISBANE The Hi Fi
Sunday 29th ADELAIDE The Gov
Essential Information
From: Los Angeles, USA
Website:  www.davidellefson.com and www.megadeth.com
Latest release: My Life With Deth (book)