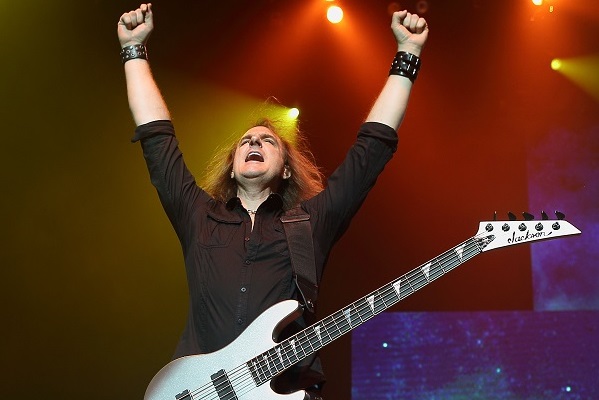 They always say that there's a first time for everything, so here I am at The Factory Theatre in Sydney to see not only a spoken word tour, but my first experience in seeing one. So a pretty good way to start is with David Ellefson, Megadeth's co-founder and bass player, but more on him shortly…
Carbon Black open proceedings tonight and while I was skeptical about a band opening for a spoken word show, but I sit corrected as I was really impressed by what they put out. Catchy, heavy songs that while being played in front of a seated audience may be tough both band and crowd didn't care as I look around to see many a bobbing head and reception getting louder after each song. Definitely a band I will be checking out…
OK, so how to review a spoken word show without simply recounting what he's saying… this'll be fun. Now, David Ellefson has already released a book titled 'My Life With Deth' so there has already been an insight into his life but what's going to be great about tonight is hearing these things straight from the horse's mouth and getting that even more personal insight into his life and his stories.
A video intro comprised of footage of Megadeth's VH1 Behind The Music is shown to start the show which if you haven't seen it is already giving us an amazing insight into David and the band and it's going to be interesting to hear what more will come from tonight. As David makes his way to the stage on only his second real spoken word performance he sets the scene for what we can expect and it sounds pretty good… a spoken word section (of course), a bass demo and a Q&A. So let's begin,
Firstly apologizing for all of Megadeth's cancellations of their Australian trips to a number of laughs he instantly looked comfortable as the crowd knows this is going to be a laid back kind of evening. Recounting stories of his beginnings and why he plays bass, primarily because of KISS and how he got to be in Megadeth, it's amazing to hear these insights. Through addictions, leaving the band, working with Peavy and his return in 2010, we got to hear things you'd never expect, things you appreciate and things that made you laugh. One of my favourite quotes he said was "It's fun when you're impressed by your own songs" and you can tell that he still loves doing what he does. After talking for about 75 minutes nonstop which was amazing, and felt like no time had even passed, he truly tells stores like he's been doing it for years, this guy is a pro.
Now it's time for some metal as he throws on the bass and now playing along with 'Five Magics' from Rust In Peace making it look effortless, man it was weird sitting down watching this go down, but the metal heads in the room were digging this, big time. After the six minutes of thrashy goodness, the Q & A portion of the night takes us through stories of dealing with musicians who are inebriated when he no longer is, how important 'Peace Sells' was and is for Megadeth an side note as he still had his bass on and hearing that bass riff played tonight was pretty damned awesome, then about naming rights to the band, new music from Megadeth and much more, he only steered clear from one question which was about money but gave the most beautiful diplomatic answer possible. Again, this man is a professional. After a good twenty closer to thirty minutes of Q & A the bass returns for one more, and it had to be 'Holy Wars… The Punishment Due' which slayed, not hearing this song live before, this was as close as I've gotten so far, so was very happy and highly impressed as it's a technical little bugger.
He thanks us and leaves the stage, now tonight was bloody awesome, it's really eye opening hearing these stories out of the mouth of someone who has lived them and when he tells them so well then it's a treat to be a part of. Here's to a new Megadeth album and the continued legacy of not only the band but many more stories to come for David Ellefson. I'm glad this was my introduction to a spoken word evening and now I'm off home to revisit the Megadeth catalogue…
Check out our interview with David Ellefson HERE
Essential Information
Venue: The Factory Theatre – Sydney
Presented by: Metropolis Touring
Supported By: Carbon Black
Date: March 26, 2015
Website: http://www.davidellefson.com