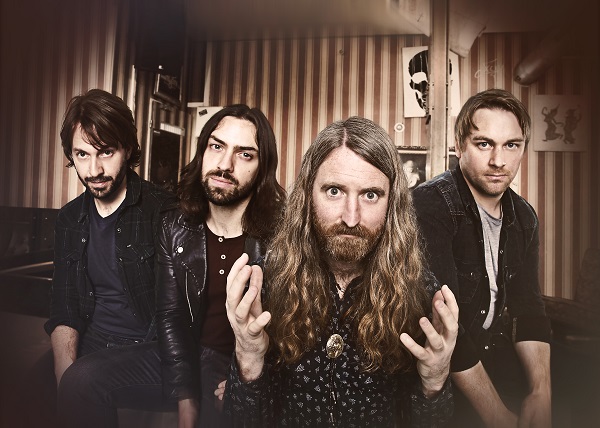 "We just wanted to trust in our own song writing abilities and really enjoy the whole process, so we didn't really have any fixed agenda as to what kind of record we wanted to make but then a couple of months into the process we started to get a really good feel that this record was going to be the kind of record it turned out to be, it's relatively diverse…"
From release: Founded in Northern Ireland in 2000, The Answer have spent the last decade proving their rock 'n' roll credentials and making the kind of life-affirming, eardrum-threatening music that separates the truly great from the merely adequate. In 2005 The Answer won the Best New Band award at that year's Classic Rock Awards. The following year, the band released Rise which sold 125 000 copies worldwide and three years later their Everyday Demons album took them on a two year journey around the world as the chief support for AC/DC!
Undeniably, The Answer have achieved a great deal in their career so far, but 2015 looks certain to be their most gloriously triumphant year to date. The band has recently completed work on their next album Raise A Little Hell, a thrillingly energized and powerful rock 'n' roll album featuring larger-than-life riffs, unforgettable melodies and a return to their raw bluesy roots, Raise A Little Hell presents a collection of hard hitting anthems that show rocks true spirit.
At home in Belfast and getting ready for the album release and tour, we chatted to The Answer front man Cormac Neeson about 'Raise A Little Hell', touring with AC/DC, evolution and when we might see them back in Australia…
The album is called 'Raise a Little Hell' so why was this the perfect name for your new album and what does it represent to you?
It's a record that we just wanted to really get in the studio and make a lot of noise and have a great time doing it, man, we didn't want to try and take ourselves too seriously we wanted to make a good time rock and roll record and raise a little hell, really and the name itself really epitomizes that spirit.
In listening to the new album, it feels like a big rockin' blues record, did you set out with an idea of how you wanted it to sound?
We kept the whole writing process kind of free and easy, it very much remind me of putting our first record together when we were writing it, free from pressure from the record companies and the management, from each other, from our fans even *laughs. We just wanted to trust in our own song writing abilities and really enjoy the whole process, so we didn't really have any fixed agenda as to what kind of record we wanted to make but then a couple of months into the process we started to get a really good feel that this record was going to be the kind of record it turned out to be, it's relatively diverse, it's got a lot of good time rock and roll on there but as you said there's definitely a blues element that comes into the whole process quite strongly. We're happy with it, it's a really true indication of where The Answer are at right now.
Special mention to a song like 'Cigarettes & Regret' what a song… is there a story behind that one?
*laughs* 'Cigarettes & Regret' we actually co-wrote that song with a couple of guys from the band The Cadillac Three, they're a Nashville based kind of blues rock band and those guys were kind of just trying to come up with something that harps back to failed relationships basically, it paints kind of a vivid picture of just being left on your own smoking a cigarette wondering what could have been and I think it's one of those song, it manages to straddle with being a rocker with almost a touch of a ballad in there too, so we're really happy with that one. It's one of the first tracks on the record and we put it on so early because it's one of the ones that came out great.
This being your fifth album, what has been the most notable change you've witnessed in the way you create records?
There's never been a mass departure from the way we've always done things, having said that I definitely think our song writing has evolved a little bit, I mean back in the early days we would either wrote a song in one of two ways, we would jam for six hours in the rehearsal room, record it all on cassette and that makes us sound really, really old *laughs* but we had an old of cassette Dictaphone contraption that we were recording just hours and hours of jams and just sifted through it and picked out the best bits, the best riffs or the best melodies. Alternatively Paul our guitar player would come in with pretty well put together songs, I'd have to put lyrics over the top of it, and the guys Michael and James would just make it their own from a rhythm section point of view. We still do that, we still jam for hours and hours and hours but we've all kind of developed into song writers in our own right, everybody will write on the songs now and we'd manage to pick out the really good ones and it would be an open house then and you'd pick in which direction you take the song in. So we've got a bit more flavour these days, obviously we've got a much better system of demoing our songs as well *laughs* we've got our own studio now as opposed to a hand held Dictaphone back in the day. So it's all got a little bit more efficient, I think we're better players than we were back then, better song writers, and I think that all feeds into the process and helps make the music even better as well.
The obvious question is, when can do you think we expect to see you back in Australia as I was always surprised that you didn't make it here with AC/DC…?
Yeah we actually came off that tour, we'd been out with them for a year and a half and we had to leave the tour to get back and record another record and just do our own thing for fear of just getting swallowed up by that bubble entirely, and the next leg of the tour was Australia. Actually we were down in Australia playing our own shows when they were down in Sydney so we were able to get down to an Aussie rules stadium on the edge of town so we were able to get down and check them out. It made us kind of feel a little bit uneasy being there at one of their shows and not getting up on stage like we did before them, it didn't feel quite right… but yeah, I mean it's absolutely on the list to get back to Australia as soon as possible, we do constantly hassle our management and our booking agent for getting down, normally we'd fly down to do Japan and Australia so at the moment we've got tours booked in for the UK, Europe and America and that kind of takes us to the end of our summertime, so the plan would be to ideally get down to Australia September / October.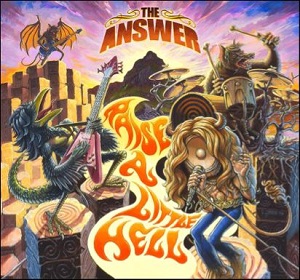 Being here previously, do you have a great memory of your last tour here?
We do yeah, we've been there a few times and it's always been fantastic, we've always been treated really well and made a lot of good friends. The first time we ever landed in Australia we were touring with the band Eagles of Death Metal and we did kind of a whistle stop tour of Australia with those guys and it was just, I swear to god a nonstop party with those guys, they attract a really interesting audience, you're always up for enjoying the festivities before, during and after the show. It was kind of a baptism of fire coming down there with them and getting taken around with those guys, so that was a fun time, something that will stick in the memory.
Of course you had that massive touring run with AC/DC, when playing shows of that scale over a lengthy period, what if anything does that do for the bands in terms of growth as a touring band?
We worked out that we played in front of over one and a half a million people in that year and a half, as I say we did The States with those guys, we did Europe and played some ridiculously big venues, in excess of 100,000 people, Football stadiums, Grand Prix tracks, you name it… it definitely got our name out there to a lot of different territories that had never heard of us before, but as I say, it got to the point where we really needed to decide if we were just going to stay on the Rock and Roll train until its conclusion which wouldn't have been for another year or so after that, or make the tough decision to come off the whole thing and get another record made and get out there and try and do our own thing. It got to the stage where we did have to do that because it is a problem, you're playing to someone else's audience every night and while it was an awful lot of fun, it was the best year and a half of my life we had to take responsibilities for our own careers and get back to Ireland, get back to the studio and keep things at our grass roots level, where we were before we went on the tour, so I'm glad we did come off it at the end.
You've been doing this for quite some time now, in fact fifteen years this year, what do you still enjoy about being in The Answer?
I just really enjoy making music, man, that's why I do it, just to be able to get up in the morning and think about getting up on stage and playing our songs for a living here is really reward enough. Just everything about it, I love getting on the road and promoting the new record, I love whenever our tour is finished and we're getting back into the studio to write new songs and record a new record. Just that never ending cycle, it's just a really enjoyable way to do things and long may it continue.
What are your feelings like when you're about to release a new record, do you get more nervous or more excited?
I get excited but then I'm one of those guys that tends to read all our album reviews, so if I'm online and clicking on a latest album review for The Answer and while my computer is buffering I'll get very nervous *laughs* even if it's a really small, obscure review I'll get butterflies in my stomach and really quite nervous about what's going to appear on the screen in front of me. I think that's never going to change, I mean I still get nervous before I get up on stage every night and I've been doing that for over ten years now, it's just the way I am.
Shit, I better write a good review for you then…
*laughs* or else just don't let me read it *laughs*
Lastly, let's predict the future, finish this sentence, by the end of 2015, The Answer will…
Have a hit record *laughs* I want to have a hit record, I want to just keep touring the world man and having a good time.
Essential Information
From: Downpatrick, Ireland
Band members: Cormac Neeson – Vocals, Paul Mahon – Guitar, Michael Waters – Bass, James Heatley – Drums
Website:  http://www.theanswer.ie
Forthcoming release: Raise A Little Hell – (March 9 – Napalm Records / Rocket)