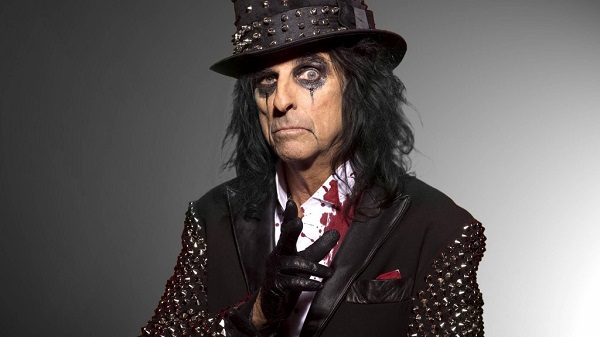 "…when I created Alice it was at a time when I looked at all the bands and they were all heroes, all rock heroes and I said where's the rock villains and rock needed a villain and I will gladly be Captain Hook, I will gladly be the Dracula of rock…"
The word legend gets used a little too much these days, but when you're talking Alice Cooper, well, it's kinda warranted. There's not much we need to tell you about him, you know who he is… you know what he does and he's loved for it.
In Arizona on nice 90 degree day as he tells us, we chatted to the legend that is Alice Cooper ahead of his return to Australia as special guest on Motley Crue's final tour. We chatted about the shows, the set lists, the Trash era, his new project, and why we'll never see an Alice Cooper farewell tour…
You're heading back to Australia this May, a place you've always had a great relationship with, what do you think it is about Australian crowds that just love Alice Cooper?
You know I think the very first time we went there I think everybody was surprised by the show, the world was shocked enough with 'Welcome To My Nightmare' and when we came there with the 'Welcome To My Nightmare' show it stunned everyone a little bit, they weren't expecting what it was, it was alike a Broadway, Vaudeville, hard rock experience, something that the audience has never seen before and they really, really liked it and every time we've come back we've given them a theatrical show. No difference now, when we come back it'll be the guillotine, it'll be the Straight Jacket, it'll be the snake, the insane nurse, the everything… it'll be the full Alice show.
I've always loved about your show is the theatrical aspect of it, and you being a pioneer for many, how important for you is your live show and that theatrical part of it and is that something that will continue for as long as you do?
Yeah I think it's something that the audience would feel very cheated if Alice just went up there and did songs you know? If it was kind of a laid back rock band, I wouldn't even want to tour if I had to do that. We were in a bar band when we were kids and even then we were doing theatrics, when we were doing Chuck Berry songs and Beatles songs and Rolling Stones songs, it was in our blood to be theatrical and it was the perfect time, when I created Alice it was at a time when I looked at all the bands and they were all heroes, all rock heroes and I said where's the rock villains and rock needed a villain and I will gladly be Captain Hook, I will gladly be the Dracula of rock, and if you can couple that with a great band with great albums and hit records and then give the audience a show on top of it, well I mean it still works forty five years later and it still works…
You've been out on this current tour with Motley Crue, these being their final shows, how does it feel to be a part of the final chapter for them?
Well it's funny because they started after us and they're ending before us, it's funny, all the guys from my generation are still out there, The Stones are still touring, McCartney's still touring, all the guys, Jeff beck, all these guys they're still out touring, it was a different work ethic, as far as we were concerned you toured until you couldn't tour anymore and if you ever went out there on stage and gave them a low energy show then you don't belong there, that was the way we looked at it. So, our show now is probable the highest energy show we've ever done.
Yeah and now with Nita Strauss on guitar, she's a phenomena…
Total shredder, yeah, you know I had Orianthi, nice Adelaide girl and one of the great, great blues guitar players I mean she can play rock, she can play blues and it was finally time for her to do her own album and so her and Richie Sambora went in the studio and I understood that, she was with us for three years and it was really time for her to stretch out and do her own album. So at that point I said we're going out with Motley Crue, I'm gonna need another girl but I'm gonna need a shredder, someone that can really rip it up and we saw Nita Strauss play, we saw a bunch of girls play but Nita was the one that had the stage presence and she just got it, she was one of us and we could tell she was going to be one of us. She's fun, I mean most people when they get in our band I've kind of got to teach them stage craft, how to be the character that you're going to be on stage… I didn't have to teach her anything, she just got up and ripped it up and I said just do what you're doing, I'm not going to tell you anything… I mean there were certain cues I had to tell her about and I always tell the guys in the band, when I step back, when it's a lead solo, you have to take over, that means you have to take over the show, the look, everything and then when you step back and I step forward then it's fine but when I step back I don't want the show to sag then, I want you to take over and keep going, so they all know that now.
With such a huge back catalogue and I believe you have in the past removed songs due to faith or lyrical reasons, how do you tailor a set these days?
Well you know it's funny, now when we go to different regions we put in different songs. 'Department of Youth' was a big hit in Australia, now we do that song sometimes we'll rotate it in, but now that we know we're doing Australia of course that's going to be one of the main songs. There are certain songs like in Sweden and Finland like 'Man Behind The Mask' that was a huge hit there and we don't normally do that song but when we go there, that song will be in the show as a theatrical piece. So I have a set show but I kind of research where I'm going and I know I'm going to do 'Eighteen' and 'School's Out' and 'Billion Dollar Babies' and 'Poison' and all those songs, but then we kind of say 'ok what songs were really big in Australia?' ok, this song and that song go back in the show.
So it's never really a stock standard show every time…
Yeah so we do rotate songs in and out and that's good for the band too because every once in a while and when you're doing eighty five shows and I come in before the show and say we're taking this out and putting this in, everyone goes 'YES!' *laughs*
I want to jump back to when I was introduced to you as a teenager growing up in the rock music land and when I heard 'Poison' for the first time, I was blown away, how important was an album like 'Trash' for you?
It was really important being the fact that we had already gone through what I called the disco plague, it's when everything on the radio was disco… and to be honest with you I'm gonna give the devil is due here… if you hated disco, you still, there was no way you could hate 'Saturday Night Fever' that album was the 'Sgt Pepper' of disco, I mean even heavy metal guys said yeah I have album, every song on that album was a great song, so I tip my hat to the Bee Gees on that, they were unbelievable and they had great songs before that album, they were to me a total departure from all the other disco acts, they were acceptable to me, more than acceptable, they were the kings of that so I always loved The Bee Gees, they were good friends of mine too. On top of that then, when disco started waning out what happened next was here comes the hair bands and the hair bands, you know, Motley Crue, Guns N Roses, Bon Jovi were basically mimicking Alice Cooper and KISS and the bands from that era… Aerosmith, except they were doing great songs, they were doing great shows and about three quarters to the end of that era I decided it's time for an Alice Cooper hit, I mean I started this whole thing I better get a hit out of this and I worked with Desmond Child and 'Poison' came out and was just a huge, huge hit, and the album did really well, it sold like five or six million copies. So I connected with that generation with that album. That was a little bit of a departure album too because I'm used to doing really hard rock albums and working with Desmond was a little bit more studio controlled, where everything we worked on every single line of everything, where I was used to having a little more spontaneity on the albums with Bob Ezrin but with Desmond we really made that album in to sort of a perfectly classic Alice Coper album.
Now let's talk Hollywood Vampires, how did the idea behind this come about and how did you recruit the likes of Johnny Depp and Joe Perry?
Well it was an interesting thing, I was doing 'Dark Shadows' in London, the movie with Johnny and I knew Johnny was a guitar player so one night after we got done shooting, the band decided that we were going to go in and do this club called the 100 Club in London where The Beatles had played, The Rolling Stones had played, it held a hundred people and I said 'Johnny, why don't you come out and play guitar with us?' and he went 'oh, no kidding?' and I said 'yeah' so he comes in and the guy's a great guitar player, knows all of my songs. If you yelled out 'Brown Sugar' by The Stones, we would do that and he would know it, if you yelled out 'Under My Wheels' he knows that, so the great thing was at that point we started talking and we were talking about the history of rock and I was telling him about The Hollywood Vampires that was my drinking club at The Rainbow club, every single night it was Harry Nilsson, Ringo, Keith Moon and in the early days Jim Morrison and Jimi Hendrix and those guys and it was sort of a last man standing drinking club and it got so notorious that they put a plaque up there that just said 'Beware of The Vampires – Hollywood Vampires'. So when I was talking to Johnny I said, I've never done a covers album, I would love to put a band together and just do a cover album for all my dead, drunk friends and we started counting up all the guys that had passed away that were in The Vampires and started looking at the songs and so Johnny and I and Joe Perry and we had guys that were coming into the studio every day and then one day we were sitting there and Paul McCartney walks in, sits down at the piano and says 'ok let's play' and I went 'are you kidding me?' *laughs* Mc Cartney's a Vampire now…  So that's an experience for any kid that grew up on The Beatles to have Paul McCartney in the studio and you're vocalising with him… come on… that's as good as it gets. That album will be out in September I think… that's the target date.
What about any thoughts on a new Alice Cooper album or new material in the near future?
Yeah actually we've already started writing, so as far as I'm concerned, I will record as much as I can… In this day and age it used to be that you were making albums trying to break in and get everybody in your camp. I think at this point Aerosmith and Ozzy and Alice and all these things, we know who our record is and we make records for that audience. I'm not trying to break a new audience but I know how loyal my audience is around the world and when I make a record now I try and make a record for my fans, so it's not a matter of how many records do you sell it's that you put a record out that your fans are going to go 'Yes! That's so cool.'
Lastly, let's predict the future so finish this sentence for me, by the end of 2015, Alice Cooper will…
Still be on tour *laughs* and be working on the next album… it's a never ending tour for me, I've never ever thought of the word retire…
Good, as I don't want to see an Alice Cooper farewell tour…
No, there never will be one…
Catch Alice Cooper in Australia with Motley Crue at the following dates:
ROD LAVER ARENA, MELBOURNE
TUESDAY MAY 12
WEDNESDAY MAY 13
ALLPHONES ARENA, SYDNEY
SATURDAY MAY 16
BRISBANE ENTERTAINMENT CENTRE
TUESDAY MAY 19
ADELAIDE ENTERTAINMENT CENTRE
THURSDAY MAY 21
PERTH ARENA
SATURDAY MAY 23
For complete tour and ticket information, visit:
www.motley.com     www.alicecooper.com
www.livenation.com.au
Essential Information
From: Phoenix, AZ, USA
Band Members: Alice Cooper – Vocals, Chuck Garric – Bass, Tommy Henriksen – Guitar, Nita Strauss – Guitar, Ryan Roxie – Guitar, Glen Sobel – Drums
Website: http://www.alicecooper.com