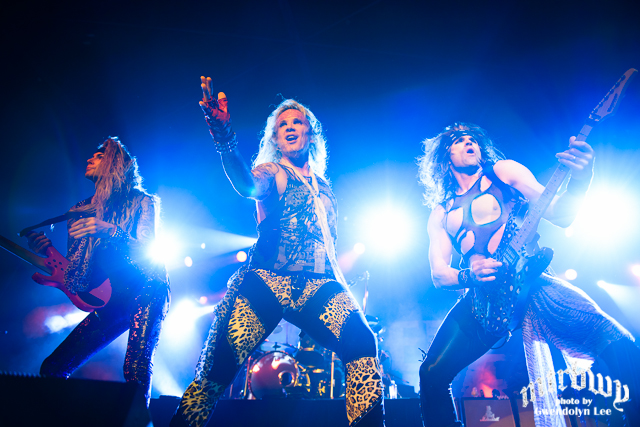 What a pairing! This Sidewave is one for the rockers, when you take a band from day one of Soundwave and a band from day two of Soundwave and put them together, what have you got? Slash Panther! Well, that's what I'm calling it… This one is going to be off the charts, so without further ado, it's almost 7pm and time to get our metal on with Steel Panther…
The acoustic intro to 'Pussywhipped' plays as the stragglers start to make  their way in and the band take the stage to deliver what only Steel Panther can do, and if you don't know what that is, well where the fuck have you been? This is not only their newest album opener but the perfect opener for what will be an entertaining show. Of course now it's time to 'Party Like Tomorrow Is The End Of The World' and YEAH what a song YEAH and you know what… I love this band and have done so for years dating back to when they were called Metal Skool… they're tight, they're fun and they have this shit down. A quick hairspray application from Lexxi and extended musical intro, we get out first of the banter and yes Michael Starr "heavy metal rules" indeed.
'Asian Hooker' is still as good as it was many years ago and still as funny then back to the newest album with 'If I Was The King' which sounded great but I always love this part of their show… It's time for Satchel to give us his solo. Ok now he's just showing off… as it becomes the intro to 'Turn Out The Lights' which of course rocks, but their impromptu song 'Sebastian Bach can't get a boner anymore' is a highlight of the night, Steel Panther gold. It's time to slow it down, back to their debut album 'Feel The Steel' and 'Girl from Oklahoma' gets its usual run and they still do it well.
'17 Girls In A Row' sees a stage invasion by well, 17 girls funnily enough. What a song man, heavy as fuck and then followed by the heaviest riff yet with 'Gloryhole' fuck that's heavy live. Amazing!!! Of course there are boobs which is a standard at a Steel Panther show, but tonight we get to hear a song they've never played live before, it's time for 'Ten Strikes You're Out' and it sounds like that they've been playing it for years. This is one tight band.
'Community fucking Property' (new name) god damn I never get sick of this song. The crowd know the words, they love it as much as I do and it's just the stand out, seriously find me a better power ballad in the last 10 years… Seriously. Do it. That's right, you can't… 'Party All Day' rules not only for its gang vocals but for a key change. 'Death To All But Metal' closes their set as it always does, and what better song to do it with, a message to music, a message to everyone actually and every time I see Steel Panther I think, do I really need to see them again, I'm up to something like fifteen times now, and every fucking time I walk out with a smile on my face and the answer to my question is a resounding YES. This is one of the most entertaining bands around and if you haven't seen them, well, just make sure you do.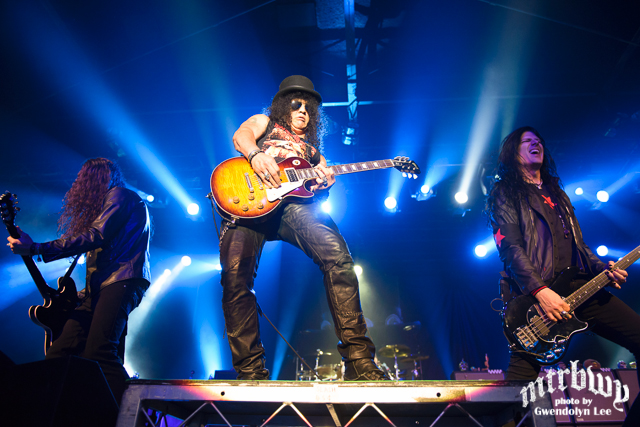 Now it's time for a little bit of Slash, Myles Kennedy and a few Conspirators…
Ripping it up with 'You're A Lie' and it just sounds phenomenal, what an opener, this song is a massive wall of rock. That Myles Kennedy… Man, that cat can sing! Oh Jesus 'Nightrain' this early? It still has the same vibe as it should and Slash obviously still loves it as he jumps around the stage, nails the solo and that's why he's here, I mean, it's Slash, are you kidding me? This guy is legendary! As he plays the outro in what you could almost call a signature stance you can tell this is gonna be one hell of a show.
'Halo' fits perfectly into the set after the previous classic, it's that straight up rock vibe, now 'Ghost' originally Ian Astbury took lead on this and it sounded killer, but I've grown to love Myles' take on it. Fuck man, who am I kidding, this guy could sing the phone book and I'd like it.  Ahhh now it's one that Myles did sing on… 'Back from Cali' and this one gets seriously loud in the live environment and what makes this song even bigger is the backing great vocals of Todd Kerns that balance Myles' perfectly. Slash. Yep, you guessed it. Nailed it.' Dirty Girl' was as rockin' as you'd like and 'Automatic Overdrive' follows with it's frantic fast paced melody and then 'Vertigo' hits a groove that is sexy, yeah I said it, but it is and suits the band.
A musical intro sets up 'Double Talkin Jive' and it's weird hearing Myles sing in a lower register like this but he can do it, this one also let's Slash do his thing… Oh but no more time about that one as Brent Fitz bashes the skins with that oh so familiar intro to 'You Could Be Mine' the crowd go nuts as you'd expect. Myles absolutely nails the GnR stuff, man Slash picked the right guy. Side note, in the right light Fitzy's kick drum looks like Zippy from Rainbow… 'Hasta la vista baby…'
Mr Todd Dammit Kerns takes lead vocals while Myles has a well-deserved rest, and belts out 'Dr Alibi' and he can sing!! It kinda reminds me of when Rachel used to do a track for Skid Row. Oh fuck he's pulled out 'You're Crazy' and nailed it! Myles, you can keep resting for a minute. Well done Señor Kerns, you made that one your own and did justice to the first song I ever heard swearing in when I was 13. A big crowd sing along for 'The Dissident' and man, this one is ruling, killer melody on this one. A thankful Kennedy reminisces about their first shows as a band in Australia and they kick into 'Starlight', and this is one of my favourites of the catalogue and let's Myles use his voice to its full extent as there's just a whole lot of soul in this song and they let it shine! Perfect song perfectly placed in the set. YES! Just when it couldn't get better, it does… The drums and bass kick into overdrive with 'Rocket Queen' and these Gunners songs stand up and stand up tall. The breakdown in this song is perfectly executed and allows the guys to take a breath and just jam it out for a minute or twelve or twenty five… Oh thank God, Myles is back, I was worried this was going to be the last song as they just kept jamming, could've easily gone for the next 45 minutes. But when it builds back up, it fucking builds… Goodnight Springton, there will be no encore.
Oh wait, sorry, my bad, there's plenty more to go. 'Bent To Fly' was our first taste from the bands newest album and it sure sounds swell tonight. Sorry if I sound a little distracted but I just took a peep at the set list and know what's coming up. Holy shit. Get ready because it's time to set the 'World on Fire' and boy howdy… What a song, it's written for the stage, it's a monster and easily my favourite track on the album of the same name. Myles is currently commanding the crowd and doing it well, Slash has strapped on a double neck and as 'Anastasia' kicks in and this one blows the roof off the place, there was only a few seconds to put it back on before it was gone for good, I mean seriously if there's one song that many here tonight wanted to hear, it's this next one. It's 'Sweet Child O' Mine' and I won't even bother telling you how good it was, just know it was. Yeah that's right. Ok, I love this next one too, loved Velvet Revolver so I'm stoked 'Slither' is still in the set and they nailed it, this one oozes sleaze and down and dirty rock and roll. It's the very pointy end of the set as the band leaves the stage, only to return for one more song…
It's time for the boys to take us down to the 'Paradise City' which is hands down my favourite GnR song and every time I've heard them do it, they do it so much justice. It's the only way to close this monster of a set and there's no better way to do it. Confetti cannons exploding, people going crazy and everyone just escaping into rock and roll. This is the best I've seen Slash and the boys, they just keep getting better and with a set like tonight, just wow!
What a show. What a pairing and what a night. This is rock and fucking roll or as Slash calls it, RnFnR… Where do we go now? To Soundwave this weekend, that's where.
Essential Information
Venue: The Hordern Pavilion – Sydney
Presented by: Soundwave Touring
Date: February 24, 2015
Website: http://www.slashonline.com and http://www.steelpantherrocks.com
Photos by: Gwendolyn Lee photography – check out our full gallery HERE
Set Lists:
Slash
You're A Lie
Nightrain
Halo
Ghost
Back from Cali
Dirty Girl
Automatic Overdrive
Vertigo
Double Talkin Jive
You Could Be Mine
Dr. Alibi
You're Crazy
The Dissident
Starlight
Rocket Queen
Bent To Fly
World On Fire
Anastasia
Sweet Child O' Mine
Slither
Paradise City
Steel Panther:
Pussywhipped
Party Like Tomorrow Is The End Of The World
Asian Hooker
If I Was The King
Guitar solo
Turn Out The Lights
Girl From Oklahoma
17 Girls In Row
Glory Hole
Ten Strikes You're Out
Community Property
Party All Day
Death To All But Metal