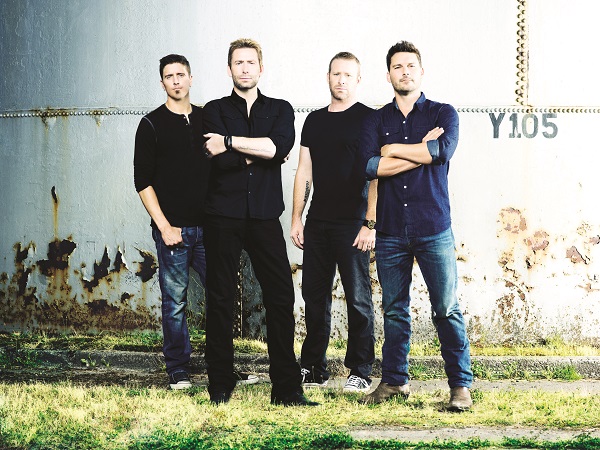 "…I'm not a big fan of the fame part of it, I like doing what I do, I like showing people that we love doing what we do, but I don't have any confusion of my self-importance in this thing. It's a great relationship between band and fans and we appreciate that completely."
As a Nickelback friendly zone (now endorsed by Ryan) we here at MTRBWY have been  fans of this band since they blew up in 2001 with 'How You Remind Me' and now fourteen years later, Nickelback are still going strong, selling out arenas and have no sign of stopping. You know the story, you either love the band or hate them and hey, each to their own, but you can't deny what they've done. Their new album 'No Fixed Address' has just been released and they're heading back to Australia to play for us once again, so let them remind you of just how good they are in the live arena…
In amazingly sunny Vancouver (that's rare he tells us) we had a great chat and a number of laughs with Ryan of Nickelback as we discussed the Australian tour, set list dilemmas, new music, covers and Bon Jovi…
Thanks for your time today, Ryan, it's great to chat to you.
Not a problem, my pleasure.
Now of course, you're heading back to see us this May, now as you continue to release albums, the shows almost have to become a greatest hits, how hard is it to put together a set list these days?
Funny you should say that, we're just going through those issues as we speak… I mean it's a great problem to have, I could think of worse things to have to deal with than kicking out singles, and that's what we're kind of having to do, we're looking at our set list and internationally we've had different songs play in different places and we're like what songs are still popular here so we can play some radio favourites that people have heard, but also kind of mix it up a bit too. At this point we're gonna have to pull certain songs out, put other ones in and they all end up being singles too, so you don't want to leave anything out for a certain fan that's paid money to come and see us to hear a specific song or two. I guess the answer is it's a bit of a problem *laughs* but we're working through it. It's a good problem to have.
Unless you want to play for around four hours a night?
*laughs* Unless somebody wants to listen to us for four hours a night, that's even more laborious I would think so *laughs*
Now, I've seen you every time you've been to Australia heading back to 2001 when you played the Metro Theatre here in Sydney, since then obviously the gigs got bigger, how have you personally seen your popularity grow in Australia since that first visit?
Oh wow! I mean it's been amazing, been one of our stronger places to play actually. I do say and I've said it in a couple of other interviews but it's a place we always look forward to coming back to, there's something about Australia, people have always been kind to us and always supported the music. I remember, I think it was probably our fourth album, 'The Long Road' actually had the most success in Australia and we're not exactly sure why *laughs* but we're not asking any questions, but you know what? They've always treated us really well, so we're happy to come down every time.
Do you have a favourite memory from that very first tour down here?
I think we were worked to death press wise, I remember doing that, I remember going into a radio station, MMM if that sounds right, and one of my memories was they asked us on the spot to do a cover song and we had to come up with something in about an hour and I remember, and I still have the recording from there, and we had to do a Captain and Tennille song *laughs* 'Love Will Keep Us Together' *laughs* really weird shit like that, and it was pretty funny, like you Aussies are fuckin' crazy, but it was fun.
OK, so now you can drop 'How You Remind Me' out of the set and that song can replace it…
*laughs* You know what, if it wasn't a hit down there I don't think it'll make the set, but we will consider it, ok? I'll put in a good word…
I do have to say, last tour I was talking up the stage show to a mate who hadn't seen you before about all the pyro and fire, and um, there wasn't any… can we expect to see those old favourites at this upcoming tour?
We are probably going to bring it back in a different way… we're trying to evolve the set in a way… I love the pyro as much as everybody that's seen the pyro because who doesn't like looking at fire and stuff, but in the same breath we've had conversations about not doing it, I don't want to be just that, I don't want to be just about the fire and whatnot, but I do want to put on a good show and we want people walking away saying they had a great time, a great sing along, great experience in general and we're going to try and incorporate that with other things we've got on stage, but we're not going to bring the big flame towers but we are going to bring a good show again *laughs* and hopefully you guys will still come back and check it out. See if I'm wrong…
With 'No Fixed Address' out now and the tour about to get underway, how long are you expected to be out with this record?
We plan to be out for I think until December, so almost a year. We're gonna have a little time off before we go see you guys, we've got a couple of weeks off in April, then we go to Australia, we go back to the United States, North America, and then hit Europe in early Fall and then South America and Russia after that, and then possibly off by Christmas, so we've got a full dance card this year.
Are there still places you want to tour that you haven't yet been to?
Yeah, absolutely, we haven't been to India yet, we haven't been to anywhere in China, South East Asia we're gonna go to Singapore this time, we haven't done a lot of work down there, or places like Hong Kong, just various other stops that we haven't touched on. We had a few firsts last year, like we hadn't been to Finland or Russia, or South America, or Abu Dhabi and South Africa… Actually we were in South Africa playing the day after Mandela passed away which was absolutely unbelievable to be there at that time, we went to do radio interviews the day of the show and we got to the station and in the middle of the night he'd passed away, so we had a crash course on Mandela in his home town and man, that was unbelievable, So yeah, there are other places we want to play. *laughs*
Let's talk about the new album, it's your eighth album, what was the process like putting this one together compared to previous releases?
The process initially was the same, where we all got together saying 'what do you wanna do?' *laughs* we just had absolutely no idea where to take this one, and it really grew organically in the sense of Chad, we recorded at his studio the longest time and he sold his place and moved and so we were all like what are we gonna do this time? So I personally still live in Vancouver, so is the drummer, Daniel and Mike is in Hawaii and Chad was working a lot in LA, back and forth to Canada from LA, and so we were like, let's go where everybody is at for like five to ten days, we'll knock out as many ideas as we can and then go away and maybe come back and do it again a month later or something. So it was well over a year just kind of whittling away at the album, and so we did a couple of sessions in Hawaii, we did a couple of sessions in Vancouver, and two or three in LA, and various places over in Europe when we were touring Europe the last time, we brought a recording rig, so we were just recording when we could, and a lot of the stuff made it to the album too. So it was absolutely everywhere, it was great, you didn't feel locked up, you could get in, use the short burst, get your ideas out, walk away from it, come up with different ideas, more ideas or come back and critically look at it and go nah that's not working. When you're stuck in the studio and every day literally for about seven months, every day, seven days a week at least twelve hours a day it's *laughs* I don't know what it is, man, it's almost a form of torture. It's like a masochistic torture we're doing to ourselves, so I was really happy with this process.
Now, since 'Curb' you haven't named any of your albums after a track, so why was 'No Fixed Address' the right choice for naming rights this time around?
Well you know what, we try to find some kind of theme of some sort, if it was a song that can kind of encompass what we're doing at the moment, or a line or something and I just came up with 'No Fixed Address' in the sense where we felt like transients, we felt that we didn't have that home base that we'd been used to, and we were bouncing everywhere and just kind of figured this feels like we're all over the board and it feels like we have no fixed address anymore. So that was kind of it, it wasn't as much to do with the songs as the recording process and everybody kind of agreed that it made a lot of sense.
This year, you'll have been doing this for twenty years, so in that time, what's the biggest thing you've learned from being in the band you didn't expect was a part of it?
What's the biggest thing I've learned? Well you don't learn a lot in a rock band I'll tell you that right now *laughs* a lot of kneejerk… I would say, that's a good question… I read this quote that I like as a mantra and I read it when we played this little rock bar way early in our career and it was a little saying that said 'You be nice to us on the way up, we'll be nice to you on the way down' and still that's very poignant *laughs* because this is such a fickle business and we hardly could draw anybody at the time when I read this thing but it's such a great mantra and it's something that I do revisit in my head every album and every tour, I remember that and I just think it's so telling because that is another thing is that I don't buy into the fame part of it, it's all smoke and mirrors for me personally, I'm not a big fan of the fame part of it, I like doing what I do, I like showing people that we love doing what we do, but I don't have any confusion of my self-importance in this thing. It's a great relationship between band and fans and we appreciate that completely.
I do have to ask only because I'm a huge fan, and it was a little while ago, but what was it like on that tour opening for Bon Jovi?
You know what, it was really cool, we weren't sure whether we should do it or not at the time, and we were just like these guys have been doing it right for a long time and they pack in the fans, and it was a European tour we did mostly with them and it was great. Then we did a few shows down in South America with them, they're always good to us, very kind, very easy to work with and man, they just got the hits, they put people in the stadiums and they deliver. So you can't really argue with that no matter what anyone says, they put on a good show. It was a blast, every time.
Lastly, let's predict the future, so if you can finish this sentence for me, by the end of 2015, Nickelback will…
*laughs* By the end of 2015 and this is the truth… Nickelback will be very tired from touring all year long. Nickelback will be very homesick… but appreciative but homesick… *laughs*
Catch Nickelback on their 'No Fixed Address Tour' of Australia at the following dates:
ROD LAVER ARENA, MELBOURNE
FRIDAY MAY 15
SATURDAY MAY 16
ADELAIDE ENTERTAINMENT CENTRE
MONDAY MAY 18
BRISBANE ENTERTAINMENT CENTRE
WEDNESDAY MAY 20
ALLPHONES ARENA, SYDNEY
FRIDAY MAY 22
ENTERTAINMENT CENTRE, NEWCASTLE
SATURDAY MAY 23
PERTH ARENA
TUESDAY MAY 26
Tickets on sale now – Presented by Live Nation
For complete tour and ticket information, visit:
www.nickelback.com     www.livenation.com.au
Essential Information
From: Vancouver, Canada
Band members: Chad Kroeger – lead vocals/guitars, Ryan Peake – guitars/backing vocals, Mike Kroeger – bass, Daniel Adair – drums
Website:  http://www.nickelback.com
Latest release: No Fixed Address (Out Now – Universal Music Australia)