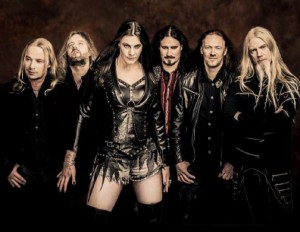 Symphonic metallers Nightwish will release their new album, Endless Forms Most Beautiful, on March 27 via Roadrunner Records.
Endless Forms Most Beautiful is the first Nightwish studio album to feature Dutch singer Floor Jansen (Revamp, ex-After Forever) – the splendid chanteuse has been a full-time member since Oct 2012. On drums there is also a new face: On account of health problems, long-time drummer Jukka Nevalainen has had to take a break and is replaced by his good friend Kai Hahto (Wintersun) for touring duties. Finally the quintet was extended by the entrance of multi-instrumentalist Troy Donockley. Songwriter/arranger and keyboardist Tuomas Holopainen says, "The new members were completely motivated and contributed large parts to the arrangements. They worked as a unit – much more than on all the albums before!"
The album was recorded at the Röskö Campsite in Kitee, and Petrax Studios in Hollola and produced once more by Holopainen, & Tero "Teecee" Kinnunen. The 2CD release also features an instrumental version of the album in its entirety.
The Endless Forms Most Beautiful title came from Charles Darwin's "The Origin Of Species" book, where he wrote: "There is grandeur in this view of life, with its several powers, having been originally breathed into a few forms or into one; and that, while this planet has gone cycling on according to the fixed law of gravity, from so simple a beginning endless forms most beautiful and most wonderful have been, and are being, evolved."
"This classic quote is where it all began," comments Holopainen. "The underlying theme of the song is nothing less than the meaning of life, which can be something different for all of us. It's important to surrender yourself to the occasional 'free fall' and not to fear the path less travelled by."
First single Élan will precede the full-length album on February 13. "'Oh, while I live to be the ruler of life, Not a slave. To meet life as a powerful conqueror, and nothing exterior to me will ever take command of me.' This beautiful quote from my hero Uncle Walt [Walt Whitman] was the starting point for writing Élan," adds Holopainen.
Endless Forms Most Beautiful is a virtuoso legacy for eternity. Nightwish were never better.
FOLLOW NIGHTWISH
OFFICIAL WEBSITE | FACEBOOK | TWITTER | YOUTUBE