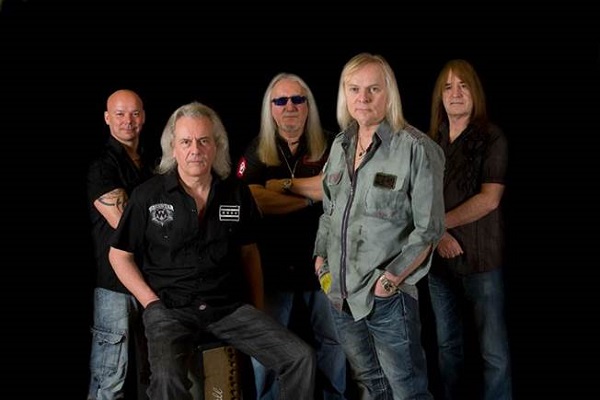 "I think the essence of it all is that we've still got the same passion and edge we've had for our music and we're driven by that, and to be in the band at this juncture just to enjoy it, writing new songs, recording new songs, playing new songs and doing live shows, it's as simple as that really, we've just got big love for it."
From release: URIAH HEEP's unique, progressive, hard sound has made them a mainstay of the rock circuit for four decades. Famed for their accomplished musical talents, diverse song writing and powerful live performances, the band has released some of the most popular and defining music of their genre. With a catalogue of 23 studio albums that includes 'Demons and Wizards' (1972), 'Abominog' (1982), and their most recent release, 2014's 'Outsider') it's no surprise that the band has sold over 40 million records worldwide.
In rainy England, we chatted to Mick Box of Uriah Heep about their upcoming Australian tour, new music, old music, plus more, and I have to tell you, this is a guy that LOVES what he does and it was a pleasure to chat to Mr Box…
You're headed back to Australia in March for some shows, after over forty years and with so many albums, how hard is it to put a set together these days?
Well you know it's not that bad to be honest, we're lucky to have that wealth of material. We're a band that's very proud of our history, other bands seem to shun that but we love it, so we always go with the songs that were taken on universally and worldwide, we'll always do the 'July Morning', 'Easy Livin', 'Gypsy', 'Free Me', 'Lady in Black' and all that, we'll always do those songs as the core of our set and then with a new album out of course we'll put four or five tracks in from that and then we'll also go and visit some old classic tracks we either haven't played before or played in a long, long while and bring them into the set list. So really it ends up to be a real journey through our career.
Now you've been coming to Australia longer than I've been alive, what are some of your fondest memories of touring Australia?
The audience is fantastic, if they like you they show you which is wonderful, and I think because we're not often over there, we had a bit of a hiatus since the last time we were there and we always have two or three albums in the interim. So I think they're ready for us and we're certainly ready for them *laughs*
You would've seen generations of fans now come along to your shows, is this something you've witnessed personally and how does it make you feel to see how much the music has allowed this to happen?
Well you know over in Europe I have to say that the fans are getting younger and younger and younger and I think that's just absolutely brilliant because they take it on face value with the present album, 'Outsider' or 'Into The Wild' or 'Wake The Sleeper' the last two or three studio albums and that's great. Then they find the history of the band and then it's just amazing and you see them turning up down the front and they're singing all the old songs too, it's absolutely amazing we just love it. Every sort of decade we seem to be getting new fans and it just keeps growing and growing and growing, we've played in fifty eight countries around the world and there's no sign of it stopping and thank goodness for that.
After twenty four albums, what do you still enjoy about making music in Uriah Heep?
I think the essence of it all is that we've still got the same passion and edge we've had for our music and we're driven by that, and to be in the band at this juncture just to enjoy it, writing new songs, recording new songs, playing new songs and doing live shows, it's as simple as that really, we've just got big love for it.
Obviously technology has changed over the years, what's the biggest and most notable change you've witnessed in the way that Uriah Heep makes music?
We still do it old school I'm afraid *laughs* and thank goodness… we go into the studio as a band and we record backing tracks playing as a band, we don't do it piecemeal like others do and spend two weeks getting the drums and all that sort of stuff, we go in and get it fresh and get it right, what we do is work up a track until we're happy with the arrangement and everything else and we press the record button and in three takes we've got it. You need to be on top of your game for that because if I make a mistake or someone makes a mistake while you're recording it goes on to the drum mics and all that sort of stuff, so that's the downside of it. The upside of it is when you get the take you want it's fresh, it's got vitality and it gives you the chills, it's great. In terms of technology now, pro-tools I guess would be a big one, home recording, where you can get some ideas together at home, we always used to do it on a little tape recorder didn't you. You can do it a bit more sophisticated now, but in terms of our albums, we just do it as a band, old school. The other thing is if you want to talk technology, Phil Lanzon our keyboard player and myself do most of the writing and occasionally we do that by Skype *laughs* if I can't get down to him and he can't get down to me we'll just Skype each other and run our ideas across to each other. Other than that we try to keep away from the digital world and try and keep it as analogue as possible, because you know digital is cold and analogue is nice and warm.
As the primary song writer in the band, how do you feel your technique has evolved since your beginnings?
It's pretty much the same you know? I have the same rule of thumb that I use all the time, the essence  of writing is to capture it quickly, so if you've got an idea no matter if you've got someone to do it, stay and get the idea down, that can be just something on your iPhone, there's another part of technology we never used to have *laughs* put it on your iPhone and I do that when I'm travelling around the world, in hotel rooms I have a practise guitar and I lay the ideas down and that's probably how most of this album 'Outsider' was written really with those ideas. I collect them all on my iPhone and when I get home I stick them up on my computer and I call it the washing up test… in the old days I used to not have the iPhone I put in on a Sony Walkman tape recorder and then what I used to do was do the washing up and I'd put it on the sink and when I'm washing up I'd play all the ideas and the ones that stood out are the ones I worked on and became the best songs in the end. So I do very, very, very basic and if something sounds good at that level, it's always going to sound good. It's very easy to get an average idea and go onto a machine and make it sound good, by sounds and arrangements and all sorts, but it's much better to work on something that's strong.
So some of your biggest songs may have been decided while washing the dishes?
Yep *laughs* I'm afraid so *laughs* and they all get written on acoustic guitar and end up electric and can become the most powerful song you've ever written. There's no rule of thumb, as a writer you just have to have your antenna out at any given time. It's easy to walk around the world with blinkers, but have your antenna out and soak up ideas.
You've been around through all the musical trends, ups and downs of rock music, do you pay any attention to that kind of stuff?
No. No to be honest, because as another trend comes in if you try and jump on that trend you're gonna be second best because they're doing it first you know? So I would never do that, no. I always say there's old wave, new wave and we're permanent wave.
So what do you put the band's longevity down to?
I'd just say songs, it always comes down to good songs, even if you want to go back to what you just asked me about the trends that comes along, the only bands that last in any trend that comes along are the ones with good songs. You get the punk era, you get The Clash, The Sex Pistols , they're great songs and that's why they're still revered in that way. It's the same with any genre of music, it's all down to the songs and Uriah Heep have been lucky enough to have a lot of songs over the years that have stood the test of time that people still like hearing and that's did us well and that's the foundation of what we do and everything else is new around it.
Now normally I do this for newer bands, but because you've been doing this for so long, I'd love to get a bit of a quick fire insight into you with some questions if you don't mind:
So, what band or artist made you want to be a rock star?
Buddy Holly, there was a few of them… Les Paul from the jazz field, Buddy Holly and probably Jeff Beck.
What was the last album you bought?
Funny enough… The Tea Party, the new one. Actually I saw them in Sydney at a small venue when they released their first album and I thought they were absolutely dynamite. Then actually the one after Tea Party would be Opeth which is great.
Is there a song throughout musical history that you wish you'd written?
Too many to mention *laughs* 'White Christmas' wouldn't be bad would it? 'Happy Birthday' wouldn't be bad, would it? *laughs* you'd get a life in the sun then wouldn't you…
Is there a place in the world you haven't toured that you would still love to get to?
China… never been there. Especially for a very, very tenuous link here but I'm from the East end of London and we used to call a male, China, was my China plate mate, so you used to call your mate my old China… *laughs* but it's always stuck with me, so China yes. *laughs*
So, what's next for Uriah Heep?
Well, well, well just the start of this year is an explosion as well, we're going to Russia and from there we go to Israel, Tel Aviv, then we come back and we go to America, we start in Florida, we go on a rock cruise and go through the Bahamas with Alice Cooper, Doobie Brothers, Blue Oyster Cult, loads of other bands which is fantastic. Then when that docks we start an American tour going coast to coast starting in New York at B.B. Kings and going over to L.A. and then from L.A. we fly over to see you guys which will be great, then on to New Zealand and then back home and we do a U.K. tour… Then the whole of summer is the summer festivals and we do a whole lot of weekend work and home for Monday, Tuesday, Wednesday, Thursday and out Friday, Saturday Sunday doing festivals around Europe. There's options for japan, Brazil and so much more *laughs*
So there's absolutely no chance of you slowing down any time soon?
Slowing down is not anything we use, they're just two words that never come into our life I'm afraid. Do you what? We love it, we've got a passion for it and we enjoy it.
Lastly, let's predict the future, so finish this sentence, by the end of 2015, Uriah Heep will…
Still be recording, still be playing live shows and still be smiling… I've always said a working band is a happy band and you'll see that from the smiles on our faces when we play out there *laughs*
Make sure you catch URIAH HEEP on their triumphant return to Australia on the following dates in March!
Tickets on sale NOW from HERE:
Thu 19th – Sydney – Rooty Hill RSL
Fri 20th – Sydney – Metro Theatre cap.
Sat 21st – Melbourne – Shoppingtown Hotel
Sun 22nd – Melbourne – Chelsea Heights
Tues 24th – Perth – Astor Theatre
Wed 25th – Adelaide – The Gov
Thu 26th – Brisbane – Eatons Hill
Presented by Metropolis Touring
Essential Information
From: London, England
Band members: Mick Box – lead guitars, Phil Lanzon – keyboards, Bernie Shaw – lead vocals, Russell Gilbrook – drums, percussion, Davey Rimmer – bass
Website: https://www.uriah-heep.com
Latest release: Outsider – (Out Now – Frontiers Records)