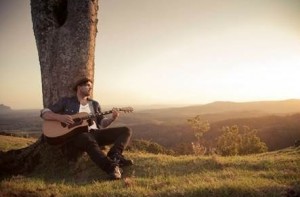 Brisbane based singer/songwriter Clint Boge has been crafting his solo wares for over a decade, in between endless hours on the road and sold out shows, Clint's love of the written word has always been a constant.
The "Songs of a Delicate Nature" Australian tour will see Clint play 31 dates, across seven states and territories, throughout March, April and May with even more regional dates to be announced shortly.
A national tour that is true to its word, Clint will play some of the most renowned rooms across the Aussie tour circuit, including the Espy Hotel, Brass Monkey, Newtown Social Club, Woolly Mammoth, Transit Bar and Republic Bar to name check only a few.
The tour will be in support of Clint Boge's first solo release "Songs of a Delicate Nature" – due out in March through MGM Distribution.
Clint will be supported on most national dates by former band mate Glenn Esmond, who will also bring a light acoustic feel to the shows – they might even get together for a few old favorites if the mood takes them.
Brought to you by the Packmule Entertainment team.
CLINT BOGE "SONGS OF A DELICATE NATURE" NATIONAL TOUR
Thursday 26th March – The Northern, Byron Bay
Friday 27th March – Woolly Mammoth, Brisbane
Saturday 28th March – Taps, Sunshine Coast
Sun 29th March – Brothers Leagues Club, Ipswich
Wednesday 1st April – New Tattersals Hotel, Lismore
Thursday 2nd April – Coffs Hotel, Coffs Harbour
Sunday 5th April – Romanos, Wagga Wagga
Wednesday 8th April – Musicman Megastore, Bendigo
Thursday 9th April – Bridge Hotel, Castlemaine
Friday 10th April – Espy Hotel, St Kilda
Saturday 11th April – Evelyn Hotel, Melbourne
Sunday 12th April – Beavs Bar, Geelong
Thursday 16th April – Republic Bar, Hobart
Friday 17th April – Red Hot Music, Devonport
Saturday 18th April – The Butter Factory, Burnie
Sunday 19th April – Irish Murphys, Launceston
Wednesday 29th April – Cambridge Hotel, Newcastle
Thursday 30th April – Transit Bar, Canberra
Friday 1st May – Newtown Social Club, Newtown
Saturday 2nd May – Heritage Hotel, Bulli
Sunday 3rd May – Brass Monkey, Cronulla
Thursday 7th May – Royal Oak Hotel, North Adelaide
Friday 8th May – Slug and Lettuce, Parafield Gardens
Saturday 9th May – Ramsgate Hotel, Henley Beach
Thursday 14th May – Prince of Wales, Bunbury
Friday 15th May – Herdsman Lake Tavern, Perth
Saturday 16th May – Leisure Inn, Rockingham
Sunday 17th May – Dunsborough Tavern, Dunsborough
Friday 29th May – Andergrove Tavern, Mackay
Saturday 30th May – Packmule Party, Cairns
Sunday 31st May – Packmule Party, Townsville
Comments
comments