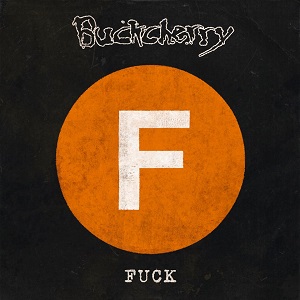 Let me start by saying this, I love the word fuck. I use it far too much, well at least I thought I used it a lot until I put on this new EP from Buckcherry called you guessed it, 'FUCK' and I know I'm going to like this, oh yeah…
'Somebody Fucked With Me' fuckin' opens the fuckin' EP and it fuckin' rocks! I have always dug a bit of Buckcherry, their groove, their style, Josh Todd's fuckin' kick ass voice that sets the tone for what this band is all about. This song though is fuckin' great, and let's out all the anger and aggression worthy of its namesake. Ahhh I remember this next one, we got a taste of 'Say Fuck It' when the band toured here in 2013, and they loved it then before it was even on a record as it just embodies that Buckcherry sound once again. It's a fast paced fucker, great guitars all through it, an almost 'Thunderstruck' type riff throughout and a catchy fuckin' chorus we all know from that 'I Love It' song. It's a perfect party type song and who better to deliver that than Buckcherry.
'The Motherfucker' is up next, and fuck yeah! It's dirty, sleazy, straight up rock and roll. The guitar tones throughout this one are killer, Keith Nelson is ripping this one up and his sound is a huge part of this band and its perfect blend with Todd's vocals make this one kick major fuckin' ass. 'I Don't Give A Fuck' is a bit of a slower, groovier track, but with some great percussion and a catchy chorus that is destined to be a staple in their live set (it's perfect for it), but holy shit, I mean holy fuck, 'It's a Fucking Disaster' is anything but… this song is fucking killer!!! Big hooks, great breakdown mid song with some harmony guitar work, fuckin' A! The structure and arrangements on this one make it a stand out for me, well fuckin' played!
Last but not fuckin' least is 'Fist Fuck' which is fast, frantic, fuckin full on, and almost straight up punk. At just under two and a half minutes, they've just decided to throw in everything as well as the kitchen fuckin' sink!! I almost need to listen to that one again to take it in as the initial onslaught was crazy!! "This is what you wanted, this is what you needed…" they say in it, and you know what? Yeah, we fuckin' did… Thanks for not being scared to make an EP like this, Buckcherry.
Plenty of fucks given, in fact I counted, they say the word fuck 129 times across the whole EP! Now this is rock and fuckin' roll!
Essential Information
From: Los Angeles, CA, USA
Release date: 6 February 2015
Record label: Caroline Australia
Website:  http://www.buckcherry.com
Track Listing:
Somebody Fucked With Me
Say Fuck It
The Motherfucker
I Don't Give A Fuck
It's a Fucking Disaster
Fist Fuck