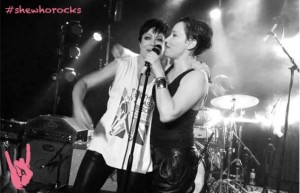 Aussie rock royalty, Baby Animals and The Superjesus, will be performing an extra show at The HiFi in Melbourne as part of the She Who Rocks Tour, with Saturday May 30 being added to the run of dates across the country.
The tour kicks off in Suze's hometown of Perth on Friday, May 22, followed by two show's in Melbourne on May 29 & 30, before moving on to Wollongong, Sydney, and Brisbane, followed by Sarah's hometown of Adelaide, with Hobart, Tasmania, the last pit stop of the She Who Rocks Tour, on Friday 26 June 2015.
Both bands will play their biggest hits and fan favourites, in what will be two powerhouse performances by two of the biggest rock acts of the last two decades.
The Baby Animals returned to the music scene in 2013 with their third album (the first in 20 years), This Is Not The End – a genuine rock album with a return to the classic Baby Animals form that their fans loved. This Is Not The End debuted at #19 on the ARIA album charts and took them around the country, playing sold out shows in metro areas and regional towns.
2013 also saw the reformation of The Superjesus, after an overwhelming reaction to a one-off reunion show in their hometown of Adelaide. They also went on the road for the first time in a decade, playing sold out shows across the country.
The She Who Rocks Tour is presented by Social Family Records, The Harbour Agency and Tone Deaf.
On sale now.
SHE WHO ROCKS TOUR DATES

# Date just announced

Fri 22 May | Perth WA | Charles Hotel | http://bit.ly/PerthSWR
Fri 29 May | Melbourne, VIC | The Hi-Fi | http://bit.ly/MelbourneSWR
# Sat 30 May | Melbourne, VIC | The Hi-Fi | http://bit.ly/MelbourneSWR2
Fri 5 June | Wollongong, NSW | Waves | http://bit.ly/GongSWR
Sat 6 June | Sydney, NSW | Metro Theatre | http://bit.ly/SydneySWR
Sat 13 June | Brisbane, QLD | The Tivoli | http://bit.ly/BrisbaneSWR
Fri 19 June | Adelaide, SA | The Gov | http://bit.ly/AdelaideSWR
Fri 26 June | Hobart, TAS | Wrest Point Ent Cent | http://bit.ly/HobartSWR