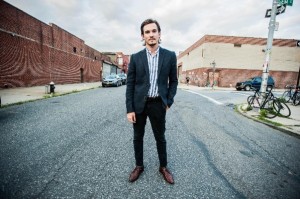 CHRIS FARREN, Florida-based musician and charismatic front man of the Naples band Fake Problems will be heading down under to warm up the stage for THE GASLIGHT ANTHEM Australian Tour. "I couldn't be more thrilled to be coming to Australia with my good friends The Gaslight Anthem. I've played a lot of shows with them in the states, and to be taking the show to a country I've never been to before is crazy exciting. Everyone tells me once I get to Australia I'll never want to leave. Bring it on!" – Chris Farren
CHRIS FARREN has been grinding it out for over a decade, making endless friends along the way and has toured with everyone from Frank Turner, Against Me! to Say Anything. THE GASLIGHT ANTHEM covered CHRIS FARREN'S song, "Songs For Teenagers" on their "The B-Sides" record. Farren recently released his most ambitious record to date which included guest appearances by Mae Whitman (Arrested Development), Sean Bonnet (Andrew Jackson Jihad) and Laura Stevenson to name a few. His stripped back set will be nothing but a ton of inspiration.
___________________________________________________________________
"So few hoist the flag of rock 'n' roll as proudly and explicitly as The Gaslight Anthem these days." – Alternative Press. Truer words have never been spoken.
American rockers THE GASLIGHT ANTHEM return to Australia in January and February 2015.
No stranger to blowing away audiences on the stages at some of the most iconic stadiums in the world – punters are certain to be fighting tooth and nail to witness one of the world's most prolific rock acts this summer. " They are an immensely thrilling live experience, overwhelming any cynicism with a breathless set of effervescent, life-affirming rock'n'roll songs that deal only in heartbreak or giddy delight." – The Guardian.
For the first time ever Australian fans will have the absolute honour of selecting their very own set list. Fans can request their favourite tracks from the stellar back catalogue – Sink or Swim, The '59 Sound, American Slang and Handwritten at these 2 intimate shows. This incredible opportunity will only be available for 2 shows, which will take place on Sunday 1 February at The Factory in Sydney and Wednesday 4 February at Prince Of Wales in Melbourne. For more information on the voting process please head to www.facebook.com/soundwavetouring where details on this rare event will be spelled out in full, 'Get Voting'!
___________________________________________________________________
TICKETS ON SALE NOW!
WEDNESDAY 28 JANUARY                 GOLD COAST, COOLANGATTA HOTEL – 18+  www.oztix.com.au
THURSDAY 29 JANUARY                 BRISBANE, THE TIVOLI – 18+ – www.ticketmaster.com.au
SATURDAY 31 JANUARY                SYDNEY, THE ENMORE – Licensed All Ages www.ticketek.com.au
…'By Request'! Show
SUNDAY 1 FEBRUARY                SYDNEY, THE FACTORY – Licensed All Ages www.factorytheatre.com.au
TUESDAY 3 FEBRUARY                MELBOURNE, THE FORUM – 18+ www.ticketmaster.com.au
…'By Request'! Show
WEDNESDAY 4 FEBRUARY                MELBOURNE, PRINCE OF WALES – 18+ www.oztix.com.au
THURSDAY 5 FEBRUARY                ADELAIDE, HQ – 18+ www.oztix.com.au