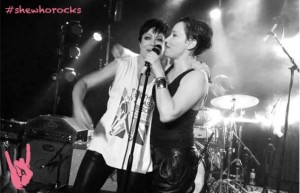 AUSSIE ROCK ROYALTY
BABY ANIMALS & THE SUPERJESUS
ANNOUNCE 7 DATE NATIONAL TOUR

SHE WHO ROCKS NATIONAL TOUR KICKS OFF IN PERTH – MAY 2015
Dust off your black t-shirts! Two of Australia's most loved female-fronted rock bands are packing their road cases and pulling out their biggest hits, for a double headline powerhouse rock show.
The truth is, it didn't take much to talk two of Australia's greatest ever front women, Suze DeMarchi and Sarah McLeod, into getting together for what is sure to be one the most electric Aussie rock tours of 2015.
The tour kicks off in Suze's hometown of Perth on Friday 22 May 2015. Then it's on to Melbourne, Wollongong, Sydney, and Brisbane, followed by Sarah's hometown of Adelaide, with Sandy Bay, Tasmania the last pit stop on the She Who Rocks Tour, on Friday 26 June 2015.
Having never actually played on the same bill before (can you believe it?), but good friends for many years, it wasn't much of a stretch for the two rock songstresses to agree that it was time to get out there on the road, especially with so many fans asking about it for years.
Suze DeMarchi said, "The Superjesus blew me away with their 'Sumo' record. I've been a fan since. Let's see if they/we can keep it up!"
Sarah McLeod said, "It's been a long time coming, bubbling in my system since I first saw the BA's at The Bridgeway Hotel in Adelaide in the early 90's. I'm a fan, have always been. And now we get to share the stage together on a legit tour. Bring it on baby!"
Both bands will play their biggest hits and fan favourites, in what will be two powerhouse performances by two of the biggest rock acts of the last two decades.
The Baby Animals returned to the music scene in 2013 with their third album (the first in 20 years), This Is Not The End – a genuine rock album with a return to the classic Baby Animals form that their fans loved. This Is Not The End debuted at #19 on the ARIA album charts and took them around the country, playing sold out shows in metro areas and regional towns.
2013 also saw the reformation of The Superjesus, after an overwhelming reaction to a one-off reunion show in their hometown of Adelaide. They also went on the road for the first time in a decade, also playing sold out shows across the country.
The She Who Rocks Tour is presented by Social Family Records,
The Harbour Agency and Tone Deaf.

The She Who Rocks Tour is on sale NOW.