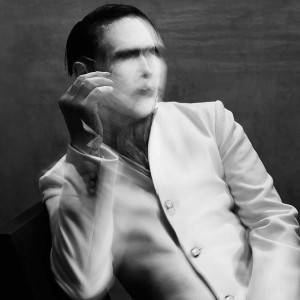 Marilyn Manson is back, back with a new album, his first in three years, a new band in tow and a sound that may surprise many, if not all, well maybe not all, some…
The album opens with 'Killing Strangers', an odd, almost groovy type track full of buzzing guitars and that typical Marilyn Manson vocal you've known to love and expect. At just over five and half minutes, it's an interesting choice for the opener, but the more I listen to it, the more I'm enjoying it, and with lyrics like "We're killing strangers so we don't kill the ones that we love" I'm thinking that some of if not all these songs forthcoming will have a theme, or make you think.  My only hope is that the album lifts, in terms of heaviness and tempo which I much prefer. I guess we'll see what he has in store for us… ahhhhhh there we go!! 'Deep Six' turns the volume up and the band sounds great in this one, the mix is killer! What I like about this one is the melody throughout and even a little hook there in the bridge, well played. I look forward to hearing this one live next month as there's no way it won't be included, bring on Soundwave! 'Third Day Of A Seven Day Binge' is a slower one again I feel this could actually be continuing the tone of the album, it kind of feels like what a lounge record would sound like if Marilyn Manson did it, oh and here we are, what's scary is, I kinda like it…
Major bonus points to him here for using the word Mephistopheles in a song, here we have 'The Mephistopheles Of Los Angeles' is sleazy and a song that has my foot tapping along to it, but what Manson has always done well is creepy, and I mean that in a good way, you just need to listen to 'Warship My Wreck' it starts with a very haunting musical introduction and slowly builds to where Manson's signature 'scream' can be heard as he belts this one out. The volume gets turned up three quarters into this one and it's most definitely a stand out for me. Continuing on with the awesome song names we have 'Slave Only Dreams To Be King' and this is the 'busiest' song on the album yet, I love the drum sound captured on this one and 'The Devil Beneath My Feet' keeps the beat going and uses the word motherfucker a lot, which I'm ok with, I've listened to this one a couple of times, and it grew on me which is good, and hope for the songs that so far haven't really hooked me.
With only a few to go, we start the final trench run with 'Birds of Hell Awaiting' which sounds like the title if you get what I mean, and finally probably aside from 'Deep Six' the most 'old school Manson sounding' song on the album with 'Cupid Carries A Gun' being a standout here, I love that one. Lastly we have 'Odds of Even', a song clocking in at just under six and a half minutes, this one is cool, calm and collected and the perfect way to round out the album, a much more subdued album for Marilyn Manson, but a good album. There's no 'Beautiful People' or 'mOBSCENE' type songs here, so don't come looking for them, but what we have is a different kind of Manson and I for one, after a couple of listens, dig the hell out of it.
Mariyln Manson while he may not be the one of a kind he was when we first saw / heard him as every man and his dog almost became somewhat of a copycat, but, he is still the best at it. Manson knows what he's doing and does it well.
Essential Information
From: Los Angeles, USA
Producer: Marilyn Manson and Tyler Bates
Release date: 23 February 2015
Record label: Cooking Vinyl
Website:  http://www.marilynmanson.com
Tracklist
Killing Strangers
Deep Six
Third Day of a Seven Day Binge
The Mephistopheles Of Los Angeles
Warship My Wreck
Slave Only Dreams To Be King
The Devil Beneath My Feet
Birds of Hell Awaiting
Cupid Carries A Gun
Odds of Even