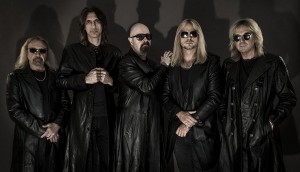 There are few heavy metal bands that can match the sheer brilliance, aggression and stature that JUDAS PRIEST have in a career spanning nearly 40 years. With over 46 million album sales, a Grammy award and seventeen studio albums at their disposal – including last year's brilliant 'Redeemer Of Souls' – there's no doubt Birmingham's most famous godfathers of metal remain at the peak of their powers after more than four decades.
Having spent the majority or 2014 on the REDEEMER OF SOULS TOUR, the band tore through the USA garnering astounding live reviews.
"One of the heaviest rhythm sections around – drummer Scott Travis and bassist Ian Hill – accompanied the axe slingers on a heavy metal journey that included several tracks from the bands latest release, Redeemer Of Souls, as well as classic tracks and fan favourites."100percentrock.com
"…the performance was as tight and impressive as I have ever enjoyed from the metal gods." – metalholic.com
JUDAS PRIEST's latest metallic studio classic, 'Redeemer of Souls' (released in 2014) debuted on the Billboard 200 at #6 – the highest US album chart placing of the band's entire career and had critics raving with The Guardian declaring it "'Redeemer of Souls' is a return to thunderous and unrelenting anthems delivered with all the subtlety of an axe to the skull"
With six studio albums under their belt, joining Judas Priest will be none other the UK power metal gods DRAGONFORCE. Renowned for their long, fast and furious guitar solos and high velocity live shows, fans should be prepared to be adrenalised!
Don't miss your chance to see this ballistic British metal double bill, which will be JUDAS PRIEST and DRAGONFORCE'S only performances outside of their sets at Soundwave 2015.
TICKETS ON SALE FRIDAY JANUARY 16TH FROM 9:00AM LOCAL TIME
____________________________________
TUESDAY 24 FEBRUARY – SYDNEY, THE ENMORE – Licensed All Ages
http://www.ticketek.com.au/
THURSDAY 26 FEBRUARY – BRISBANE, EATONS HILL HOTEL – Licensed All Ages
http://oztix.com.au/ / http://eventopia.co/
For tickets and more information head to
soundwavefestival.com / facebook.com/soundwavefestival / twitter.com/soundwavefest