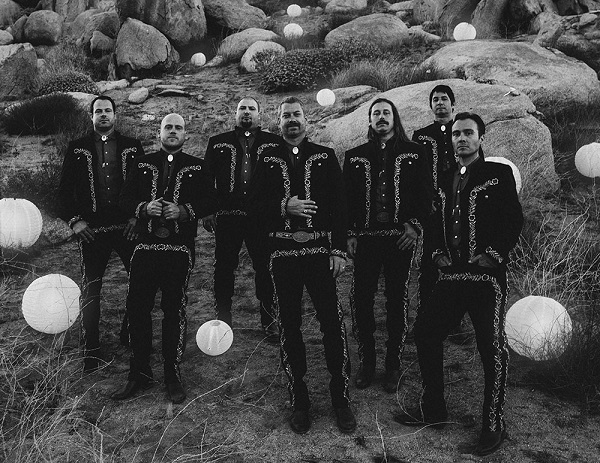 "So to me instead of being a mariachi album, it's a mariachi influenced rock record almost, and it kind of feels a little more who we are than attempting to shred all over the place like I always do *laughs* but there's nothing wrong with that."
From release: From what began as a bit of fun to blow off steam away from the serious heaviness of their main project The Bronx, Mariachi El Bronx was conceived as a vehicle to explore the traditions of Mariachi music, albeit with a modern Western pop sensibility. Since then, and across three albums the side project has grown in reputation and acclaim, particularly in Australia where fans have fallen hard for the band after numerous triumphant visits.
At home (finally) after being just a little busy we chatted to Joby from Mariachi El Bronx about their upcoming Australian tour, their newest album and much more…
You're headed back to Australia as a part of Bluesfest as well as your own headlining shows, for someone like me who has never seen the band, can you tell us what a typical Mariachi El Bronx show is all about?
Well *laughs* it is a wonderful evening with I guess Latin inspired tunes, some in English and some quite handsomely dressed young men and lots of smiles.
Do you have to prepare differently for a festival vs one of your own shows?
In the sense that we probably don't play as long. I don't know how long our set's going to be Bluesfest, but generally they're a lot shorter than let's say I'm not sure where we're playing when we get there but generally our club shows are longer and you know, you don't have some massive band that needs to set up massive lights breathing down your neck to get off the stage *laughs*.
You've been a number of times, do you have a favourite memory of a previous trip here you can share with us?
I would probably say our first tour… you've got to understand *laughs* that we never really had any attainable or foreseeable goals being in a band. My goal, and our goal as a band was that if we could play a show in another country that would be nothing better, we could quit and fulfil our dreams as artists. Twelve years later I'm still amazed *laughs* that we get to travel and play music and I enjoy every minute of it. Probably out first tour we ever did was pretty surreal for me, just going that far around the world and people know your music, it still blows my mind, and you know I mean there wasn't, we're talking our first tour down there was maybe 2003 and the internet wasn't what it was now, people still bought records and there were record stores and I think it was quite a bit more mind blowing then than it is now. I think I want to say that the first sold out show was in Sydney, this is with the punk band The Bronx, not the Mariachi band, and I think there was a DVD, they filmed a DVD of the show and that was a first for us as a band having a sold out show was kind of a rarity *laughs* so it was really cool.
I have seen you, well The Bronx that is when Mariachi El Bronx was on tour but you did get to support Soundgarden, how was that?
Yeah well that was kind of another surreal moment, you know, those records, that was part of my childhood and never in a million years did I think I'd be playing with Soundgarden, and you know what? They're still really good, I was very impressed.
You've also recently released your newest album 'III' which has a really cool vibe about it, what if anything did you do differently in the creative and recording process compared to your previous two albums?
I think the main thing I went into this record being aware of is that I feel that not that we did this, but it's something I'm aware of in being comfortable in who you are creatively and really not borrowing or ripping people off or trying to be something that you're not, it was something that was very much on my mind in writing these songs. So, I'm not a mariachi, I can play the stuff, I didn't grow up doing it, it's not a passion of mine, it's not something I spent my life studying the craft like most of these people, I mean, they're shredders and that's not something I really wanted to be, I like the way it sounds but I never really wanted to play all of those standards that everyone else does. So I think I really went into it really wanting to embrace who we were and to make something that was a little more avant-garde if you will, or just a little bit leaned quite a bit less on Latin music than our previous records, and kind of embracing who we are as people. So to me instead of being a mariachi album, it's a mariachi influenced rock record almost, and it kind of feels a little more who we are than attempting to shred all over the place like I always do *laughs* but there's nothing wrong with that.
Three albums in with Mariachi El Bronx, is it maybe a case of now finally finding your true footing for the band and coming into your own rather than simply being a Bronx side project?
It definitely feels that way more so than it ever has, yes.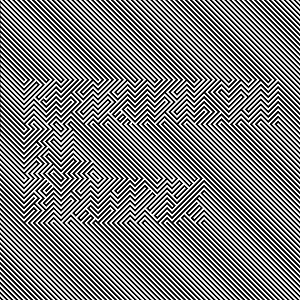 The album cover is crazy, who came up with that and are their eyes still hurting from looking at it?
*laughs* That was me. That was something that, that's not an original idea, back in the sixties there was a movement called 'Op art' or optical art, it was kind of spearheaded by an artist named Bridget Riley, who can unveil what that is all about, she was kind of at the forefront of giving people headaches.  A lot of her design was in fashion and furniture as well as paintings but she kinda spearheaded that whole thing and she was an artist that I really liked, so I basically took one of her ideas and made it our own and the amazing thing is that some people can't see it. I'm obsessed with it, you know that five seconds where someone picks up the cover and looks at it and the back? I was like, what if we could get that to ten seconds? *laughs* that would be a feat in itself… I don't know, hopefully that happens sometime.
Is there ever a time when it's hard to balance both bands?
Yes and no… for me, no, and this is going to be the most preposterous thing you hear all day is that there's not really a difference for me between the two, obviously sonically there is, you know, playing concerts, it's the same guys and a few more of us in the mariachi band, but it doesn't really feel different to me, probably because I'm playing guitar in both bands and it just feels very naturally to do each one and I like them both equally. I think I would probably say that our drummer DORMA would absolutely disagree with me on that one because he's a monster rock drummer and in The Bronx its quite a workout for him verses the mariachi band which is a little easier on his body *laughs* so a little bit of both for me, but probably not for him.
What do you enjoy most about Mariachi El Bronx?
To be honest with you, it's longevity. I wake up every day and I still can't believe that I'm playing tunes for a living and that's something I'm very appreciate of and I can't believe it's gone on this long and I hope it never stops, but I feel that my life is very different and very special and I'm happy that there are still people out there that want to see our band play and never in a million years did I think that would have happened, so that's probably what I like the most about it is that we're still able to do it.
In the twelve years you've been active with the band, what's the biggest thing you've learned that you didn't expect about being in a band?
Honestly, the main thing I have kind of taken away from all of this is that is the change that happens to people once they get attention, it's a very weird thing and really changes who people are. I felt like when I first started playing with the band and you start doing interviews you kind of turn into this person that you're not, and it's something that I see happening in a lot of younger bands and it's a really interesting thing that happens to people and I think that attention is probably more dangerous than any drug *laughs* because it absolutely changes who you are, and it's something that I try to avoid at any cost, I don't particularly go out after shows, I'm very nice to fans when I meet them but it's not something I crave or desire because hey, we're all just regular people, I happen to be given a microphone and a guitar in my life and that's awesome, but I'm still just a regular dude you know? *laughs* and I think that it really creeps me out when people think I'm anything else, but other people are like 'Yes, I am that person, I'm a rock god' it's like, no you're not, man. *laughs* That's probably the biggest lesson I've learned, attention is pretty dangerous.
Let's get a bit of insight into you personally if you can answer these question:
What was the first album you ever bought?
First album I ever bought with my own money, I was one of those people and remember when tape trading was killing the music industry? Home taping, I was that guy, I didn't buy anything, that's how you got punk in those days, that's how you got metal, there wasn't record stores that carried that shit, and that's how we all got our music. When CD's hit, hook, line and sinker… sound quality, they last for life, blah blah blah blah blah… and I remember the first album I ever got was by The Allman Brother Band, 'Live at the Fillmore' *laughs* which was and still in an incredible slide guitar playing and a very underrated band as far as music goes I think throughout the years, no one probably listens to them much anymore but I really, really like them as a guitar player it was a pretty big band for me.
Who is your favourite guitarist?
I would probably say John Reece, him or Duane Eddy would probably be my two top favourite guitar players.
What band or artist made you realize that you wanted to be in a band?
Black Flag, I grew up, punk was a very big thing for me because I grew up in a family where I studied classical piano, I didn't have a choice, it was required, we had to study two instruments, I studied the cello for many years and the piano, I was very accomplished. When punk hit in my life it was freedom, it was nasty, it was loud, it was wrong, everything that being a classically trained musician wasn't and man, I couldn't stop playing guitar, not even knowing what I was doing just fuckin blasting away and I loved it, it was great.
Lastly let's look to the future, so if you can finish this sentence for me… In 2015, Mariachi El Bronx will…
provide the world with free wireless internet, everywhere you go *laughs* you know what I mean? Don't you just want free internet everywhere you go? It's fuckin' data *laughs*
Catch Mariachi El Bronx at the following dates:
BLUESFEST:
Saturday April 4 – Byron Bay Bluesfest
Tix via: www.bluesfest.com.au
BLUESFEST 2015 SIDESHOWS:

Tuesday April 7 – The Metro, Sydney
Tix via: www.ticketek.com
Thursday April 9 – The Gov, Adelaide
Tix via: www.oztix.com
Friday April 10 – 170 Russell, Melbourne
Tix via: www.170russell.com
Essential Information
From: Los Angeles, CA, USA
Band members: Matt Caughthran, Joby J. Ford, Jorma Vik, Ken Mochikoshi-Horne, Brad Magers, Vince Hidalgo, Keith Douglas, Rebecca Schlappich
Website: http://www.mariachielbronx.com/
Latest release: III – (Out Now – Cooking Vinyl Australia)