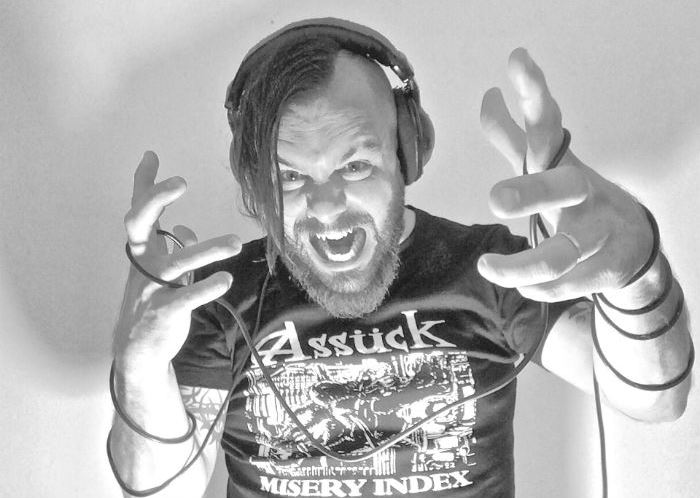 "…I'm kind of winging it, I've got a rough idea of what I want to do, but for the most part yeah I'm kind of winging it here, it's my first time and we'll see how it goes. I'm just gonna get in there and just punk rock, throw it down and see what happens."
From release: JESSE LEACH, lead singer for Killswitch Engage, has always been a man of many creative, artistic hats. While KsE are in the planning stages for their next album, including contributing a song written for the upcoming Games of Thrones mixtape, Leach is going Down Under and is once against flexing new musical muscles by embarking on his first solo DJ and spoken word tour this month. The high-impact mini-trek runs from January 15 through January 24 in Australia.
Lost (not really)… Somewhere in Yonkers, we chatted to Jesse Leach just a few days before he was about to jump on a plane to head to Australia for his first solo tour, we discussed his DJ set as well as his spoken word and what we can expect from both, and of course an update on Killswitch Engage…
This is your first solo trip to Australia and you'll be doing a DJ set, tell us a bit about how the tour came about and what your set involves…
Yeah sure, my buddy Anthony who is the owner of Eureka Rebellion Trading, we hit it off really well when Killswitch came in for the soundwave tour and ended up hanging out together when we were in Australia for our headline tour. He's just a great dude, he's a music lover and he knows that I've been DJ'ing, and I've been doing it fairly successfully around here in the North Eastern United States doing various nights, metal nights, hip hop nights, whatever, I love all kinds of music. So he pitched the idea to me to just go over there and give it a shot and I loved the idea and as soon as he announced we were going to do it, it just caught on like wildfire.
So what will the set involve? Is it a mix from all different musical genres?
I'm mixing quite a few, but my whole idea is to try to keep it within the guise of things that will make people head bang or make people nod their heads and just enjoy the groove. A lot of really groove heavy stuff, whether it's metal, hardcore, hip hop, punk, sort of a mixture of everything. I'm pulling out a few surprises but for the most part I want it to set off an atmosphere and create an atmosphere with nice bottom end grooves.
You mentioned that you've been doing the DJ'ing for a while now, obviously a far cry from what you do in Killswitch Engage, but how did you start doing it and was there a catalyst that brought it on?
Yeah, I just absolutely love music, and it's something that I love to share, and after my band Times of Grace kind of fell off I started taking it really seriously, I mean part of that was I'd do it for fun at friends parties, local pubs, nothing really crazy, but then I pursued it as an actual job, something that I could paid by on a regular basis right after Times of Grace came off tour and I needed to look for a job, so I worked behind a bar and I would DJ on the weekends. It became a pretty successful night on the lower East side of Manhattan, I had a punk rock night every Saturday and it became pretty popular, it was a lot of fun.
Is there one track that you play or have played that has sparked the most interest?
MC5, always gets people going and I'll play obscure stuff from them, I love a lot of the early Detroit punk like The Stooges, and whenever I play some of the stuff and people don't know what it is initially, people walk over to me and ask what this is and I love that, it's kind of the pre punk rock, MC5 especially, those guys were doing punk before punk was even a word.
Kick Out The Jams indeed!
Yeah! You can't not play that song, that song is just the jam *laughs*
As well as the DJ set you're also including a spoken word set, tell us the idea behind wanting to do this?
I've always been a big fan of VH1 used to have a Storytellers show where they had musicians sit down and tell the stories behind the music and Henry Rollins was very famous for just telling stories about tour and I always loved that idea of people just talking about themselves and just giving some depth into their art. The idea came again through Anthony who is kind of spearheading all of this, he mentioned it to me and I was a bit intimidated at first to be honest with you, but I do have a pretty interesting past as to where I was raised, I moved around quite a bit and also just how I got into music and the type of music I listened to, I think it's a pretty good story, and a good chunk of drug abuse when I was a kid. So it kind of all chops up into something I think people can appreciate.
So, somewhat more of an audio book of your life rather than just anecdotes of life on the road?
Yeah a little bit of that, and actually I've been writing poetry since I was a kid, so I'm going to share some of my personal poetry as well, so that should be interesting… *laughs*
So this will actually be the first time you've ever done this?
Yeah I'm kind of winging it, I've got a rough idea of what I want to do, but for the most part yeah I'm kind of winging it here, it's my first time and we'll see how it goes. I'm just gonna get in there and just punk rock, throw it down and see what happens.
Now it seems a lot of people are getting on board with the spoken word thing which I love. If one of your heroes could do a tour talking about their life, who would you want to see?
Oh man, does it have to be someone that's alive? *laughs* a lot of my heroes are dead man *laughs*… probably Mike Patton of Faith No More and every other band that he's in, I think he is a fascinating character, and his career, the bulk of his career and what he did and what made me a fan of him happened before the internet so there's still a lot of mystery about that guy, which I love, and I've actually had the pleasure of meeting him on Soundwave, but I bet he's got some crazy stories.
In doing this spoken word tour, have you ever thought about writing a book?
It's funny you say that *laughs* I'm in talks with somebody right now but I haven't decided if I'm going to do it, but there's some pretty strong interest, but I don't know, it's hard for me to say. It's one of those things too, I've really got to think that do I have something that is worth offering to people and I'm still kind of wrestling with that. I think I do, but yeah, the offer's been put on the table, man.
Being to Australia before, do you have a favourite memory of a previous tour?
Probably just the first time I came over with Times of Grace because it's a place I've always wanted to go to, as I've always been a fan of Aussie culture, Aussie films, Aussie music, so I think that first initial trip for me, I was just blown away, I immediately fell in love with the country. First seeing the Indian Ocean in Perth, going to bars in Melbourne and seeing Bondi Beach for the first time, all that stuff is ingrained in my memory. I can't wait to get back and I'm actually bringing my wife along too, she's never been, so it's exciting for me to just show her a country I love and kind of relive some of those memories through her eyes, so I'm pretty stoked on that.
Now, besides the gigs, what's your favourite thing to do in Australia?
Beaches first of all, I love beaches, although, funny quick story, Adam and I were swimming at the beach and he actually made it to Bondi Rescue, he got caught out in *laughs* the tides and they had to rescue him, there were cameras all over him and he decided not to have it filmed but we could have potentially been on that show. So the beaches are great, the pub culture is awesome, especially in Melbourne, I absolutely love the nightlife there too.
I do have to ask about the status of Killswitch at the moment, how are things going?
Great, great, we've been in a lot of discussion lately about demos, everyone's kind of doing their own thing and coming up with ideas, and we're set to meet mid February to start to discuss stuff. We just recorded a great track, I think one of our better tracks for the franchise Game of Thrones, it's gonna come out in April I think, I'm pretty stoked on that song. We're actually getting ready to go over to China and South East Asia as well in April, our first time in China too, so I'm pretty stoked man. They gave us an offer we couldn't refuse *laughs* so we just went, and it's gonna be in the middle of recording, we're taking a break in the middle to go to China and South East Asia which I love, I've always wanted to go over there to China. South East Asia last time we played in The Philippines it was pretty wild, so stoked to get back there.
Now 'Disarm the Descent' was your return to the band, did you feel a little intimidation but now feel that you've got your footing back and everything will be smoother into the second album with you?
Yeah I mean as far as intimidation it's only as much as I allowed it to be, I think for me I knew what I had to offer the band, I had confidence in my own work, but I think the intimidating thing for me is taking on somebody else's material, and somebody that's a completely different singer to myself, so it took me a little while to shake off the rust and put my head around how to perform someone else's songs and try and give it justice while maintaining my own personality through it. I think that's something that most vocalists can agree with, when we don't write the material, it's rather difficult to try and perform it properly. I think I'm at a point now where I'm comfortable in my own skin and I can't always perform the greatest that I'd like to for some of those songs, I just have to make them my own by switching a few things here and there, so it's just a process of trial and error, but yeah, I'm very confident and very happy with where I am right now with the band.
Lastly, let's predict the future so finish this sentence for me, by the end of 2015, Jesse Leach will…
Be still alive *laughs* I hope… *laughs*with any luck I won't be dead *laughs*
JESSE LEACH DJ + SPOKEN WORD DATES:
THURSDAY 15 JANUARY – HOT DAMN, SYDNEY – 18+
Tickets available on the door
FRIDAY 16 JANUARY – BRIGHTSIDE, BRISBANE – 18+
Tickets available on the door
**NEW SHOW ADDED!
SUNDAY 18 JANUARY – THE ELEPHANT HOTEL, BRISBANE – 18+ FREE ENTRY!
Every Time I Die Official After Party
With DJ performances from Jesse Leach from Killswitch Engage and Keith Buckley from Every Time I Die
Battling out 90's house party tunes on the decks from 11:30pm 'til late
Support DJ's featuring Jimmy Kixx, Gaudion and Toddy Spitfire kick off at 6:30pm
WEDNESDAY 21 JANUARY – SPOKEN WORD NIGHT AT EUREKA REBELLION TRADING, MELBOURNE
Tickets available at www.moshtix.com.au
SATURDAY 24 JANUARY – THE GASOMETER, MELBOURNE
Tickets available at www.oztix.com.au
Presented by Eureka Rebellion Trading and Bowery
Essential Information
From: USA
Website: http://www.jesseleach.com  & http://www.killswitchengage.com