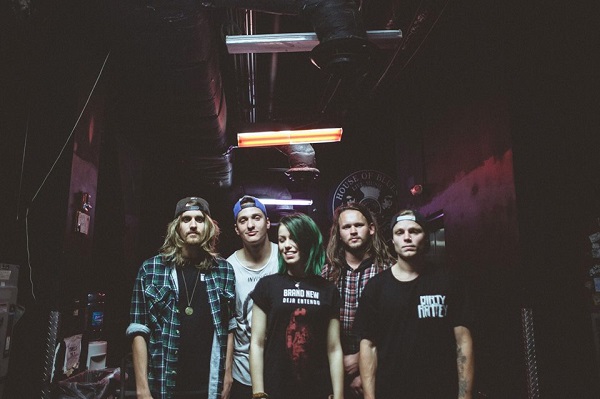 "…I think even just growing up as people, just on a personal level as well, the way we portray ourselves and our level of performance has come a long way as well and I'm ready to bring that back to Australia, I really want our fans to see that growth and change and really have the opportunity to reach out to new listeners too."
From Bio: Off the back of the release of the ARIA top 5 album "The Other Side" TONIGHT ALIVE have been consistently touring the globe for the past 12 months, culminating in sold out shows across Europe and a Main stage slot at the Reading and Leeds festivals in the UK. 2014 saw them release the epic track "The Edge" taken from 'The Amazing Spiderman 2, Rise Of Electro' Soundtrack. The next 6 months sees them reunited with old touring buddies You Me At Six for their co-headline Australian tour, before heading back to the U.S to tour with All Time Low. In the midst of all this, they're busy writing for their third full length album and will be premiering new material at Soundwave 2015.
At home and finishing the writing process for their new album we once again chatted to the always lovely Jenna McDougall of Tonight Alive about their return to the Soundwave stage as well as the whirlwind of the last few years, new music and more…
Hi Jenna, how are you?
G'day Troy, nice to be chatting to you, it's really nice to be in touch again.
And with you as always. Now it is Soundwave time and this will be your second run on the festival, how in the three years between appearances at Soundwave do you feel you've grown as a live band?
I think so much has changed and I think we had a lot to learn and we were a lot younger and at the time we were really burnt out when we played the first Soundwave so I don't think that we really got to give 110% and we didn't get to enjoy it as much as possible, but since then we made a record, 'The Other Side' and we've toured it for the past year and a half, and I think even just growing up as people, just on a personal level as well, the way we portray ourselves and our level of performance has come a long way as well and I'm ready to bring that back to Australia, I really want our fans to see that growth and change and really have the opportunity to reach out to new listeners too.
OK, standard question, who are you pumped to catch at the festival?
Slipknot *laughs* I love Slipknot and I love Corey Taylor as a front man, I'm not a fan that owns every Slipknot record but I've seen them play before, I don't feel that you even need to love the band to enjoy the show, it's very entertaining, they're always stimulating to look at, but also Corey just does it for me, he's very powerful but very vulnerable at the same time. They probably don't play those types of songs on a show like Soundwave but I think you can always expect a high intensity, high energy kind of performance from Sipknot. No bad things to say.
You've been absolutely killing it of late, have you had a chance to stop and slow down and take in what's been happening over the last couple of years?
I think it's kind of been what's happened towards the end of this year and early this year to be able to slow down a little bit, we played one of the last tours of last year was 'Alive on The Other Side' tour' in The UK and it was a sold out tour across England and Scotland and Wales, and it was kind of really special and a bit of a reality check and something I have been asking myself when bands play these types of shows and venues are sold out and you've got people lined up outside the venue from six o'clock in the morning, do they feel they deserve to be there yet, do they feel like they're that big yet, or do they feel lucky too? It's something that just made me answer my own question was when we toured with All Time Low early last year in maybe March or something, they played Brixton Academy they were nervous, and you can tell it still matters to them when they're excited about it, and that just meant a lot to me to see them in that type of environment and at that level playing two five thousand capacity venues that are sold out and they're loving it, and the fact that we've got a lot to look forward to and some. The end of last year was unreal for us because we played two KOKO's two nights in a row and we also played The Manchester Academy which is a twenty five hundred capacity room, of course there's room to grow for a lot of bands but for us that was the biggest headline show we've ever done. A lot happened last year for us, it's been a very reflective time, and writing this new record is just kind of, you really don't know what's going to happen or what to expect, but always good things.
'The Other Side' has been for just under eighteen months now, obviously you've had time to think about new material and has everything that's been happening for you guys, how much of that influences the music?
Yeah it's hard to say because it all melds into one because it's one tour into the other and then maybe two weeks off at home before you're gone again, so it's hard to market by turning points and things like that, but I do know that when we were writing this record, the more we tried and control what the sound would be, the less authentic or genuine it became so we have kind of let it write itself and done what came naturally to us and sort of realised our strengths that way. We've always been honest in our lyrics and not trying to appeal to a certain genre of music or a certain demographic, so this has been where there were a couple of points in the writing process that felt a little un natural or a little forced, but towards the end we kind of came around, even our management and our label were saying 'forget everything we've ever said to you and just write what you want to write because that's what's going to work'. So that's where we're at now, and that's why it's feeling a lot more positive than it has in the past. I've deterred a lot from the question I'm sorry *laughs*.
Looking forward to it as 'The Other Side' was let me say a much more mature album than your debut, so what can we expect from this new one, are you at that point yet or is it all still in writing process?
Well we've got one month until we go into the studio actually, so these are kind of the last chances to fine tune things, but for me I think 'The Other Side' was a very personal album, kind of like a diary exert or something like that, so this album is different lyrically, I think a little more universal, it's not necessarily about heartbreak or personal turmoil, but I think I'm singing about things that will reach a lot of people I think and it's not about the numbers but I think our lyrics have always been relatable and that's not something we forced it's just about being honest and being open. So the sound has evolved a little, I wanted to write an aggressive record and I wanted it to be in your face but it's just kind of gone the way it wanted to go and there's a lot of hippy anthems on it, I really don't know how to explain them *laughs* but it's still going to be quite a diverse record.
So you'll be heading into the studio straight after Soundwave?
Yes, right after Soundwave we literally fly two days after the last show or a day after the last show over to The States and we'll be recording in New Jersey for about four months with a tour in the middle of it.
When do you think we can expect to hear an album?
It'll probably be in the third quarter of this year, but the coolest part about making this album is that no one is rushing us, and we've got a lot of cool people behind it, our producer and our manager and our label have all kind of said 'take your time, this is your most important release yet and you need to treat it with care and love and respect' and that's what we're going to be doing. If the album needs more time and it becomes apparent that we're rushing the release then we'll hold it, but we're aiming for the third quarter of the year.
So one to think about, since the band's beginnings, what's the biggest thing you've learned that you didn't expect about being in a band?
I guess something I didn't expect was to learn so much about myself, and of course you can't foresee things but being a teenager and then becoming an adult in the middle of this whole process, I've never imagined that being in a band would help me reflect on these kind of things, but I should've known that of course song writing has always been cathartic and therapeutic for me and 'The Other Side' is just a complete testament to that because it's what got me through two years of my life that I would consider the hardest that I've been through. That's only now as a twenty two year old and of course there are going to be more to come, so something I didn't expect about being in a band is to reflect so much on myself and be able to be open and honest and share my experiences and that to empower and liberate me.
Let's predict the future, so finish this sentence for me, by the end of 2015, Tonight Alive will…
Be a new band, I think we'll have the same message but our sound will evolve and I think we're just gonna open a new chapter, the sounds cliché but every album we've released has been a snapshot of the time we were in and I am anxious to see what this album represents for us, because right now it's forty songs that I don't know where the connections lie, but when we choose twelve of them everything is going to become crystal clear. By the end of 2015 we'll be on a world tour promoting our new album and ready to take the next step it's really exciting.
Catch Tonight Alive as part of Soundwave 2015 at the following dates:
SATURDAY 21 FEBRUARY & SUNDAY 22 FEBRUARY, 2015
BONYTHON PARK, ADELAIDE & FLEMINGTON RACECOURSE, MELBOURNE
SATURDAY 28 FEBRUARY & SUNDAY 1 MARCH, 2015
OLYMPIC PARK, SYDNEY & BRISBANE SHOWGROUNDS, BRISBANE
For tickets and more information head to
soundwavefestival.com / facebook.com/soundwavefestival / twitter.com/soundwavefest
Essential information
From: Sydney, Australia
Band members:  Jenna McDougall – Vocals, Jake Hardy – Guitar, Whakaio Taahi  – Guitar / Vocals, Cam Adler- Bass, Matt Best- Drums
Website:  http://www.tonightaliveofficial.com
Forthcoming Release:  coming in 2015…