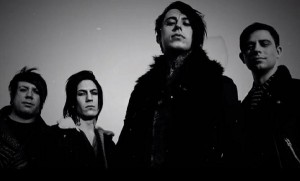 Australia, be prepared as it's a rare occurrence when two heavyweights of any genre agree to tour together. FALLING IN REVERSE and ESCAPE THE FATE join forces to bring two kick arse Sidewaves to Melbourne and Sydney ONLY with their BURY THE HATCHET tour. Joining them will be special guests THE COLOR MORALE.
BURY THE HATCHET tour sold out in North America in 2014 and here's what the critics had to say:
In NYC "Closing out the Bury The Hatchet Tour was none other than Falling in Reverse, exploding with an electrifying set. Falling In Reverse put on an epic show with everyone singing along, even louder than Radke himself at times. Escape the Fate, played a flawless set offering a great mix of old and new songs." – Crypticrock.com
In LA "…a fun, exciting, energetic and new take on an old style unlike anything Falling in Reverse or Escape the Fate have done before. It was nice to see Falling in Reverse with so much energy, and Escape the Fate sounding better than ever before." – Soundcheck411.com
In San Francisco "…fans of both of Escape The Fate and Falling In Reverse were seen enjoying the show. There was nothing but smiles all around the venue." – shamelesspromo.net
With numerous accolades under their belts, FALLING IN REVERSE have been named Artist of the Year in 2012 by Alternative Press, Ronnie Radke was named one of the 100 Greatest Living Rockstars by Revolver Magazine and one of the 50 Greatest Living Rockstars in the World, in the company of Lemmy, Slash, Steven Tyler and Ozzy Osbourne in 2014 by Kerrang!. Their third full-length record, Just Like You is set for release on February 20 ahead of their performances.
Known for their absolutely kick ass energetic performances and audience interaction, this is a rare opportunity for fans to catch ESCAPE THE FATE in what will be 2 killer shows! While lesser bands undermine themselves, ESCAPE THE FATE have not only delivered a cutting edge and contemporary album when they released 'Ungrateful', but have managed to avoid the kind of VH1 / Behind The Music –style flame-out that's indicative of many careers and confirming the bands readiness for the big time!
"Escape the Fate stepped right out of their records for an hour of intense thrashing, strutting, and seizure-inducing lights." – consequence of sound
Known for their skill of combining elements of intricate musicianship with a passionate message, shredding riffs and soaring choruses, THE COLOR MORALE are masters of their craft, putting as much emphasis on the message found in the songs as they do in their sound, and that is what their fans value most.
TICKETS ON SALE MONDAY 2 FEBRUARY, 9am local
___________________________________________________________
WEDNESDAY 25 FEBRUARY: MELBOURNE, 170 RUSSELL – 18+
www.oztix.com.auwww.eventopia.cowww.170russell.com
FRIDAY 27 FEBRUARY: SYDNEY, THE HI FI – Licensed All Ages
www.thehifi.com.au
For tickets and more information head to
soundwavefestival.com / facebook.com/soundwavefestival / twitter.com/soundwavefest