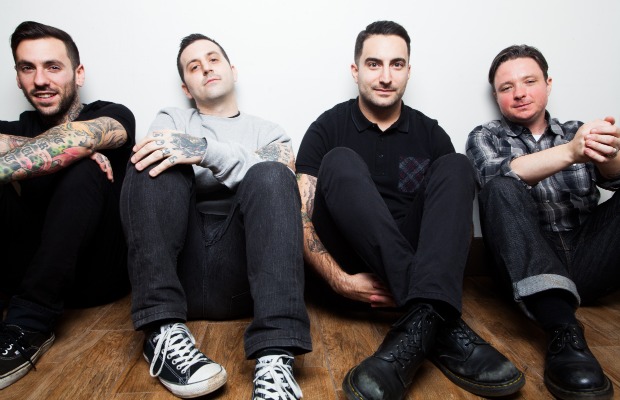 "…we sort of think that we figured out what Bayside was supposed to sound like a long time ago, and we love the way it sounds, and everybody has that band that they love that stopped sounding like their favourite band, and we never want to do that, we always want to sound like Bayside."
From Bio: BAYSIDE fans don't call their relationship with the band a 'cult' for nothing. After a string of much-adored releases, BAYSIDE has one of the most dedicated fan bases in rock, and the group steadfastly rewards those devotees with the music salvation they seek. Six albums and more than a decade later, BAYSIDE never lost touch with that mission and, in fact, they've only grown bigger while veteran bands take breaks and regroup, BAYSIDE haven't taken that route and instead, soldiered on, building up and growing more and more into themselves… to the point in which they are the most BAYSIDE they have ever been. The fact that their audience has grown is a testament to that.
In Nashville TN we chatted to Anthony of Bayside about their return to Australia for Soundwave, their newest album 'Cult' as well as failed April Fools gags and more…
You've been added to the Soundwave bill, how pumped are you to be heading down to be a part of this massive festival?
Oh yeah, so excited, Soundwave within the touring community is the one that everyone wants to be on, it's for one thing, it's great to play huge shows, those are obviously really big shows, that's great and whenever we get to see other bands that we really like, that's always an added bonus, cause that doesn't always happen. Also the tour itself, they treat you so well on that tour, it's always a pleasure, the people in charge of the transportation, the flights, the hotels, all that, we're treated so well. Also Australia in general is just one of those places that is so far for us, it's the kind of place that most bands only get to every couple of years, as opposed to the U.S. where we do two or three tours a year, and Europe we do at least every year if not twice. So it's always great to be down there.
Is there anyone that you're excited to be sharing the tour with?
I mean friends obviously, that's what I like the most, spending time with the guys in New Found Glory that's always great, Lagwagon… being able to hang out with friends is cool. Then there's some of those huge bands, like when do I have an excuse to see Soundgarden you know? We did it one year and Nine Inch Nails were on the tour and I was like 'that's cool' like how often do I get to see Nine Inch Nails?!
Is there any talk of sideshows?
I think there is, I have heard that, but AJ who runs the tour, he does his own thing *laughs* so I'm sure he'll let us know. He's the puppet master over there, he's pulling all the strings, so when he gets his master plan together he'll let us in on it.
You've been to Australia previously, outside of the shows, what is your favourite thing to do down here?
Oh eat, that's my favourite thing to do everywhere… every tour we go on whether t's U.S. tours going to cities we've been to a hundred times, or going to Europe, I judge cities based on the food, always because for me what else is there to do? we only have a few hours to ourselves every day. Here in the States there's Chinese food everywhere you turn, there's Japanese food everywhere you turn but what I like about Australia I've noticed and it being so close to South East Asia is that influence, I love being able to get all that stuff.
You released your newest album 'Cult' last year, what does the title mean to you specifically and why was it the perfect choice for this release?
Our fans have always called themselves a cult, just how dedicated how much the fans have always been. Going back to the very beginning of the band we were part of scene where there was a lot happening in music at the time with the labels we were signed to and the bands we were touring with, we were just watching these bands shoot up from behind us, and we were always on this slow and steady pace and we watched these bands who hadn't been a band as long as we had and they would just blow up and be enormous and they would just fizzle out and go away. We watched that happen for years, and we were always that slow and steady band and I think that the people that listened to us especially in those early years sort of knew they were onto something that other people weren't on to yet, and now that we're a much bigger band I feel there's still sort of an aspect to that, there's still some of a thing where the fans feel like they're onto something, feel like they're a part of something. So when we listened back to the record, and that word has always sort of stuck with us over the years, so when we made the new record we were thinking that it just sounded like Bayside and thinking 'that song could've been on the self-titled record', 'that song could've been on Shudder', 'that song could've been on The Walking Wounded' so it just felt like a greatest hits record or a discography but it was all new songs. So naming the record 'Cult' a word that has been tied to our legacy for all these years I guess was our way of sort of saying that this record sums up our legacy musically.
In the ten years since 'Sirens and Condolences' and now six albums in, what do you see as the biggest change the band has undertaken in the way you make music in this time?
Well we all live all over the country now, we have very different lives from when we started the band obviously, just about everybody's married at this point, everybody's moved away or spends time away, has houses in different places. It used to be when we'd make a record that we'd all get in the same room and lock ourselves away for months or however long we were given for that particular record, some records we would write on tour and then just get in a room for a couple of days, some we would spend months working on. So nowadays it's a lot more working on our own, usually the songs start with me and I'll come up with a chord progression and a melody and general sort of direction for it and I'll record it and send it around to the other guys and they'll work on it at home and record their parts. So that's the biggest difference as far as the process anyway. As far as the mentality, we sort of think that we figured out what Bayside was supposed to sound like a long time ago, and we love the way it sounds, and everybody has that band that they love that stopped sounding like their favourite band, and we never want to do that, we always want to sound like Bayside. So as far as the mentality, we just try to be Bayside and the best version of it, we just try to improve on what we already do, we don't try to reinvent the wheel, we just try to get better at it.
On the other side of that question, in the fourteen years since you started with the band, what's the biggest thing you've learned from being in a band you didn't expect to be a part of it all?
Wow that's a hard question to answer because I've been doing it for so long that whatever realisations I came to, I've must have come to over a decade ago. I guess what I can say after this long, after fifteen years of being in this band is that the work never stops, it's always hard work, I think that when we were starting out I always hoped one day that we would make it, everybody wants to make it, and then you think that you make it and the world is yours, and that never happens, it doesn't happen no matter how money you're making, how successful you are, how many records you're selling, or how many people are coming to your shows. It's always hard work, just in a different way… we don't have to sleep on people's floors anymore, and we don't have to get in a van and drive for ten hours from show to show anymore, we don't have to stand at the merch table and beg people to buy our stuff anymore… but it's work in a different way. I thought one day when we were on a tour bus and one day we made enough money to support ourselves and when our shows started selling out I thought 'oh yeah, you just have other people doing that for you and everything gets easy' and that's definitely not the case, it's hard work forever. I've had that conversation with friends who are in much more successful bands than me, Grammy winners, platinum record holders and it's the same thing, the hustle never realty ends, the hard work and dedication can never slow down.
I want to get a bit of a quick fire insight into you with a few questions so here we go:
What's the first album you ever bought?
Nirvana 'Nevermind'
A song you wish you'd written?
Oh God, there's one every day that I wish I'd written, seriously I told my wife the other day that if I found a genie and it would grant me a wish, I would wish to be able to undo a song and to have written it myself, because that's how often I have that feeling. Most recently 'I Have Nothing' by Whitney Houston, that was the song I was listening to most recently and thought 'man I wish I wrote this song'
Who is your favourite band to see live?
That's a good question… hmm.., a band called Rx Bandits from California, ska, reggae punk band. Them and The Menzingers.
Now have you ever thought about or have actually covered 'Sitting on the dock of the bay'?
No *laughs* I haven't why do you ask?
You know, Bayside, sitting on the dock of the bay…
*laughs* no I haven't, I do like to do covers but I haven't done that one…
I have to ask about your amazing April Fool's joke earlier in the year about the band's logo, heck, you had me fooled, did you cop much backlash before you revealed the joke?
We to this day every single show someone comes up to us and asks what the new logo is going to be. The problem with that joke is that it worked too well, the problem with any good joke is that you have to try and tell everybody that it was just a joke, so the post that we made about it in terms of viral, social network analytics was our most viral thing ever, it had the most retweets on Twitter that we've ever had, the video that we made had the most views of any video we've ever made, including music videos… the facebook post that we made had the most likes and views and shares, it was the most analytically viral in the official sense of the term, statement that we've ever made. Then so say hypothetically half a million people saw some form of an announcement or that joke, only about fifty thousand saw the next post when we said we were just kidding… *laughs* so seriously to this day we have to tell anyone that comes up to us at every show and asks about the new logo and we have to tell them it was just a joke. *laughs*
Lastly let's look ahead to the future, finish this sentence for me. In 2015, Bayside will…
celebrate our fifteen years as a band all year, starting with Soundwave and then we're doing a big U.S.  headline tour, that's our big fifteen year anniversary tour, we're going to go a big European headline tour, we're going to continue to celebrate and further our legacy.
Catch Bayside as part of Soundwave 2015 at the following dates:
SATURDAY 21 FEBRUARY & SUNDAY 22 FEBRUARY, 2015
BONYTHON PARK, ADELAIDE & FLEMINGTON RACECOURSE, MELBOURNE
SATURDAY 28 FEBRUARY & SUNDAY 1 MARCH, 2015
OLYMPIC PARK, SYDNEY & BRISBANE SHOWGROUNDS, BRISBANE 
For tickets and more information head to
soundwavefestival.com / facebook.com/soundwavefestival / twitter.com/soundwavefest
Also at their sidewaves with New Found Glory and The Wonder Years
Tickets on sale Friday January 30 at 9am
TUESDAY 24 FEBRUARY: MELBOURNE, THE HI – FI (18+)
www.thehifi.com.au
FRIDAY 27 FEBRUARY: SYDNEY, THE FACTORY (Licensed All Ages)
www.ticketek.com.au www.factorytheatre.com.au
Essential Information
From: New York City, NY, USA
Band members: Anthony Raneri – vocals / guitar, Nick Ghanbarian – bass, Jack O'Shea – lead guitar, Chris Guglielmo – drums
Website: http://www.baysidebayside.com
Latest Release: 'Cult' (Out Now)